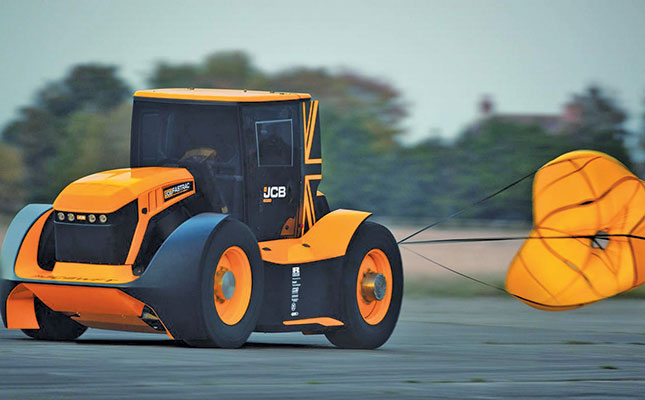 One of the highlights at the 2020 LAMMA show was agriculture and construction equipment manufacturer JCB's Fastrac Two tractor, which in October last year set a new Guinness world record for the fastest tractor after achieving a speed of 217,57km/h.
The new record comprehensively beat the record of 166,73km/h set in June by JCB's Fastrac One model.
Both of these records were set at Elvington Airfield in York with motorcycle racer Guy Martin in the driver's seat.
The Fastrac Two is 10% lighter and even more streamlined than its sibling.
"When we reached 166,73km/h with the Fastrac, I was convinced we could go even faster, and the JCB team has risen to the challenge by setting this new record," said company chairperson Lord Bamford.
"It's an amazing achievement delivered by a young and enthusiastic engineering team. Everyone involved should be very proud of the part they've played in showing off British engineering at its very best."
Less weight, more power
According to JCB's chief innovation and growth officer, Tim Burnhope, the team's greatest challenges were achieving optimal aerodynamics, reducing weight and improving performance.
"Getting a 5t tractor to safely reach such high speeds, and stop again, is not an easy task, but we're all so proud to have not only reached these goals, but exceeded them," he said.
"We used Fastrac One as a test bed, which enabled us to move forward quite quickly and create a lighter, more streamlined tractor that could set an undisputed world record."
Fastrac Two maintains the same design principles and packaging. To achieve a lighter weight, JCB's designers changed the tractor's bonnet from steel to aluminium, removed non-structural material from the chassis, and incorporated the cab and roll cage mounts into the chassis.
They also modified the 7,2- litre, six- cylinder JCB Dieselmax engine to gain extra power. A new, larger turbocharger was fitted, and this was accompanied by water injection and charge-air cooling through ice tanks, which reduced intake temperature by 50˚C.
According to JCB, an electrically driven supercharger system was used once more, while a revised exhaust manifold contributed to improved flow.
Standard Fastrac parts
The result of the powertrain improvements was a peak output of about 750kW at 3 150 rpm, and more than 2 500 Nm of torque.
"We still managed to use over 50% of standard Fastrac parts in the record-beating tractor," said Burnhope.