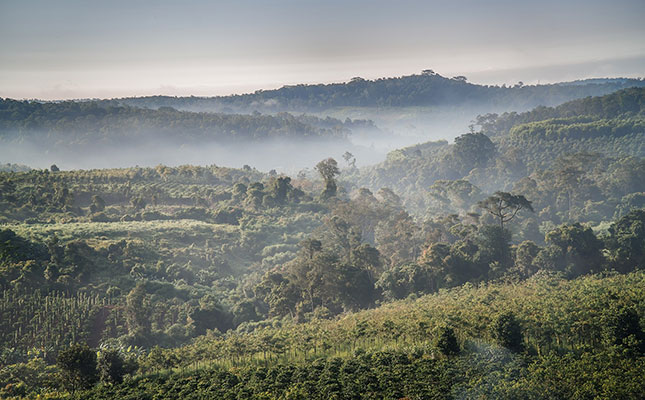 Although this would replenish dwindling global supplies, it would also increase downward pressure on prices, which have already fallen by more than 10% in the past two months.
According to estimates by Bloomberg, farmers in the five provinces on the Central Highlands region, the country's coffee belt, were expecting to harvest more than 1,8 million tons of beans, an increase on the 1,76 million tons produced in the previous season.
"I think [this] would be the highest ever for a coffee crop in the Highlands," said Trinh Duc Minh, head of the Buon Ma Thuot Coffee Association in Dak Lak province.
According to the country's agriculture ministry, the record harvest could be attributed to generally favourable weather conditions and the replacing of old trees.
The five Central Highlands provinces, namely Dak Lak, Lam Dong, Dak Nong, Gia Lai and Kon Tum, accounted for more than 90% of the country's coffee crop planted on around 700 000ha, the ministry said.
Meanwhile, more than two years of frost and drought had weakened coffee plants in Brazil, the largest global producer of the milder-tasting Arabica variety. This resulted in a decline in production, with industry analysts expecting plantations there to take years to fully recover.
Bloomberg reported that declining supplies had resulted in Arabica futures on the New York Stock Exchange reaching the highest level in more than a decade during February this year.
At the same time, prices of the Robusta variety reached their highest level since 2011 in December last year on the Intercontinental Exchange (ICE) in London in the UK, but had since fallen by 16% this year.
The Vietnamese harvest peaks in November and December, and heavy rainfall forecast for these months could hamper progress and bean quality, according to provincial authorities.
The national weather agency forecast that rainfall in the Highlands could double in November and be 40% higher in December.
There were also concerns about a potential shortage of fruit pickers in Lam Dong, Dak Nong and Gia Lai, which could affect the quality of beans, Dak Nong province's agriculture department told Bloomberg.
According to the International Coffee Organisation, Vietnam produced around 33,4 million 60kg bags in 2017.
However, since then, annual harvest volumes had steadily declined, and between 2019 and 2020, production volumes fell by 4,9% to 29 million 60kg bags.
Unfortunately, the Robusta variety had also historically been dogged by a negative reputation for poor quality.
In an attempt to improve farmers' income, many stakeholders in the industry were thus focusing on bolstering Arabica production. This meant trialling new hybrid varieties, as well as implementing improved agroforestry practices.
"With research already showing that hybrids can help drive up quality and be more climate-resilient, they could clearly have a number of benefits for Vietnamese coffee farmers interested in Arabica production," the organisation said in a recent article on its website.