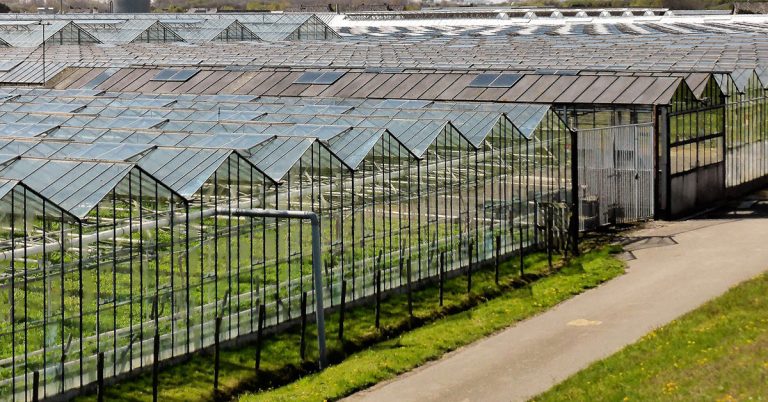 Workers at a new glass greenhouse facility operated by Dutch company FoodVentures on Chongming Island just outside Shanghai in China, recently harvested their first batch of tomatoes and cucumbers.
Utilising high-tech systems to manage irrigation, temperature and lighting systems to grow vegetables, the facility is one of dozens that have emerge on the outskirts of major cities in China to ensure that fresh produce is within easy reach of a large and affluent consumer base.
"We've seen a huge acceleration since [the COVID-19 pandemic], [as] it is even more important now that fresh produce is produced at the spot where it's consumed. Before that, [it was] transported for thousands of kilometres, even within the borders of China," FoodVentures director Dirk Aleven told Reuters.
Although China was by far the world's largest vegetable producer, with greenhouses already in use for decades, the disruption to food supplies as a result of COVID-19-related lockdowns during 2020 was accelerating the development of high-tech glass greenhouse facilities.
According to Reuters, the country's municipal governments were aiming to build up reserves of critical staples, and develop distribution and logistical facilities, in an attempt to avoid disruptions in the future.
The trend was being fuelled by a growing, affluent middle class, willing to pay more for higher-quality food produced with less pesticides, greenhouse developers have said.
In 2020, the area being used for glass greenhouses increased 28%, which was well above the 5,9% increase seen in 2019, according to consultancy Richland Sources.
Historically, vegetable production in China was concentrated in certain areas only and required complex cold chain logistical networks for the produce to reach wholesale markets in major cities.
The vulnerability of that hub-centric system became apparent when the pandemic resulted in a breakdown in the flow of goods to consumers, leading to food shortage and crop spoilage, Reuters reported.
"The pandemic has pushed the fresh food industry to reduce the number of intermediaries in its supply chain network," said Gayathree Ganesan, an analyst at the Economist Intelligence Unit.