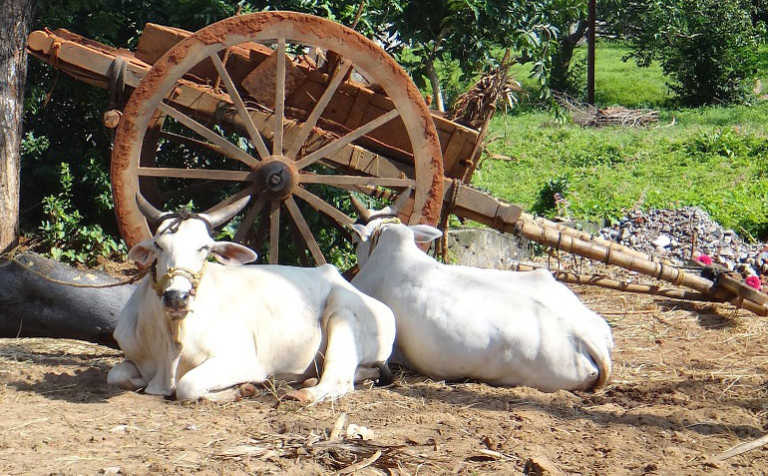 Under the new rules, the livestock markets will become hubs for live trade. Animals for slaughter will have to be bought from producers at source.
The regulation covers bulls, bullocks, cows, buffalos, steers, heifers, calves, and camels and is likely to cripple the Indian cattle market, which employs more than 2,2 million people.
The Madras High Court in the southern state of Tamil Nadu has suspended the ban for four weeks and has asked the central government to explain why it should not be vetoed permanently.
Kerala, West Bengal, Meghalaya and Puducherry states have also opposed the ban. Kerala Chief Minister Pinarayi Vijayan said it was an anti-federal, anti-democratic and anti-secular move.
"This is nothing but an attempt to usurp power from the state governments. We will oppose it completely," he said.
But the High Court in the northern state of Rajasthan wants the cow to be declared the national animal of India. It suggests the sentence for cow slaughter be raised from three years' imprisonment to life.
A government statement said the rules are to ensure the animals' welfare and protect them from cruelty.
"The basic purpose of the rule is to ensure welfare of the animals in the cattle market and ensure adequate facilities for housing, feeding, feed storage areas, water supply, water troughs, ramps, enclosures for sick animals, veterinary care and proper drainage," the statement read.
The government has initiated two committees: the District Animal Market Monitoring Committee to register animal markets; and the Animal Market Committee at the local authority level to manage the markets.
"The prime focus of the regulation is to protect the animals from cruelty and not to regulate the existing trade in cattle for slaughter houses," the government said.
"It is envisaged that welfare of cattle dealt in the market will be ensured and that only healthy animals are traded for agriculture purposes for the benefit of the farmers."
The government said the new rules would also stop a major concern; illegal cattle sales and smuggling.
Analysts said the ban will likely destroy India's huge beef export business. Indian beef shipments account for 20% of beef on the international market, and if the ban is upheld, there will be a significant drop in supply.
Matt Dalgleish, livestock market analyst at Mecardo, an Australian agricultural analysis company, said the ban will affect the global beef supply chain.
"The Indian global presence is much more relevant when taking into account global beef export volumes …".
"Despite the fact that our key export markets are different to India and the comparison between beef and buffalo needs to be taken into account, there is no denying that current Indian beef customers such as Vietnam – and by proxy, China – will need to source this protein from somewhere else," he added.
Most Indian beef comes from water buffalo rather than cows, considered sacred by Hindus, who comprise some 80% of India's population.