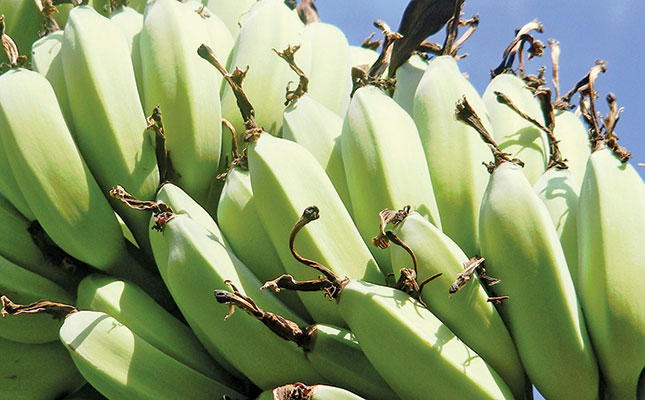 Banana growers in Colombia are on high alert following the outbreak of a banana-killing virus that has already devastated crops in Asia.
Prevention protocols are being implemented after four Colombian plantations were placed under quarantine in the La Guajira region as it was suspected that they had been infested by the harmful fungus Fusarium race 4.
The fusarium wilt tropical race 4 (TR4) is a virus that kills banana plants by clogging their vascular systems.
Neighbouring countries in Latin America had also been placed on high alert, and as the leading banana exporter in the world, Ecuador's agriculture minister Xavier Lazo Guerrero announced that preventing TR4 from entering the country was the "number one priority".
Patricio Almeida, executive director of Agrocalidad, the Animal Plant Health Regulation Agency in Ecuador said that all the necessary protocols had been implemented to safeguard the agricultural industry there.
"This is a danger to our economy. We have more than 16 000 producers of bananas, plantains, and other banana-like crops. Unlike the rest of Latin America, there are many small-scale producers here that provide for their families. The overall industry employs more than 2,5 million people. It accounts for 17% of the population's employment, and is worth more than US$3 billion (R42,5 billion)," he said.
According to Guerrero, the ministry had taken multiple precautions and contingencies to fight the fungus.
"We have formed biosecurity protocols that are part of a larger plan to stay ahead of this fungus. We'll have almost 1 000 technical experts deployed in [banana-growing zones]. We're distributing information on how to prevent and diagnose the fungus, and what to do in case symptoms of the disease are found."
The Banana Association of El Oro, consisting of producers from the El Oro region in Ecuador, recently formed a collaboration with Carlos Falconí Borja, a researcher of phytopathogens on the Fusarium Raza4 fungus (Panama Mal) and prevention measures.
"It is the vast majority that does not know the severity of the fungus, in addition to having little purchasing power to invest in prevention plans," said Segundo Solano, president of the Banana Association of El Oro.
However, banana producers in the country had been extremely proactive in wanting to receive training in preventing the virus, "we are asking to work in a continental force, it is worrying that the fungus is in Colombia. The economic impact will be serious for Ecuador," said Byron Paredes, president of the Association of Banana Producers of Ecuador.