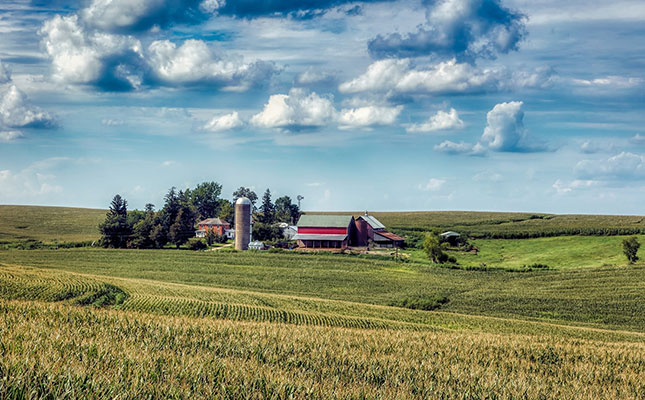 Global wheat prices reached 14-year highs in the first week of March on the back of fears about serious disruptions in grain and oilseed exports from the Black Sea region due to the Russia-Ukraine conflict.
In the US, the current rally of grain and oilseed prices could, however, help to support the incomes of those US farmers who produced these crops, according to David Oppedahl, an economist at the Federal Reserve Bank of Chicago.
But, the extent of such a financial boost for farmers remained unclear, as production costs were soaring. At the same time, COVID-19-related and other support grants that had been paid to farmers by the US federal government since 2019, were falling, he said.
Speaking during a recent Federal Reserve webinar on US agriculture, Oppedah said: "While the rally of agricultural prices is helpful, inputs are higher too".
The net farming income of US farmers was expected to reach US$113,7 billion (about R1,7 trillion) in 2022, or a 4,5% drop compared with 2021, according to the latest data released by the US Department of Agriculture (USDA).
However, these estimates were released before the start of the Russia-Ukraine conflict.
USDA data indicated that direct government payments were expected to reach US$11,7 billion (R176,6 billion) in 2022, down from an estimated US$27,1 billion (R409 billion) in 2021, US$46,6 billion (R703 billion) in 2020.
Nearly all categories of farming expenses were also expected to rise this year, with total production expenses, including fuel, fertiliser and crop chemical costs, forecasted to reach the highest levels since 2015, when adjusted for inflation, according to the USDA data.
Meanwhile, Julie Marshall, spokesperson for the World Food Programme, said in a statement that disruptions to commodity supplies from Russia and Ukraine would erode food security for millions of people, with the Middle East and North Africa especially vulnerable due to countries in these regions' reliance on imports.
Oil and gas prices were also spiking due to the sanctions against Russia, while the cost of freight and raw materials, such as steel, had already soared due to COVID-19-related supply chain disruptions.
The statement said that the threat to global wheat supplies as a result of the Russia-Ukraine conflict had been exacerbated by a decline in the stocks of major global exporters.
Supplies in the EU, Russia, the US, Canada, Ukraine, Argentina, Australia and Kazakhstan were set to fall to a nine-year low of 57 million tons by the end of the 2021/22 season, International Grains Council (IGC) data showed.