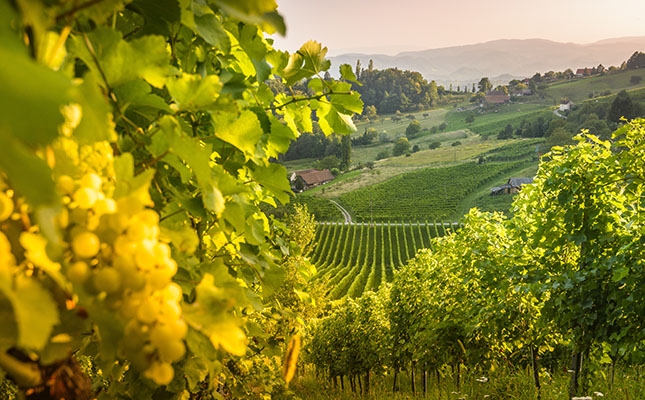 One of the world's trendiest wines, Grὕner Veltliner, produced in vineyards on the hills surrounding the town of Langenlois in Lower Austria, is under threat from a rapidly changing climate.
Made from the Grὕner Veltliner grape, this dry white wine has become a cult drink not only in the taverns and bars in the country's capital, Vienna, but also as far afield as New York and London.
However, rising temperatures are negatively affecting budding, flowering and growth of grapevines in the region, according to wine experts.
Reports indicate that rising temperatures are resulting in a higher sugar content in the grapes, which might lead to higher alcohol content adversely affecting the wine's quality.
Temperatures in Austria have risen on average 2°C since 1880, more than twice the global average.
"If global warming continues like this, we are really in for a disaster. Our cultural assets, from skiing to Grὕner Veltliner, are acutely at risk," said Willi Bruendlmayer, one of Austria's largest producers, at about 600 000 bottles a year.
Recent opinion polls indicate that Austrians are concerned about the environment. Following last month's parliamentary elections, calls were made for the next government to put climate change at the top of the political agenda.
While the country's People's Party (OVP) had a strong showing in the election, it did not win an outright majority, and will be looking for alliance partners to form a coalition government.
One of these potential partners is the Greens party, but it would not be easy to reconcile policy differences, analysts have said.
Addressing climate change challenges is not one of party leader Sebastian Kurz's priorities, and the party ruled out the introduction of a carbon tax, which the Greens party supported.
Although the OVP said it would introduce a policy to reduce carbon emissions, it would not be undertaken at the expense of motorists and those living in rural areas.
The Grὕner Veltliner grape variety accounts for more than a third of all vineyard plantings in Austria, and have been the main wine export in recent years.
"Producers of Grὕner Veltliner are coming under pressure because the acidic quality standards can hardly be reached anymore," said Josef Eitzinger, a climatologist at the University of Natural Resources and Life Sciences in Vienna.
On average, about 2,5 million hectolitres of wine are produced in Austria a year, mostly for domestic consumption. The country exported almost 53 million litres of wine, valued at about €170 million (R2,8 billion) in 2018, mainly to Germany, he said.
According to Josef Glatt, the director of the Austrian Winegrowing Association, adjusting to new climatic conditions was not easy. "The vineyard is a long-lived culture, 40 to 50 years old."
Nevertheless, growers are considering moving to other varieties. "It's not that easy, and does not make much sense, because consumers want the Grὕner Veltliner," he said.