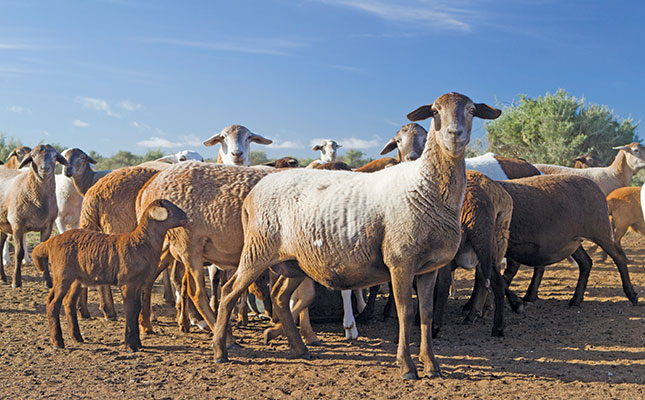 A small flock of crows fly to a tree and settle there as we drive through the Karoo shrub on the farm. Jean du Plessis says the birds let him know when he has lost lambs to predators overnight.
READ Damara sheep: No environment too tough
"They are pointers and show me early in the morning when there has been damage. They also fly when the ewes start lambing; they hang around to pick up the afterbirth," he says.
Du Plessis selects his sheep phenotypically, based on the correct appearance to survive and produce in the extensive conditions on his farm.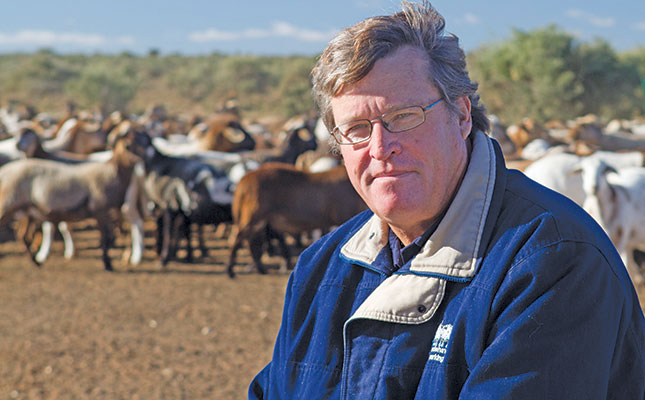 He and his wife, Cecile, run their commercial operation, Elandsnek Boerdery, in the arid terrain near Strydenburg in the Northern Cape, where they have been farming Meatmaster sheep since the mid-1990s.
Du Plessis says the Meatmaster gives them the best of both worlds, as the animal is hardy, fertile and adaptable, but still produces a good meat yield and carcass.
Origins of the breed
A Meatmaster is an indigenous Damara crossed with another sheep breed. The most common cross is with a Dorper, but many of the first Meatmasters were crossed with breeds such as the Ile de France or the Van Rooy.
The Damara is a tough sheep, recognisable by its long, slender form and thick, fat tail. It is known for its ability to survive in tough environments such as Namibia and the Karoo.
The problem with farming purebred Damara, says Du Plessis, is the carcass. It carries the bulk of its fat in its haunches, with the shoulder cuts appearing narrow and the very lean meat having a venison-blue colour, which results in the carcass being penalised by abattoirs.
This prompted pioneers like Du Plessis to start experimenting by crossing the Damara with other sheep breeds to create the first Meatmasters.
Crossbreeding for an optimal carcass
When he brought his foundation Damara stock from Namibia to Strydenburg in the early 1990s, Du Plessis immediately started phasing them in by crossing them with his existing Dorper flock.
"My aim at that stage was to breed ewes that were hardy and fertile and could produce good slaughter lambs," he recalls.
READ A rare crossbreeding project
While he favoured the Damara for traits such as hardiness, fertility and good maternal abilities, the carcass penalties were something that would cut directly into his bottom line as a slaughter lamb producer.
"The ideal grading is a 2 or 3, as abattoirs pay the highest price for this. I don't want to slaughter stock knowing it'll all be graded at 5 or 6. I want a good chance of having a high percentage of ideal carcasses."
Du Plessis says that nowadays his ewes produce 70% to 85% lambs with 'ideal' carcasses, despite having a predominantly Damara appearance.
Meatmasters are separated into three types: the all-rounder, the all-rounder European and the all-rounder African. An all-rounder European is a cross between sheep such as a Damara and a Dorper, but phenotypically tends to depict its European heritage. The all-rounder African looks more like a purebred Damara.
However, Du Plessis emphasises that wide variation is permitted even within these three types.
"There's variation within the all-rounder type, where it still remains ideal for us."
He says that the Meatmaster studbook remains open specifically to allow for variation.
READ Veld rearing & good dam selection: key to top Dorpers
"If one considers the breed standard, we're less rigid and more open and accommodating. Colour, for example, is not fixed."
Du Plessis is first and foremost a commercial farmer, but not long after he officially started producing Meatmaster lambs for the slaughter market around 1995, he started receiving enquiries about rams.
"Up to that point, I'd slaughtered everything. That was the aim. I bred slaughter stock and marketed my lambs at the local abattoir."
Despite this, he has always been passionate about breeding for improvement.
"I was constantly trying to improve and ennoble my stock, and exercised strict selection. I then started developing demand for my rams."
He began by verifying and improving his flock health status to eliminate problems such as pizzle disease (balanoposthitis) and Brucella ovis.
"When you provide rams to the market, you have to ensure they're disease-free," he stresses.
Once he had achieved this, he started implementing strict selection in line with the guidelines set out by the national structures that were starting to take shape in the mid-1990s. More breeders came on board, meetings were held, and the Meatmaster breed society was established in 2008.
For Du Plessis, selection boils down to maintaining the fine line between an animal that will thrive in its terrain, yet be chosen for slaughter.
"If I arrive at the abattoir and see discrimination against my carcass, I'm not interested in that animal. It must be acceptable, but still able to function in our environment."
Important traits
Du Plessis says Meatmasters have been bred to survive tough times and can conceive with even a poor body condition score.
"The benefit of the Meatmaster is its ability to keep producing under difficult conditions, which is an incredibly important economic factor."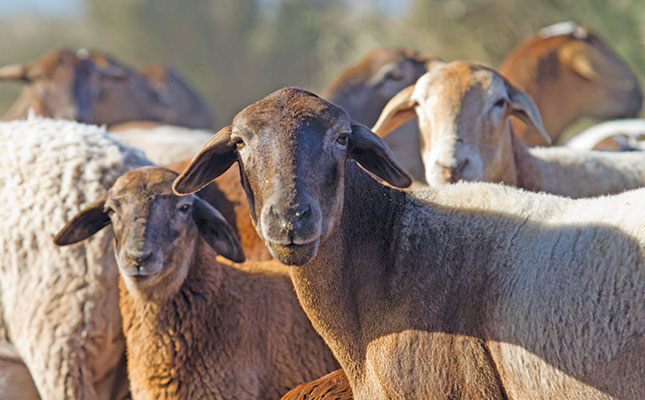 The Meatmaster is a non-selective grazer and browser, which means it can optimise any available food resource and does not damage the veld by overgrazing a preferred plant species.
In true extensive conditions such as Du Plessis observed in the Kaokoveld, animals will also drink at a water source only every two or three days.
When breeding rams for commercial farmers, Du Plessis strives to fulfil one need: "Farmers want a ram that they can put on their ewes to give them many good lambs."
Breeding
He has approximately 1 200 ewes divided into herds each of about 135 breeding ewes that lamb on the veld. Rams are left with the ewes permanently and the breeding season is allowed to proceed entirely naturally.
Although there are certain seasonal peaks, the lambs are born throughout the year and Du Plessis markets slaughter stock at the abattoir in town.
He does not carry out any performance recording and limits interference in his stock to a bare minimum.
READ Strict selection the key to Boer goat meat production
"The Meatmaster is a wild thing and I don't want it tamed. The moment it becomes too domesticated, predators can catch it more easily," he says.
This does not mean that Du Plessis does not apply strict selection. The animals that are not sold to the slaughter market are selected for his own replacement stock and breeding rams. He is one of four members of the Kalahari Karoo Meatmaster group, who host several sales a year at which selected rams with screened health status are offered.
He also does not allow non-productive ewes to remain on the farm and will go through his flocks several times a year to remove unproductive or unwanted animals.
"You can clearly see a ewe that is not lambing regularly. Her shape changes; she becomes more masculine, heavier in the forequarter and lighter in the rear."
Other important traits include good mothering instincts and milk provision, wool quality, build, and strong herd bonding.
Rams are selected with the emphasis on hardiness and appearance.
Management basics
The Du Plessis's business is named after the farm Elandsnek between Strydenburg and Hopetown, but Du Plessis says predators on this farm make it unviable for a sheep operation.
Instead, he runs cattle here, and keeps the Meatmasters on a farm nearer Strydenburg owned by Cecile, as well as on leased lands.
The flocks are not grazed in a rotational camp system, but moved to different sections of the farm as grazing resources become available after rain.
"Just 20mm will get the shrubs growing, and this provides me with enough feed to take them through the winter."
He monitors his water points remotely with a home-built camera system. This ensures that the troughs do not run dry during peak summer periods.
He does not farm 'from a bag' but puts out summer or winter lick to supplement the veld as needed, particularly during times of drought. He monitors the animals and increases the quantity of supplement if conditions continue deteriorating.
"I don't want my animals to get into trouble or to that 'hope' stage," he says, referring to a situation where animals starve to death while the farmer hopes for rain.
Commenting on the drought conditions he has experienced over the past three years, he says he has to do all he can to save his stock.
"This is my life's work, and I'm too old now to rebuild these genetics."
Email Jean du Plessis [email protected].