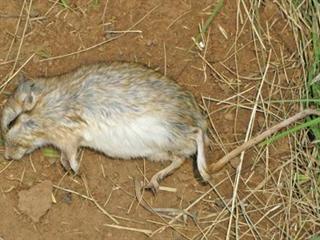 Gerbils are burrowing small rodents with short tails and long hind legs. They're normally found in hedgerows and near fences in undisturbed soil away from crops, and their burrows can easily be spotted, according to Dr Gerhard Verdoorn, head of the Griffon Poison Information Service.
After farmers have planted, the animals move into the lands and begin digging out the seeds. But they do even more damage later, chewing freshly germinated plants and severing them from the seeds. Outbreaks tend to be more frequent during successive wet seasons.
Once the gerbils are eating the crop, it's too late to do anything about it. Prevention, achieved when lands are fallow, is the only effective solution, says Dr Verdoorn. There are three methods: encouraging raptors and owls onto your farm, destroying the rodents' burrows, and only if absolutely necessary, using rodenticides.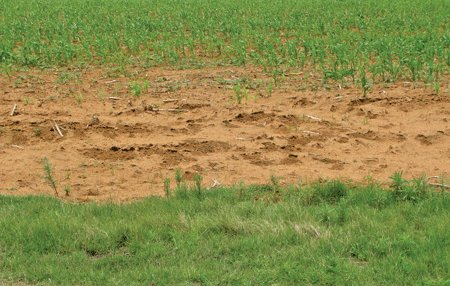 The best way to attract birds of prey is to clear a 2m-wide strip around your lands and provide perches for them. Each type has its own preferences. Raptors need a perch on a 75mm x 50mm untreated gum or poplar pole about 2,4m high. The perches should be erected at 20m intervals.
For owls, simply plant poles (any wood will do) 1,4m high and 50m apart. The birds seem to prefer straight poles without cross-arms. Remove barbed wire from fences near perches, as owls are often trapped by the barbs when they perch on a fence.
Nesting boxes can also be erected for barn owls and spotted eagle-owls on lands – one nesting box per 20ha.
Each box should have a 400mm x 600mm base with three walls 400mm high. It must have a roof and one of the short sides should be left open as an entrance, with a 50mm-high sill to keep chicks and eggs safe. The ideal height is 4m or higher above ground level, and the box may be attached to trees on the perimeter of the fields or on a pole.
Three coats of boiled linseed oil will preserve the wood for at least nine years. Nest destruction To destroy gerbil colonies, till the lands to a depth of 700mm after harvesting. It may only be necessary to do this 30m to 50m around the land, as gerbils seldom invade further than that, says Dr Verdoorn.
Raptors and owls will capitalise on the rodents' lack of shelter, and gerbil numbers should drop. If need be, though, repeat the tilling after a week to destroy any remaining nests. A handy trick is to till the cleared 2m-wide strip around the crop land and plant a 1m-wide band of cheap grain as a "trap crop" on the outer perimeter of the strip so that it germinates simultaneously with the cash crop. This will help to keep the rodents out of planted areas.
Rodenticides
Scavengers and birds of prey that eat poisoned gerbils can also die, so only products with the lowest risk of secondary poisoning must be used. The best option, according to Dr Verdoorn, is the anti-coagulant coumatetralyl, available as Racumin (L4284).
This consists of weather-resistant wax blocks palatable to rodents. To set up a bait station, slide four blocks onto a wire loop and place this inside a plastic pipe 75mm in diameter and 600mm long, tying the loop on the outside of the pipe.
Place the bait stations at 20m intervals on the perimeter of the crop land inside the first row of plants. During the fallow period, they should be placed on the verges of hedgerows. Check the bait stations every four days and replenish if necessary.
According to Dr Verdoorn, "pulsed baiting" should be used with anti-coagulant rodenticides. Bait should be supplied for 10 to 14 days, removed for 14 days and re-applied for 10 to 14 days.
Wax blocks must not be placed outside the bait stations – this poses a risk to non-target animals. Raptor perches should be taken down and re-erected four days after the end of a rodenticide campaign and the dead rodents have been disposed of.
Phosphine
Another class of poisons are those containing zinc phosphide (L3519). These release phosphine on contact with water or the rodent's stomach acid, and so must only be used in watertight bait stations. Place ready-to-use bait stations on the perimeter of the crop land in the first row of plants and in hedgerows where gerbil activity is noticed.
They can also be put directly into gerbil burrows. Make a long tube funnel from 25mm PVC irrigation pipe and the upper end of a 2l plastic soft drink bottle. Insert the pipe into the burrow and pour about two tablespoons into it. Once the bait is dispensed, push the soil over the entrance of the burrow to close it up.
Raptor perches must be taken down before baiting commences and should only be re-erected two days after baiting has stopped. Workers who handle phosphine must wear butylene rubber gloves and protective masks. Finally, zero and minimum tilling are good soil conservation practices, but contribute to increased gerbil numbers in endemic areas.
To maintain pressure on the rodents, it's essential to monitor the lands carefully. Should gerbil populations increase, till the crop lands to destroy the rodents' breeding habitat. •FW

KEY CONTACTS
Dr Gerhard Verdoorn, head of the Griffon Poison Information Service: 082 446 8946.
The Griffon Poison Information Centre 24-hour poisoning helpline: 082 446 8946.
Coumatetralyl is available as Racumin and distributed by Coopers: 011 979 4246.
Ready-to-use zinc phosphide baits can be obtained from Kempton Chemicals on 031 305 4231, Avima (Avi-Knaagdood) on 011 769 1300, or Arysta LifeScience on 011 812 9865.