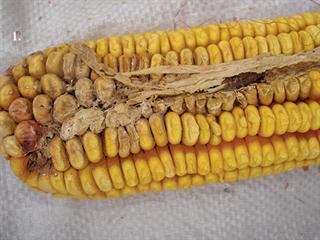 Commercial growers plant Bt maize hybrids for convenience and yield protection, reduced need for chemical insecticides, and improved grain quality, while subsistence farmers still tend to rely on traditional pest management methods, such as the use of insecticides, to control maize pests.
"These subsistence farmers should weigh the cost of buying insect protection 'in the bag' against economic affordability," says Edson Ncube of the GCI. "Planting insect-resistant Bt maize hybrids reduces Fusarium ear rot/cob rot – which occurs in all maize-producing regions – and health-threatening fumonisin mycotoxins."
He points out that maize hybrids expressing the MON 810 gene (Bt maize) are widely planted for the control of stem borers in South Africa. "The latest statistics from the International Service for the Acquisition of Agri-biotech Applications (ISAAA) show that planting of biotech crops in 2012 increased for the 15th consecutive season in South Africa," he says, adding that this was driven by increased hectarage under maize and soybeans.
"The estimated total biotech crop area in 2012 was 2,9 million hectares, compared with 2,3 million hectares in 2011," says Ncube.He notes that pests primarily targeted by Bt maize include the African stem borer, Busseola fusca (picture 1), the most destructive maize pest in South Africa, and the spotted stem borer, Chilo partellus (picture 2).
A three-year study conducted at the ARC-GCI to determine the effect of insect-resistant Bt maize on Fusarium ear rot and fumonisin production indicated that the F. verticillioides x B. fusca interaction (picture 5) resulted in a greater incidence of Fusarium ear rot and fumonisin production in non-Bt hybrids than in Bt hybrids. Insect-resistant Bt hybrids control B. fusca and are indirectly effective for the management of Fusarium ear rot and associated fumonisin production.
Fusarium ear rot (pictures 3 and 4) occurs after flowering and is most severe under hot, dry weather conditions. It is mainly caused by Fusarium verticillioides, although F. subglutinans and F. proliferatum are also important. F. verticillioides can live without showing symptoms on the maize plant.
Danger to people and animals
Fusarium verticillioides also produces fumonisin mycotoxins that have been associated with diseases in people and livestock. Fumonisins have cancer-promoting properties that have been associated with human oesophageal cancer in rural areas in South Africa and birth defects in humans in Mexico and the USA. Exposure to fumonisins in animal feed shows varied clinical symptoms across animal species. The most dramatic manifestation of fumonisin contamination in maize feed is equine leukoencephalomalacia, which causes tremor, circling, depressed consciousness, reduction in muscle co-ordination, and possible death in horses and donkeys.
Fumonisin-contaminated feed can also cause pulmonary oedema in pigs. This disease leads to fluid accumulation in the lungs, which may ultimately cause respiratory failure. Fumonisins cause immuno-suppression in chickens and are toxic to broiler chicks and chicken embryos.
For more information on Fusarium, phone Edson Ncube on 018 299 6100.