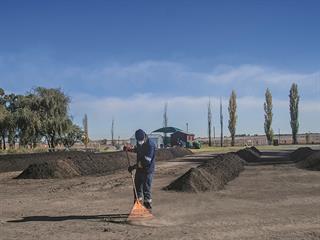 Sasol's project to transform biosludge into compost started in 2012. If successful, it will ease the environmental challenges currently faced by the integrated energy and chemicals company. Offering a cost-effective solution to utilising waste, composting will allow Sasol to reduce its environmental impact in line with new air quality and waste management legislation. The compost produced can be used to rehabilitate farmlands, old mine dumps and ash heaps.
The process
Converting sludge into compost is a complex process that takes three months. The method was developed by Sola Fidei Manufacturing, a small business incubated by Sasol's enterprise and supplier development division. The project is being piloted at a site adjacent to the company's Secunda complex, where a sludge waste stream is produced from its coal-to-liquids process.
Composting domestic sludges is practised worldwide, but composting industrial waste sludge is novel. It entails using specialised heavy metal-composting bacteria to break down the potentially harmful trace elements in the sludge into an immobilised, environmentally-friendly form. Sugargraze, a hybrid grass cultivated adjacent to Sasol's Secunda complex, is used as a bulking agent. The material is windrowed and turned for aeration. One hundred tons of processed sludge produces about 40t of compost.
Positive results
"The trial phase, from 2012 to 2014, has created 25 jobs and yielded very promising results," Sasol states in its 2014 Sustainable Development Report. "Apart from the environmental benefit of the composting project, over 100 permanent skilled jobs will be created if the project reaches beneficial operation, which we plan to achieve in August 2016."
According to Candice Odell, assistant technology manager of environmental technology, about 80 000t/year of biosludge is available at the Secunda plant for composting. "The compost is earmarked for internal purposes only, not for the commercial market. However, it will follow the product registration route," she explains.
Dr Sarushen Pillay, Sasol technology manager: environment, group technology, says Sasol is optimistic about the project.
"We conducted our initial test work in April 2012 on a 30t batch of biosludge," he explains. "This yielded such encouraging results that we decided to go ahead with further trials. Our results show us that we've succeeded in producing compost that meets the specifications of the Fertilisers, Farm Feeds, Agricultural Remedies and Stock Remedies Act."
In order for the compost to be legally classified, Sasol's team is analysing the final product. To date, test results indicate that its quality is comparable to that of commercial compost, with metal concentrations falling within acceptable levels. "The compost is typical of natural sources of NPK, with the benefit of a range of micro-elements and high organic content. The final quality will be published as per product registration," says Odell.
Building composting sites elsewhere may be considered in due course, and it is possible that the process could be adapted for farm use. "The current process is focused on the treatment of industrial sludges. In its current form, it's not applicable to farm waste, but Sola Fidei Manufacturing could develop a process to fit that purpose," she said.
Email Candice Odell at [email protected].