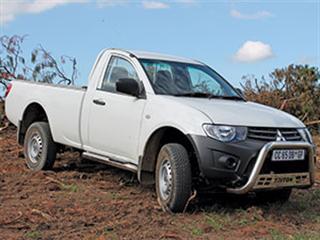 Mitsubishi South Africa recently expanded its well-known range of two ClubCab and three premium Triton Double Cab bakkies with three one-tonner 4×2 single cab models. And they're a pretty formidable trio. Unless you farm in a swamp or on a cliff face, these 4x2s are almost certainly able to carry out most of the work you'd expect from the average 4×4.
According to Mitsubishi SA CEO Jaco Oosthuizen, his company decided to bring in the 4×2 models to take advantage of the fact that the one-tonner single cab market comprises about 55% of the country's total bakkie market. "We believe that with the reliability and ruggedness of the Triton we'll deliver a fantastic bakkie to this market," he said.
Two of the Triton Single Cab models, the baseline GL and the better-equipped GLX, are powered by Mitsubishi's tried and trusted 2,4l, four-cylinder, multi-point fuel injection petrol engine, which produces 97kW of power at 5 250rpm and 202Nm of torque at 4 000rpm. Consumption is claimed to be 10,4l/100km. The third model, also a GLX, is powered by Mitsubishi's equally well-proven 2,5l, four-cylinder, dual overhead camshaft, electronic common rail diesel engine with turbocharger intercooler. This generates 100kW at
4 000rpm and an impressive 314Nm of torque at 2 000rpm, while achieving a fuel consumption of 8,2l/100km. All three models have a five-speed manual gearbox. I was able to test-drive the petrol engine GLX model, distinguishable from its GL sibling through having air conditioning, electric windows and central locking, and from its diesel engine GLX sibling that comes with a rear differential lock for more versatility off-road.
All three models have an anti-lock braking system, an electronic brake force distribution system, dual airbags, Mitsubishi's reinforced impact safety evolution body construction, front door impact bars, and a collapsible steering column. An engine immobiliser is also standard.
Rugged suspension
In addition to having stylish yet assertive lines, the Triton Single Cab has a distinctive high-rider appearance thanks to its strong suspension system designed to carry big loads across tough terrain. The front suspension comprises independent double wishbones and coil springs, while the rear heavy duty suspension consists of rigid elliptical leaf springs. The high-rider design gives the Triton Single Cab a 200mm unladen ground clearance, able to clear all but the most uneven terrain.
The Triton Single Cab's 2,2m x 1,7m x 0,405m load bin means that the vehicle can carry large loads of varying configurations. I was easily able to load and transport a huge load of offcuts from a small felled pine plantation. Even without a diff lock, the petrol engine GLX was able to effectively negotiate tricky terrain into and out of the plantation, laden and unladen, and hold the road well with the considerable weight in the back.
While the rigidity of the Triton Single Cab's suspension is essential for those big loads, be warned that it produces a rough ride when the bakkie is unladen and driving over potholes. Fortunately, the cab's comfortable seats help to ease this somewhat. The stiff rear suspension can also prove challenging when you're taking a corner on a corrugated dirt road at higher speeds without a load on the back – the rear tyres sometimes struggle to maintain traction. Mitsubishi claims that in addition to being able to carry a 1t load, the petrol engine versions can tow 1 200kg, while the diesel can tow 1 500kg.
Simple and robust
Rounding off the Triton Single Cab's appeal is its functional and durable interior. It's simple and robust, with very little other than the windscreen wipers and indicator controls that could be accidentally snapped or broken during the rigours of a hard day's work on the farm. Seats, floors and the dashboard are easy to clean, a bonus considering the mud and dung that are bound to find their way into the cabin.
All in all, the Triton Single Cab gets my thumbs-up as a tough-as-nails workhorse ideally suited to a challenging work environment. At the time of going to print, the petrol engine Triton Single Cab GL was retailing from R179 900 (excl. VAT), the petrol engine GLX from R189 900 (excl. VAT) and the diesel engine GLX from R239 900 (excl. VAT). Each comes with a three-year/100 000km warranty. The petrol version has a five-year/75 000km service plan and the diesel a five-year/70 000km service planl. Service intervals are 15 000km for the petrol version and every 10 000km for the diesel.
Contact 011 552 6000 or visit www.mitsubishi-motors.co.za