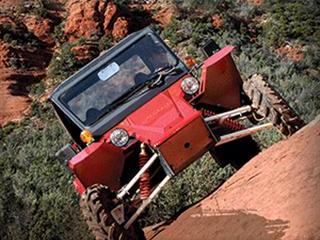 It started out as a fast, tough off-road military vehicle and has evolved into a durable and versatile machine ideal for the most demanding conditions in farming and private use. The Tomcar is quite unlike any other all-terrain vehicle. In contrast with mass-market ATVs and UTVs, it's built to professional grade standards from the highest quality materials and components.
For example, its chassis is crafted from fully-welded steel tube, making it immensely strong, and it has a heavy-duty, four-wheel independent suspension. With its short wheelbase, low centre of gravity, long suspension travel, and 370mm clearance, the Tomcar is fast and manoeuvrable, and off-road handling is exceptional.
Built to last
The Tomcar is the product of more than 30 years of engineering, and started life as the solution to a need in the military for an off-road vehicle that was smaller than a conventional sport utility vehicle yet faster, safer and more nimble than any other ATV. It had to be light and agile enough to scale stony hillsides, with enough ground clearance and suspension travel to cope with rocks and debris.

The large load bed makes the Tomcar indispensable on the farm.
It had to be simple to drive, durable enough to stand up to the most brutal environment, and simple to maintain and repair in the field. It met all these challenges – and more.Now hand-built in the US, it is the only commercial and recreational vehicle of its type engineered to military specifications.
Frame and skid plate
Among the Tomcar's many outstanding features is a heavy duty frame of high-grade steel, welded to create an armoured cocoon that protects its occupants from injury. A flat, one-piece skid plate of aircraft-grade aluminium protects the entire underside from rocks and stumps. Unlike steel, this material tends to 'slide' over obstacles instead of digging in. The Tomcar is fitted with a rear-mounted 4-cylinder 1.4l naturally aspirated diesel engine. It is liquid cooled and delivers more power and low-end torque than most single-cylinder or V-twin motorcycle-derived ATV engines.
CVT transmission and locking off
As well as being strong and dependable, the Tomcar's drive system has superior thermal management properties for excellent performance and durability. It consists of a Continuously Variable Transmission (CVT) with exposed drive belt linked to the final drive. This CVT unit runs cooler than those of other ATVs, and the belt, should it ever break, can be quickly replaced in the field without tools. The transmission controls have two shift levers. The first selects high, low and reverse ratios and engages neutral, the other locks or unlocks the differential, whether the vehicle is stationary or on the move.



The load bed can be tilted for maintenance of the engine and drive.
Suspension
The Tomcar's suspension is fully independent front and rear with dual coil springs and infinitely adjustable hydraulic shock absorbers. In front, the extra heavy-duty suspension mounts carry double steel A-arms designed to bend rather than break under excessive impact so that the vehicle can still be driven home for repair.
At the rear, large swing arms provide 330mm of wheel travel and are paired with shock absorbers with frame-mounted accumulators that keep their temperature under control, minimising fade over rugged terrain. Tomcar offers a factory-fitted accumulator, a feature usually available only in high-cost aftermarket suspension kits.
Swing arms at the rear transmit drive to the rear wheels. Each swing arm contains a double roller chain in an oil bath encased in armoured steel. With conventional drivetrains, the vehicle squats down at the back during acceleration, but with Tomcar the torque forces the swing arms forward and downward, lifting the rear of the vehicle and enabling it to maintain its class-leading ground clearance, even under load.

Two-wheel drive
The Tomcar was designed as a rear-wheel drive vehicle for several reasons. Four-wheel drive vehicles need to slow down to make rapid turns or to protect underparts in tough terrain. This means slow crawling and climbing. With Tomcar, it's just the opposite. The engine and most other heavy components are at the rear. Combined with a light front end, this rear weight bias gives Tomcar excellent traction in most conditions, while allowing higher off-road speeds.
Safety
The Tomcar has straightforward, automotive controls and is simple and safe to drive. Features include power-assisted disc brakes on all four wheels, rack-and-pinion steering, halogen headlamps, adjustable bucket seats, racing style four-point harnesses, a tilting steering column, automotive safety glass windshield with wipers and washers and the only completely welded frame in the industry.
A reinforced front end reduces vehicle damage and injury to occupants in the event of an accident. Maintenance is quick and easy, thanks to part symmetry. For example, the front suspension's shock absorbers are interchangeable with those of the rear, so only one spare is necessary. And replacing a drive belt takes just 30 seconds – without tools. Many wear components are adjustable to compensate for wear, extending the intervals between replacement.
Three models
Three models are available, differing in length, wheelbase, weight, seating capacity and cargo box, payload and permissible towing weight. Standard equipment on all models includes a 26l fuel tank; 12V battery, 25A alternator and a 12V power socket. The wide range of optional equipment includes, among many others, a canopy and sides, spare wheel and holder, and winch bracket.
Contact: Colin Morisio Borges on 012 347 7562, or email [email protected]. Website: www.sportsride.co.za