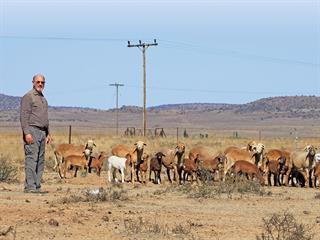 What were the highlights and challenges for your business in 2015?
Severe challenges always serve as a good opportunity to showcase the genuine potential of your business. Receiving awards for the Smallstock Breeder of the Year as well as the ARC Elite-Platinum Cow of the Year, both for breeds such as the Meatmaster and Boran, bred specifically for optimum production under natural conditions, was an honour as we were in the grip of a terrible drought all year.
What would be the best-case scenario for the sheep farming industry in 2016?
Good rains will help to lift our spirits. Finding ways to capitalise on the poor value of the rand can help to fill the coffers. Ways have to be found to export our excellent South African sheep genetics. Abattoirs for the export of sheep meat must also become a reality to reap the benefits as wool and mohair already are.

The worst-case scenario?
I believe that droughts and difficult economic times are an excellent opportunity to accurately evaluate flocks and do long-term planning regarding future goals. However, a continuation of the current drought could have devastating consequences for all stock farmers, thus also affecting our company. Additionally, a further continuation of government making day-to-day ludicrous statements for the ears of the ill-informed instead of concrete plans for a better SA and for all its citizens.
How will you sustain or increase your business profitability in 2016?
One of our slogans is that what we farm and how we farm must always help us get through the bad times, with no debt, and leave the good times to look after themselves. Having said that, we will continue to diligently select our sheep to improve their genetic ability and to be more profitable as producers.
The challenge is to never give in to better managing or feeding our sheep to improve performance, but to instead, allow nature to help us select for the best genetics instead. Our stud animals must face the toughest conditions because we are selecting for the best genetics. With our commercial sheep, we will make the sums to best use our genetics for optimal production by improving management and feeding. With greater purpose, we will pursue our export opportunities because there is potential there.
How do you plan to manage natural resources such as water and grazing on your farm in 2016?
As an extensive sheep farmer, the correct use of our natural resources such as water and grazing is what makes a company profitable or not. The drought has once again taught us how important it is to build up veld reserves and also to not sell the fodder we produce as it becomes unavailable in times like these. We will continue to use water sparingly, and only on high-potential soil.
If you could have been the South African minister of agriculture for a day, what would you have changed?
Firstly, a day is too short. I would gather those with the greatest wisdom and knowledge to help put into place a long-term plan for agriculture and food security. The plan would be reasonable to all farmers and workers, based on business principles, not influenced by political decisions and yet righting the disadvantages of the past.
Farmers and workers must have confidence in the plan in order to implement the changes required to make agriculture an enterprise to benefit all South Africans. Most importantly, the plan must help create an environment where farmers of all races will be respected for the contribution that they are making to food supply and nation-building.