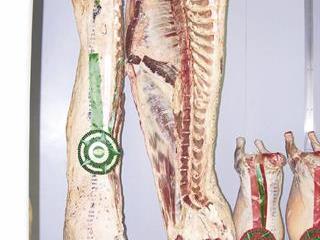 Every year beef breeders from around KwaZulu-Natal vie to produce the Royal Show's champion beef carcass, in a competition judged by the South African Meat Industry Company (SAMIC).
This year, SAMIC awarded Mooi River's 96-year-old Weston Agricultural College the first-place rosette for a Hereford/Brahman cross carcass that scored 98,11%.The college's parents, staff, learners and old boys are very proud of this achievement, the more so after Brad Grieve of Pietermaritzburg's Butcher Boys Steakhouse and Grill paid an impressive R50/kg for the carcass at the auction following the prize giving.The win was a surprise for Weston because the college's commercial beef herd is still some time away from having the Braford-type of animal Weston farm management and agricultural educators are aiming for.
Rebuilding a commercial beef herd
Weston is a government agricultural school, and in recent years has faced severe funding cuts. So when the governing body decided it needed to get Weston's dairy herd to optimal production, a significant number of the college's beef herd was sold off to generate the money needed for the dairy herd's upgrade. This in turn left the commercial beef herd needing attention.Pierre van Rensburg is Weston's current master of sections, having joined the college in January 2009 after moving from Vryheid Landbou Skool, where he taught from 1995. Along with a number of other Weston faculty members, Pierre is responsible for teaching the college's 182 boys the practical aspects of agriculture, such as livestock and crop production, and how to erect and maintain fences.
Weston's Grade 11 learners' practical education allows them to help manage the college's beef herd for the year, and select and prepare steers for the Royal Show's on-the-hoof and carcass competitions.
"It's been a tough process to rebuild a commercial beef herd almost from scratch to Weston's high standards, but we're slowly getting there," says Warren Loader, Weston's farm manager. "The college's old boys have been invaluable in this process by donating cash or live beef animals of any breed, which we use to develop a nucleus commercial breeding herd.
We now have over 300 head of beef of various ages and breeds."Most of the animals are Hereford/Brahman cross, but Warren and Pierre have started using purebred Brahman and Hereford bulls in a crossbreeding programme on the herd's Hereford/Brahman cows, to produce a Braford-type commercial animal.The hybrid vigour from this crossbreeding is valuable to the herd. However, for the Royal Show held earlier this year, Weston's Grade 11 boys had to make do with what steers were available from the herd."As part of their year mark, the boys are evaluated on animal handling, feed mixing, classing live animals, feeding and watering animals, production record-keeping, feedlot maintenance, animal-health management, and breeding management," explains Pierre.
Caring for calves
"The process for entering the Royal Show's beef competitions begins the previous year when the steers are born," says Pierre. Currently, the beef herd's calving season is from late August to October, so that the cows can take advantage of spring's good natural veld growth for milk production for their calves. Weston lies in a sourveld area. During the winter months of June, July and August, the cows each get 500g/day of Voermol's Premix 450 supplementary to grazing. During the September to February period, grazing is supplemented with Voermol Rumevite P6 lick at 200g to 220g/cow per day.
From March to May the cows get an Esco Feeds production lick at 800g/day to 1kg/day each.When the calves are born, they're ear-tagged, and the bull calves are castrated with rings. All calves are injected with 1mâ"" Multimin and 1mâ"" of vitamins A, D and E to boost their immunity and health. They're also dipped against ticks once a month until October, and from then through spring and summer once every two weeks. At two months, and again at four months, the calves are treated with Virbac First Drench against milk tapeworm. Typical vaccinations for beef animals are also given at the appropriate ages. During their suckling period, the calves don't get any creep feed. In fact, other than the steers headed for the Royal Show and the Mooi River Fat Stock Show, all of Weston's weaners are fed and raised purely on veld.
Selecting steers for the Royal Show
Pierre says just before weaning in January, steer selection for the Royal Show begins. At about 150 days old the selected steers should weigh as close to 180kg as possible, so that when they're shown in the ring they appear uniform in size. Any steers not selected for the Royal Show are put back with their cows and, in April, are weaned on the veld using nose-spikes. Heifers are kept back as commercial breeding stock for the Weston beef herd."We normally select about 16 steers. In January, these steers and their cows are brought off the veld down to a weaning camp near to the school. The steers and their cows are kept apart in adjacent pens for seven days during the weaning process. After this, cows are sent back to the veld," says Pierre."During these seven days the selected steers are fed on Eragrostis hay while they're being introduced to their Voermol SB 100 production ration. This is good for fattening the steers for the show."As soon as the steers are in the pens, they each get a once-off injection of Draxxin to protect them against pneumonia as a result of stresses associated with weaning, the confined environment, handling, and potential cold weather, notes Warren. The Draxxin withdrawal period is strictly adhered to and the steers are Draxxin-free when slaughtered.
The Voermol SB 100 is mixed in at 20% to 80% hominy chop ratio. After a two-week period, in about mid-February, once the steers have adapted to their solid feed, they will gradually get less hay and more ration. The Eragrostis is given in controlled quantities because Warren and Pierre don't want the steers to fill up on hay when they should be eating their ration. However, some hay intake is still necessary to give the steers their required roughage. The steers continue to get the same ration until about 20 days before the Royal Show starts near the end of May. For the 20 days leading up to the show, half of the Voermol SB 100 part of the ration is replaced with Zilmax. This converts body fat into desirable muscle.Five days before the show, the Zilmax is replaced with the previously withheld portion of Voermol.
A winning carcass
"I believe it's not only the feeding that helped produce our winning carcass, but also how well the Grade 11s cared for their steers," says Pierre. "Two to three boys are each allocated a steer to care for and prepare for the Royal Show. From mid-February until the show, these steers are treated like royalty. The boys feed, water, clean, halter train and brush their steers. "Drinking water is changed on a daily basis to encourage the steers to drink frequently and also to prevent the water in the troughs from becoming acidic and unhygienic."Parasite loads in the pens are kept to an absolute minimum, and the steers are regularly dipped against flies, and this plays a big role in producing a strong and healthy carcass. The boys also walk the steers every day and this helps convert fat into muscle. "Our winning Braford-type carcass this year achieved an Average Daily Gain of 1,88kg across the animal's 110 days in the feedlot. The feed conversion was an excellent 1:5,79 from the Voermol SB 100 and hay."
Pierre believes that another key to producing a top beef carcass is not to over- or underfeed the animal. Judges want a good fat distribution across the carcass. A calf selected for a carcass competition should have good conformation, such as a rectangular build when viewed from above. It should also have good depth, length and eye muscle. Length is important because it provides a better skeletal structure for improved fat and meat production, while good depth provides sufficient breathing and digestive capacity."The winning steer's performance was excellent," says Pierre. "When it was slaughtered at one year old it had a live weight of 387kg and a dressed carcass mass of 219,7kg. This gave a good slaughtering index of 56,8%." Contact Pierre van Rensburg on 082 925 5403, or e-mail [email protected].co.za, or contact Warren Loader on 084 251 8887 or e-mail [email protected], or visit www.weston.co.za. |fw