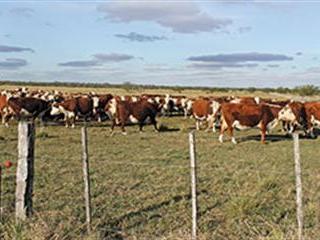 Ricardo Mendizabal (80) was born to an Italian mother and a Spanish father. After just two years of conventional education, he left school to work on farms and help his family earn a living. "I only learned to write at the age of 22," he says. To supplement his income, Ricardo started working as a livestock agent in 1970. He used his earnings to buy cattle and later on, small parcels of land. His first property acquisition was 78ha; today he owns 2 000ha and leases another 1 500ha.
Ricardo runs 4 100 head of cattle in the Argentinian province of Entre Ríos, good cattle country with enough rain and nutritious grazing. The family also owns an auctioneering business and a cattle transport enterprise. The former moves 4 000 head of cattle a month and the 10 transport trucks clock up an average of 50 000km a month. Ricardo's five sons are all involved in the three family businesses, each being responsible for a specific section. Ricardo himself is still in charge of the Hereford herd on San Jorge, the original farm.
Breeding and management
Most of the cattle on San Jorge are steers and calves. At the time of Farmer's Weekly's visit, the Mendizabals had 22 bulls and 390 breeding cows – 160 of which currently have calves at foot. Ricardo runs a commercial Hereford herd and breeds according to market demand and price. He is interested in breeding only in as much as it improves the commercial aspects of his cattle.
Unlike other farmers in the area, the Mendizabals do not use artificial insemination. "We like it the old way," admits Ricardo.
The Mendizabals run multiple-sire herds, with one bull to 25 cows in a 100-cow unit. The herds are managed seasonally, with a three-month breeding season from October to December. Calving season runs from July to September.
Ricardo and his sons prefer smaller bulls of between 600kg and 700kg to improve the chances of relatively small calves for calving ease. However, birth weights vary between 50kg and 60kg. Weaning weights are from 170kg to 200kg or when the animals are five to six months old "depending on the seasonal availability of feed". Heifer calves are sold after weaning and bull calves, usually castrated at birth, are grown out for 24 months, depending on the grazing, and sold as steers.
"We use a knife to castrate. If we miss a bull, we clamp it and do it again," says Ricardo. "In a good year we keep the best heifers to replace old cows in the breeding herd." He runs cows and heifers in combined herds. Cows to be replaced are sold for slaughter. Cows used for breeding purposes are replaced after six or seven calvings. The calving rate on San Jorge is about 85% and the weaning rate 80%.

Ricardo Mendizabal (far left) and Francisco Morchio, president of the local farmers' union (fourth from left), with four of Ricardo's sons (from left): Gerardo, Luis, Federico and Marcelo.
Hereford and angus
In the Buenos Aires province about 80% of beef farmers prefer to farm Angus, but in Ricardo's area about 80% of beef farmers run Herefords. Half the animals are the polled variety. He prefers his cattle unpolled and dehorns them at five months. "It is a question of weight. In my experience, those with horns are heavier," Ricardo says. Breeding bulls are bought in from other Hereford farmers in the area. Once a year, about three months before the start of the breeding season, a vet checks the bulls for fertility and disease. Any bull with a fertility problem is culled.
Water availability and rainfall
Water scarcity may be a universal concern, but in the district of Gualeguay, in the Entre Ríos province, worries about drought seldom keep farmers awake at night. Ricardo does not record rainfall statistics but works on national and regional averages. The average rainfall in the San Jorge farm area is about 1 000mm/year. The region can receive 1 300mm/year, though, with a record of 1 800mm.
Gualeguay is situated about 12m above sea level, and is largely flat with little drainage. The Farmer's Weekly's visit to San Jorge was almost cancelled after 70mm of rain had fallen the previous day. Heavy rain can make it difficult for farmers to move livestock. Entre Ríos is also known as the 'clay province' (La provincia de arcilla) after the soil type. Cows and calves are kept on veld grazing and do not need to be moved.
But cattle on planted pastures must be moved when it rains to avoid soil compaction. "We might lose a week or two where we can't move the cattle at all," says Ricardo. Their biggest concern during the rainy season is possible flooding.Parts of San Jorge as far as 3km from the Gualeguay River can be inundated when the river rises.
Pests and diseases
Despite the rain, the area is virtually disease-free, and foot rot is rarely a problem. The Mendizabals muster their cattle every 60 to 90 days to check them. They select randomly and spot-check 10% of the animals. If there is a problem, the animals are treated immediately. "When we pick up a problem, we medicate against it," Ricardo confirms.
Parasites are the most common veterinary problem in the Gualeguay area and even these, according to Ricardo, are "not really an issue". Ticks are a rarity. For stockmen 350km to the north, it is a different matter, with cattle being treated for ticks every 21 days. The Argentinian government department for animal health, Senasa, is responsible for tick control. If a farmer buys cattle from an area where ticks are prevalent and a single tick is found on an animal, all the cattle are sent back to the seller, who is then responsible for the transport costs.
Feeding on marshland
The Mendizabals' cattle are fattened on 2 000ha of low-lying marshland, or islas (meaning islands) as the Argentinians refer to it, bordering the Gualeguay River. The carrying capacity of these low-lying areas is about 1 MLU/ha, while on the rest of the farm it is about 0,8 MLU/ ha. In more fertile parts of the country the carrying capacity is up to 8MLU/ha.
Animals graze mainly on honey grass (Paspalum dilatatum), the dominant natural grass in the Gualeguay area, and receive no supplements. Paspalum, native to Argentina, is a highly productive grass, as long as soil moisture is not limiting. Ricardo says that they provided mineral licks from time to time in the past, but the animals showed no interest in them.
"That means they don't need it. The grass in the low-lying areas grows year-round. The rainy season is in summer and we have a big flood once every three years or so when the river comes down. We've even had flooding twice in one season. "The silt that remains when the water recedes provides the necessary plant nutrients."
Just before winter, cattle are rounded up to be sold. Underweight animals of about 430kg are put through the feedlot paddocks (areas of 60m x 100m) in groups of 100. The cattle are fed a core daily ration of 20kg maize silage, which is ensiled by contractors. This ration can take a steer from 420kg to 520kg in 60 to 90 days.
Marketing
Livestock is sold mainly to abattoirs in Buenos Aires and Rosario. While he has diversified his enterprise, Ricardo is not interested in investing in an on-farm abattoir. "It's a very specific business. It's not something you do on the side," he says.
Ricardo points out that Argentinian beef is not separated into A-class or B-class, but as beef from cows, heifers or steers.
Cattle farmers in Argentina do not use hormones in feedlots, as the country's export market in the EU forbids the use of hormones.
Argentinian consumers prefer beef from smaller cattle that weigh between 300kg and 350kg. A minimum liveweight of 300kg before slaughter has been enforced by law since May this year. Prior to this the minimum weight was 280kg. The trend is moving towards slightly heavier cattle. Beef is sold as half carcasses, the current popular weight being 155kg for a half-carcass. Heavier carcasses are penalised financially.
"A half-carcass of 100kg would mean a liveweight of about 400kg. Today the best price is for cattle with a liveweight of 400kg and more," explains Ricardo. Ricardo admits that the affordability of grain makes it difficult to stop at 400kg, and says that he could easily allow his cattle to increase to 500kg and beyond. The Mendizabals aim for 480kg as the ideal liveweight. It does not pay farmers to market cattle heavier than 480kg, and after 520kg, the price per kg drops "significantly".
Prices range from nine pesos (R17,10)/kg liveweight to 18 pesos (R34,20)/kg slaughtered weight. Slaughter percentage is about 55% of liveweight. The Mendizabals have considered introducing Braford or Brangus to their herds, but Ricardo feels that the Argentinian consumer is not quite ready for this change. Currently Hereford and Angus are the most popular breeds in Argentinia, while cross-breeds have not taken off in the country yet.
Employees
The Mendizabals employ six people, four of whom live on the farm. When Ricardo needs more hands he brings in workers from his other businesses. "But I prefer working with my farm employees," he admits, adding that he has a harmonious relationship with his workers.
Cropping
The Mendizabals also plant 2 000 ha to soya beans, from which they obtain a yield of 3t/ ha. They use mainly no-till practices on the farm and rotate the soya crop in a three-year cycle. Until recently, the rotation was one year of soya, one year of wheat and one year of maize. But the wheat component has been changed to rye grass due to a restrictive government permit system for wheat exports. The rye is used for cattle feed.
Fertiliser has to be added onto the croplands, as there is a shortage of phosphate in the soils. Between 6t/ ha to 8t/ ha of chicken manure is distributed by means of a mechanical spreader, operated by contractors. In a final comment on the rule of the remarkable patriarch who has built this successful family business, his son Luis says, demonstrating: "When my father rubs his hands like this, then you know there is trouble."
View photos from Argentina