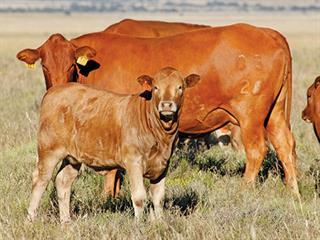 It's currently the fourth most fertile Tuli herd in South Africa, with an average intercalving period of 380 days. Despite last year's devastating drought, it managed to sell all 22 bulls on offer at an average of R22 500. The herd is run on Gordon Gilfillan's 5 500ha farm Glen Heath and an additional 1 500ha of leased land near Middelburg in the Eastern Cape. It consists of 100 cows.
In 2013 Dave Mullins of Avondale Tulis joined Gordon, contributing 30 pregnant SP females and 52 young followers to the Glen Heath Tuli Stud.
Gordon and Dave have a shared passion for the breed and are committed to supplying the best genetics possible to cattlemen from their herd of easy care, hardy, functional, medium-framed, deep-bodied and well-muscled animals.
The key to their success comes from following the late Denham Price's advice – if you want to be a top stud breeder, you have to buy the best bulls you can find.
The long and short of the Glen Heath Tuli herd. Dave Mullins (left) and Gordon Gilfillan.
In 2002, Dave paid R20 000 for a bull he wanted, culling the bottom end of the herd until he had enough money to pay for it. In 2006 he bought HBH 04 858 for R51 000, at the time a new SA record price for a Tuli bull.
William, meanwhile, bought HBH 06 1018 for a new record price of R101 000 in 2008.
"The old saying that the bull is 50% of a herd is very true," says Dave. "To breed better cattle, the bulls you buy must be the best available and of much better quality than your cows. You'll never get ahead by using average bulls on average cows."
Glen Heath Tuli Stud aims to produce 30 top bulls from 120 cows annually. The female herd is divided into three cow groups and one heifer group, matched to specific bulls for maximum improvement in the progeny. To ensure that only the best bulls go to the sale, a strict culling programme is followed.
"No sub-standard bull is ever allowed to make it to a sale – we sell quality, not quantity," says Graham.
* Extracted from 'Two top Eastern Cape Tuli herds join forces' by Wayne Southwood (FW, 29 August 2014).