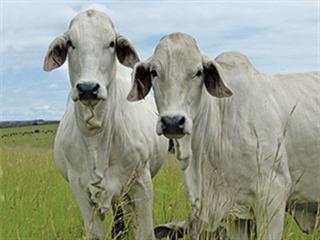 Hardiness, heat tolerance, resistance to parasite-borne diseases and legendary hybrid vigour are some of the traits that have maintained the high impact of the Brahman cattle breed on the South African beef industry. Eugene Osterloh recognised these traits in the Brahman while still at school at Winterberg Agricultural College in Fort Beaufort. He convinced his father Didi to buy the family's first 80 Grey Brahmans from the Kirkwood district in 1984.
Five years later he started farming and in 1994 he registered the Osterloh Brahman herd. Two years on, the Osterlohs expanded their Brahman herd by acquiring 40 females from Neville Preston in the nearby Macleantown district. Today the herd has 400 registered females. Annually, 80 bulls and more than 100 females are sold. This is a sign of the demand for Osterloh Brahman genetics from the Eastern Cape Border region, an area known for heartwater, redwater and gallsickness.
Focus on quality genetics
Eugene has stayed with the well-known Sugarland genetic lines of the American Grey Brahman, buying in genetics from the US and across South Africa, including from the well-known Bos Blanco stud near Kroonstad run by the Staal family. The breeding herd is split, with 50% of breeding females inseminated. The two breeding seasons stretch from the beginning of December to 10 February, and from the beginning of May to the end of June.

'The best fertiliser is in the footsteps of the farmer,' says Eugene Osterloh, who makes sure he gets around his farm to identify problems.
The remaining females are run in single sire herds at a rate of one bull to between 30 and 35 females. The herd has a replacement rate of about 50 animals a year and a calving percentage of between 75% and 80%. Eugene explains that a large breeding herd is vital to a broad genetic base from which to select and improve cattle. Specific dam lines play a central role, and he says all Osterloh's self-bred stud sires can be traced back to a handful of cows. "Barring one American-bred bull, my current sires can be traced to four cows," he says. "Cow genetic lines are crucial in stud breeding."
These dam lines have produced some of Osterloh's most influential bulls, such as OBS 27 01. "I sold this 10-year-old sire in 2011," says Eugene. "I had registered more than 400 calves sired by him, and he changed my herd with his excellent constitution and consistency." Eugene stresses that exceptional animals are not defined by extremes, but by a balance of traits reflecting the breed's average estimated breeding values (EBVs). "I want figures close to the breed average," he says.
"I don't want extremes which will be expressed in the animal. I need a balance and I need to keep that balance." Selecting for temperament has had a distinct effect on his herd and he feels strongly that breeders should be sufficiently disciplined to cull highly-strung animals. "When an animal is a bit nervous at weaning it must go, no matter how good the breeding. One animal that is even slightly wild has the potential to influence the entire herd." Although fertility is functionally influenced by good nutrition and management, highly fertile cows tend to have fertile offspring says Eugene.
Production and veld
Calves are weaned between 6 months and 7 months at an average weight of 220kg. Besides a phosphate lick in summer and a protein lick in winter, breeding females get a production supplement after calving. Veld is supplemented with grazing off 70ha dryland kikuyu, star and Rhodes grass. "Good nutrition gives a good calving percentage, so if I spend money I spend it on this," explains Eugene. "I don't want my cows to lose condition after calving. They need to go to the bull in good condition."

Osterloh Brahman stud sire OBS 159 08. This bull is proof of Eugene's mission to breed early maturing bulls with good depth and constitution for effective beef production. Photo by Eugene Osterloh
Eugene says effective veld management plays an important role in ensuring that the cows (with an average weight of 520kg) stay in peak condition during production. He manages his veld according to two broad principles. The first of these is to stock according to the bad years and take the good years as a bonus. The second is to rotate in short cycles to stimulate production when the grass is growing rapidly and to rotate in slower cycles as growth slows down.
A valuable technique is to visually inspect veld. "The best fertiliser is in the footsteps of the farmer," he explains. "If I don't get around and see what's going on, I won't identify a problem in time." Controlling sweet thorn and lantana encroachment and an annual burning programme are important management tasks on the 5 000ha of owned and leased land on which Eugene runs his Brahman stud and commercial cattle venture.
Cattle are injected with a parasiticide in early summer for general endo- and ecto-parasite control. Eugene allows the animals to carry a number of ticks so that their natural immunity to tick-borne diseases is not compromised. "Cattle must have some form of tick load all year round," he adds.
Marketing
The Brahman's hybrid vigour has given rise to a number of composite breeds such as Beefmaster, Simbra, Brangus, Braford and Santa Gertrudis and has contributed to countless commercial cross-breeding programmes. Eugene's breeding goal includes producing early maturing bulls with good depth and constitution for effective beef production. He sells about 50 registered Osterloh Brahman bulls at an annual production sale on his farm Mimosa Park every September. Last year his average bull price was R34 000.
He sells about 30 bulls directly from the farm every year, mostly to emerging farmers. In his February production sale, Eugene sells 50 to 100 mostly commercial females, some of them mated to Simmentaler bulls, "Emerging farmers recognise that the Brahman crosses well with traditional cattle to yield a better carcass, while being hardy with good disease and tick resistance," he comments.
He also markets a number of females at the Highveld sales, including the Extreme Brahman Sale in Rustenburg in February and the Sale of the Greys in Kroonstad in May.
Contact Eugene Osterloh on 082 927 7886.