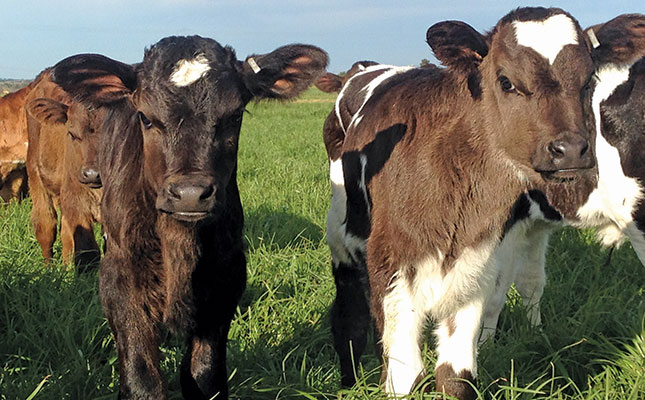 Health management is a critical factor affecting the profitability of a cattle operation. Yet establishing, maintaining and improving an effective health programme for a beef or dairy cattle herd can be difficult due to the many variables and unanticipated risks involved.
To minimise these, a herd manager should ideally implement such a programme when a calf is in utero.
According to Dr Schabort Froneman, technical manager for ruminants at animal health company Zoetis, cattle farmers should look at a herd as an epidemiological unit. This is a group of animals that share the same approximate likelihood of being exposed to a pathogenic agent. This may be because these animals share a common environment or are subject to the same management practices.
"Treating individual animals for health problems is reactive, whereas improving a herd's health, and hence automatically improving an individual animal's health, is proactive," explains Froneman.
"For a subclinical or clinical disease to affect an animal, three overlapping factors need to be present simultaneously: a disease-causing pathogen, a susceptible host, and an environment conducive to the proliferation of the disease. Veterinarians and herd managers should always try to prevent, or reduce, one or more of these overlaps."
He adds that one such preventative measure is to proactively improve the immunity of a
herd and, thereby, the individual animals within it. As part of this strategy, it should be understood that the breeding cow herd is the functioning nucleus of the enterprise, and the replacement heifer herd is the future of the same enterprise, as these heifers will eventually become the breeding cow herd.
Froneman adds that the farmer also needs to appreciate that the neonatal period (when
a calf is newborn) is the most critical in the life of an animal in terms of the maturity of its immune system. Colostrum management and strategic vaccination are the foundation for developing healthy replacement heifers and weaner calves. Prevention is always better than cure.
"At the neonatal stage, a calf's immune system may be fully developed, but it's still immature. This applies to both the systemic immune system and the local [mucosal] immune system, which protects a particular organ or tissue. A newborn calf is also more susceptible to pathogens because its immune system is unprimed; in other words, it has not yet been exposed to, and developed immunity to, these pathogens.
"With ruminants, unlike humans, there's no transplacental transfer of antibodies and
white blood cells from mother to foetus. Instead, the passive transfer of maternal immunity takes place within the first few hours after birth, with the calf absorbing the antibodies in the colostrum through its intestinal tract.
"The full maturation of a bovine's immune system is only seen when the animal is five to eight months old."
Froneman says that colostrum has been shown to decrease morbidity and mortality in young calves. It has also been found to have a positive impact on a calf's long-term health and productivity. So, it is essential that a calf consumes sufficient colostrum within the first 12 hours of its life.
Pre-breeding vaccinations
According to Froneman, vaccinating a cow against bovine viral diarrhoea (BVD) should be carried out before she is mated to prevent her progeny from possibly becoming persistently infected (PI) calves.
"An in-calf cow that contracts a transient infection of BVD from another animal in her
herd is likely to abort her foetus if the infection occurs within the first 40 days of pregnancy," he explains.
"However, if she's infected between day 40 and day 120 of her pregnancy, her calf is likely to be born with an immune system that does not recognise BVD for the rest of its life. During its lifespan, this PI calf will constantly shed the BVD virus to cattle around it. And with BVD having a severe immunosuppressive effect in cattle, the PI calf could be the cause of wide-ranging health issues across the entire herd."
Froneman stresses that a comprehensive herd heath plan should include vaccines that provide foetal protection and help prevent the births of calves that are potentially persistently infected with BVD.
Pre-calving vaccinations
Herd managers can enhance the maternal immunity qualities of colostrum by appropriately vaccinating the in-calf cow before she calves. Both the cow and her calf will benefit from these vaccinations. According to Froneman, this has been demonstrated with vaccines against pathogens that cause calf diarrhoea.
He adds, however, that if a vaccine is used primarily to improve colostral antibodies, it
should be one that has been developed and registered specifically to achieve this desired effect. He cites the example of Zoetis's ScourGuard 4KC product, which simultaneously immunises against bovine rotavirus, bovine coronavirus, Escherichia coli and Clostridium perfringens.
Pre-weaning vaccinations
Bovine respiratory disease (BRD) is often recognised as one of the most important health problems in South Africa's beef industry. In fact, explains Froneman, statistics reveal that BRD alone is responsible for 50% of the morbidities, and for 50% to 75% of the mortalities, among animals in beef feedlots.
One study found that beef calves not infected with BRD before being weaned at seven to
eight months old and then marketed to a feedlot took an average of 120 days in the feedlot to reach 450kg finished live weight.
Beef calves moderately infected with BRD at five to six months old before being weaned and marketed at the same age took 126 days to reach the same weight. Beef calves severely or chronically infected with BRD at five to six months old before weaning and marketing took 138 days to reach this weight.
"Every additional day on feed that a beef animal spends in a feedlot means additional costs and decreased profit for the feedlot business," says Froneman.
He points out that in dairy operations, studies have found that heifer calves that suffer from BRD take two weeks longer to first calving than those that have never suffered from BRD. Furthermore, once they become lactating cows, these BRD-affected dairy heifers experience an average 4% reduction in milk yield in their first lactation, and an average 8% reduction in milk yield in their second lactation, compared with non-BRD-affected dairy heifers.
Yet another negative impact of BRD infection in dairy heifer calves is that these animals typically have significantly reduced longevity (as much as 109 days lost to total milk production per animal) in the cow herd.
"Any dairy farmer will tell you that a great deal of time, money and effort goes into developing a heifer into a productive cow in the milking herd. Longevity has an important impact on the economics of a dairy operation," says Froneman.
For these reasons, vaccinating both beef and dairy calves against BRD and certain other diseases before they are weaned is vitally important for the cattle operation. Moreover, it is important to consult frequently with the operation's regular herd health veterinarian and plan a comprehensive vaccination programme so that the calves are given the strongest immune systems possible.
Pre-weaning deworming
According to Froneman, the negative effects of parasitic nematodes in cattle, especially in calves, are often underestimated by herd managers. This is typically because clinical symptoms of nematode infestations are seen less often in cattle than in sheep and goats.
Despite this, subclinical nematode infestations in these animals can still significantly reduce productivity. Problems include slow weight gain, suboptimal feed conversion and forage utilisation, reduced conception rates, increased inter-calving periods, and reduced milk production.
Froneman says studies have found that over a grazing period of only five months, a cow-and-calf pair untreated for nematodes can jointly produce approximately 3t of dung in which there are 51 million nematode eggs.
When the larvae hatch in dung that is on the veld or pasture, other cows and calves ingest them while grazing and become infested themselves (see illustration). Calves are more susceptible to nematode infestation than adult bovines, and it is common for calves to be suffciently infested to be classified as subclinically diseased.
"The University of Florida in the US conducted a study on 568 calves, born across three locations in the US's spring season, that were dewormed at 90 days before weaning with injectable doramectin at a dose of 1ml/50kg live bodyweight. By the time of weaning, the dewormed calves in all three locations had gained significantly more total weight, and their average daily gain was 6,5% greater, than the control group of non-dewormed calves.
"The additional weight gain of the dewormed group averaged 2,7kg more per calf, or 1 544kg as a group, than the non-dewormed calves by the time of weaning."
Phone Dr Schabort Froneman on 011 245 3320, or email him at [email protected].
Visit zoetis.co.za. This article is based on a presentation given by Froneman to the 2020 LRF Stockman School held online from 14 to 16 October 2020.
Visit stockmanschool.co.za.