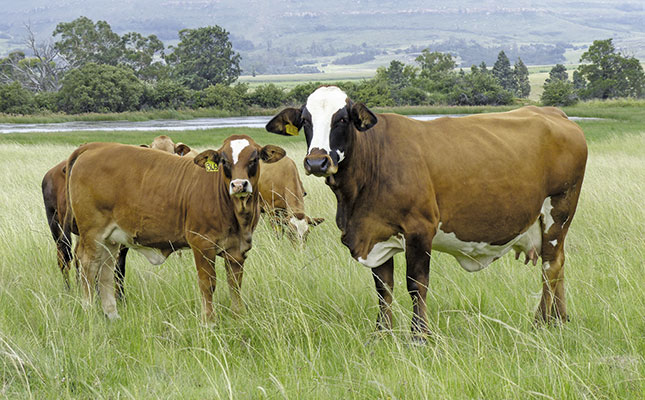 "I don't play golf or have hobbies. In my free time I go to my cattle or walk through my maize lands," says Krisjan Kruger about his love for farming. "I am responsible for my own happiness, so what I do I enjoy." This passion inspired him to establish a Simbra stud in 2004.
A breed to complement maize
Krisjan admits that he never really intended to start a stud herd – he initiated a crossbreeding programme to produce better calves than those from the Brahman herd on the farm. Back in 1999, he and his late father Piet sourced their first quality Simmentaler bulls from the well-known former Simmentaler breeder Don Thornton in the Ida district to cross with the Brahman cows. This crossbreeding programme immediately yielded excellent results.
"The calves were beautiful and correct," he recalls. By 2004, a friend, Gerrit Potgieter, at the time involved in a Simbra stud with his brother Marius in the Komga district, convinced Krisjan to transform his programme into a Simbra stud initiative. The Simbra's exceptional feed conversion ability, linked to its sustainable hybrid vigor, made it the perfect breed to complement grain production (180ha maize and 40ha sorghum).
Although it currently costs him close to R11 000 to produce a hectare of maize at a break-even point of around 5,5t/ ha, Krisjan explains that the additional feed plays a central role in his programme. He starts combining maize in mid-May and puts the Simbras on the maize stover. Silage supports breeding animals in August. "I know I spend a lot, but I can't catch fish if my line is not in the water," he explains. "If the maize price is high, I sell and don't buy. If I don't utilise price peaks then, I am out."
Managing a growing herd
"Do what you want to do," quips Krisjan about the danger of taking too much advice on board from others when breeding Simbras. The type of Simbra he aims to breed on his sourveld farm is medium-framed, early maturing, early fleshing, shorter and thick-set.
Today, 384 breeding females (including 121 stud heifers and cows) are mated in both single and multiple sire herds from September to November. A herd of commercial cows is run mainly on 400ha recently purchased grassveld and mated from December to February.
In the past two seasons, his commercial and stud herds achieved an average calving rate of 87% and 89% respectively, producing quality weaners that benefited from the breed's excellent milk production. In 2013, the cows, with an average weight of 575kg, weaned bull calves at an average of 244kg and heifers at 233kg at seven-and-a-half months.
Krisjan aims to grow his herd to 400 commercial and 150 stud females, and add 60 self-bred selected heifers in 2014, and 100 in 2015, to the two herds in a 60:40 ratio. All cattle receive a protein lick in winter from April and a phosphate lick in summer. First calvers, mated at 24 months, receive 1kg Voermol Supermol for 90 days after calving. As the Elliot district is a virulent gall sickness and redwater veld, he treats all cattle to control ticks.
Trading bulls
From the onset, Krisjan has grown his Simbra herd to create a broad genetic base from which to select, including bulls for the market. In 2006 he marketed his first six bulls at the Elliot Bull and Ram Sale (EBRS) at an average price of R8 000 and recalls his delight that they would have the opportunity to prove themselves in a commercial environment.
"When you start, don't expect the prices established breeders get," he warns. "I wanted to sell the bulls so they could work and people could see what they could do."
By 2012, it became clear that commercial cattlemen appreciated the value of his bulls. The seven he marketed at the EBRS that year sold for an average of R32 500, with a highest for R60 000. In 2013, the 11 bulls he marketed achieved an average of R24 500 with a top price of R52 000. It is gratifying that most buyers are commercial cattlemen, with some buying bulls from him since 2006.
For such loyal customers, Krisjan is willing to give a discount. "I will give repeat buyers a 5% discount from next year." Although he currently uses about five self-bred bulls in his herd, he also buys herd sires from breeders across the country if he needs the genetics.
Phone Krisjan Kruger on 071 677 7325.