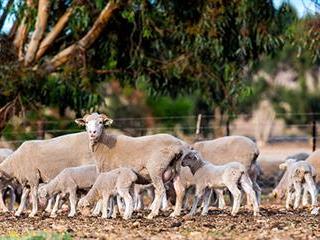 When Johann Kotze started farming, his late father, Dirkie, advised him to choose something he really loved. Their family farm, Korhaansrug, near Moorreesburg, lies in the heart of the Swartland. As this is wheat country, Johann, as most other farmers in the area, was to some degree limited to choosing wheat production as his main farming activity. But he decided to pursue his passion for livestock alongside the wheat.
Background
After completing an honours degree in agricultural economics at Stellenbosch University, Johann worked as an agricultural economist for the department of agriculture, followed by a stint at the Caledon co-op. He started farming with his father in 1991.
"I've always been interested in livestock and get great satisfaction from working with good genetics," he explains. He initially ran a small Bonsmara stud breeding operation, but sold it in 2003 to focus on re-establishing his father's Merino stud, Korhaansrug Merinos.
"I grew up with Merinos. My father had this merino stud until 1973," says Johann. "In this area it's possible to farm more profitably with sheep than with cattle, and to my mind the Merino is the best breed for this area," he says.
Breeding philosophy
According to Johann, Merino breeders in the Swartland have made significant progress over the past 10 years in breeding Merinos uniquely adapted to the area.
"My own breeding objectives are to breed well-adapted, smooth-bodied, fertile sheep. They must produce at least 6,5kg wool annually with an average fibre diameter of less than 20µ. All the sheep have to produce at least C-class length wool (55cm) every six months and must perform well in visual assessments," he explains.
Johann's breeding philosophy is based on gathering as much information about the animals as possible, and focusing on two key factors: selection through performance testing based on BLUP values, and strict visual selection on wool and conformation traits.
"To select stringently, it's important to maintain a high weaning rate of at least 130%," he stresses. To rebuild the stud, Johann used ewes from their commercial flock and high-quality new genetics. He inseminated his ewes laparoscopically and bought in good stud rams.
"I use tested rams with good BLUP figures," he explains. "With these rams I have access to a lot of information and can judge whether they could contribute to achieving my breeding objectives. But because the Merino BLUP gene pool is limited, I sometimes use rams selected by visual assessment and based on performance testing indices such as selection, body weight, clean fleece weight and fibre diameter. These rams can obtain BLUP values if I subject their progeny to performance testing."
Feeding
On Korhaansrug, wheat is produced in rotation with medics and lupins. Sheep graze medics and wheat stubble, while ewes graze lupins from mid-August as flush-feeding. In normal rainfall years, the Swartland produces abundant grazing from mid-July to October. In summer (January to May) the sheep graze dry medic pods and wheat stubble but this is nutritionally inadequate for ewes with lambs.
All ewes are scanned for pregnancy early in January to identify in-lamb ewes. Those carrying multiple foetuses are separated from the others. All in-lamb ewes receive a high protein lick, while the others are shorn and sold for slaughter.
In March, four weeks before lambing, all ewes in-lamb with twins and triplets are divided into flocks of 20 to 25 and placed in small camps close to the farmyard, where they are fed a specially formulated complete feed. When ewes lamb, they are housed in lamb booths with their offspring for about four days.
As soon as the lambs are strong enough, they are placed with their dams in small camps with five ewes per camp for the first two to three days. After this, approximately five more ewes are added to each camp.
Ewes carrying singletons are divided into flocks of 40 and placed in camps further away from the farmyard. Here they lamb in the veld and receive a high protein and salt lick supplement. At the age of 10 days the lambs are started on creep feeding.
No hormone supplements
Johann prefers natural mating where possible and uses no hormone supplements to increase ewe fertility.
"When a breeder buys a ram from me he must know that hormone supplements have not boosted its dam's production index and total weight weaned," he explains.
For the last 12 years, Johann has used artificial insemination (AI) on ewes identified by 'teaser' rams. The semen is collected from his stud rams.
If he is only able to get frozen semen from a specific ram, or the ram is very old, he uses laparoscopic insemination.
There is one lambing season per year (March) to make performance testing easier. The size of the stud varies from 480 to 500 ewes.
Average fertility scores from 2012 to 2014 indicate an annual conception rate of 91%, an annual lambing rate of 153%, and an annual weaning rate of 131%. Johann hopes to improve the conception rate to at least 95% by relying less heavily on AI.
Selection
Lambs are weaned at 100 days and weighed as part of the BLUP programme to determine the total weight weaned. At 100 days, two-thirds of the ram lambs are culled. After weaning at the end of July, all the remaining lambs are shorn. They are weighed and shorn again in January, 180 days after the first shear.
Just before the second shearing, wool samples are taken from the side of each animal's ribcage, and weighed and analysed to record fibre diameter, staple length and clean fleece yield.
From 2012 to 2014, an average of 335 ram lambs were weaned annually. Only about 100 were retained after the first selection at 100 days. Only 35 rams, about 10% of all ram lambs weaned, are retained in the stud or sold at auction when 18 months old.Approximately 30% of the stud ewes are replaced annually.
Last year, Johann established a commercial flock and now keeps about 130 ewe lambs a year in this flock. These ewes are mated to Dormer rams to lamb in June. The lambs are marketed at about 45kg. Johann aims to market about two-thirds of the lambs between mid-August and mid-December and the remainder in February.
Future breeding
The greatest challenge for Merino breeders in the Swartland, says Johann, is to remain profitable while breeding sheep that are well-adapted to the area. He says that breeders should focus on breeding sheep with good fertility, the ability to wean good quality lambs, and produce sufficient good quality medium-fine wool.
Looking to the future, he stresses that it will become increasingly important for breeders to focus on meat quality and parasite resistance. "I hope that within 10 years we in South Africa will be able to use genomics to improve traits such as meat quality and internal parasite resistance in our sheep," he says.
Phone Johann Kotze on 022 433 2487 or email him at [email protected].