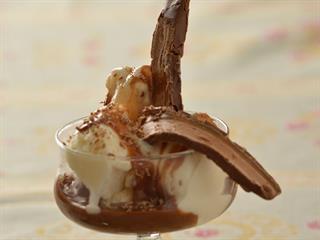 To make vanilla ice cream more adventurous, you will need:
Honey
Irish whiskey
A large Bar One
Fresh root ginger
Bananas
Golden syrup
Fellow fans of sweet excess will note two things from the ingredient list: first, there are no quantities, and second, these constitute three different vanilla rev-ups. But first, the ice cream itself. You can of course make your own. The easier route takes you straight to the ice cream freezer at the your local supermarket. Buy the expensive stuff. It really is better.
Assuming an entirely adult dinner party, let me suggest a hot honey and whiskey sauce. You can substitute brandy or even rum, but whiskey, even in this context, adds a welcome complexity lacking from the other two genres of dop.
For four people, warm a cup or so of honey in a saucepan on medium heat. Don't let it boil since this may affect the balance of flavours. When hot, pour in 50ml of whiskey and stir well. After 30 seconds or so to allow the two flavours to integrate, pour the hot sauce over each serving of vanilla ice cream, fresh from the freezer.
The second sauce is Bar One. This is a favourite of all lovers of sweet things as it adds its own excesses to the already sweet vanilla ice cream. Do not be tempted to melt the Bar One in a microwave. The power required is hard to guess and may lead to burning rather than melting. Far better to use a traditional double boiler, as this will allow greater control of the molten chocolate. When this has been evenly achieved, and the result is free of solid lumps, pour a couple of spoonfuls over the already plated ice cream.
Now, the best for last. Once again, the target audience is adult. Select ripe, unbruised bananas, half a banana for each diner. After peeling, cut these into thin slices lengthways. Wash the fresh root ginger to remove grit, then peel it with a teaspoon.
This is not a misprint, bizarre as it may sound. Hold the teaspoon upside down and gently scrape the outer layer off the ginger root. It works! And there's no waste as there often is when using a paring knife. Grate the peeled ginger with a standard manual kitchen grater, and have this and the freshly sliced bananas standing by for final assembly.
Next, heat up a cup or two of golden syrup in a saucepan, until it is hot but not bubbling. Dish up the ice cream, which should be as cold as possible. Arrange the banana slices on top of the ice cream, sprinkle them with freshly grated ginger, and drench the entire confection in very hot golden syrup.
If the proportions are right – and believe me, this can only be a trial and error procedure given the number of variables at play – the hot syrup should form a partial crust when it hits the ice cream. Or not… That's what trial and error means!
And it's the perfect excuse to experiment again and again…