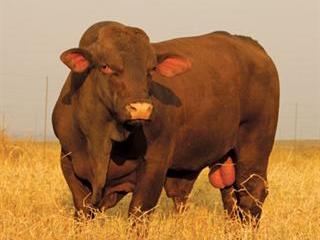 Keith Clubb and his son, Christopher, moved from South Africa to a farm in Zambia in 1997. Today, they run over  2 000 Santa Gertrudis cattle on 5 000ha.
From SA to a farm in Zambia
Building up a large prize-winning cattle stud over many years is an admirable achievement. Uprooting yourself and repeating the performance in a foreign country is nothing short of remarkable. Yet this is what the father-and-son team of Keith and Christopher Clubb has succeeded in doing.
READ: Cattle & crop farming in Zambia
Their story begins on the Clubbs' farm outside Henley on Klip, south of Johannesburg, in the mid-70s, when Keith began farming with the Santa Gertrudis breed. Although only a part-time farmer, he aimed as high as he could, buying semen from the best bulls all over the world, and ended up producing numerous grand champions and interbreed champions at shows throughout South Africa.
Then, in the 1990s, Keith spotted a farming opportunity in Zambia that seemed too good to miss. Arable land there was being offered for US$100/ha and virgin bush for US$20/ha. This equated to R450/ha and R90/ha respectively at the then exchange of about R4,50 to the US dollar. By contrast, arable land in South Africa was selling for R2 000/ha!
In addition, Zambia had no foreign exchange control and few barriers to enter farming. The climate, too, was more favourable.
The combination seemed irresistible, and in 1997, Keith purchased Lwimba Ranch in the Chongwe district, 60km east of Lusaka, and moved there with his wife, Diana, and son, Chris.
The purchase price of Lwimba included a herd of commercial Boran-type cows, and Keith, with big plans in mind, took along 20 registered females and 15 bulls from his South African stud herd and immediately began upgrading the Borans. He was soon replicating his South African success on his farm in Zambia and today his herd – all either Appendix B or SP – is registered with the Zambian Herdbook and South African Studbook.
Steady development 
Lwimba Ranch is impressive by any standards. The workday begins at 6.30am when the ranch turns into a small village with the arrival of 200 workers, who divide into teams for various duties. Tractors, trailers, feeder wagons and Land Cruisers drive around the farm as the rising sun pierces through the smoke of the previous evening's fires.
This large workforce is needed – there's a great deal to do on a farm this size, especially when your goal is constant improvement of the breed.
"The Santas have worked very well for us," says Keith. "Since Chris has been on the farm full-time, we've seen a huge increase in weaning weights from 150kg to 220kg."
Chris, a qualified vet, explains that they breed medium-frame animals as they thrive on the thick bush that makes up much of the farm. He and his father also seek good length and depth in the breed, as well as low birth weights, an ever-greater weaning weight, and fertility and body width. They also constantly aim at breeding an earlier maturing type. At the end of the phase D test, Chris is looking for masculine, well-muscled bulls.
Calves are weighed at birth, at weaning and at 12 and 18 months, and all animals are performance-tested, with the lower producers being culled. A breed society representative classifies the remaining animals at between two and three years old. For the past few years this task has fallen to Willem Pretorius, a senior Interbreed judge from South Africa.
Calving and culling
In Lwimba's dense bush, calves can easily be lost, and any cows with calving difficulties can be difficult to spot. To avoid this, Keith and Chris ensure that all cows calve on Rhodes grass pasture or maize stover on the lands. The average cow weighs 450kg to 470kg and calves wean at about 45% of their dams' weight. Weaning weights currently average 220kg for bull calves and 210kg for heifers.
To fast-track genetic progress, Keith and Chris synchronise and inseminate all registered heifers and top cows with semen from the best sires they can find. Replacement heifers are not mated before they reach 310kg. This normally occurs at 22 to 23 months of age, ensuring that they calve at about 31 months. Any heifer that has not calved by 36 months is culled.
Appendix A females are currently being phased out of the herd. Appendix A bulls are castrated and culled, while Appendix B and SP bulls are Phase D tested for 114 days after weaning in accordance with ARC protocol. Bulls scoring below 85% are backgrounded for three months and sent to the feedlot.
Of the 400 bulls tested on Lwimba annually, only 70 to 80 are selected for the market. These are kept until they are between two and three years old, then sold for breeding at an average price of R24 000. Keith and Chris export bulls to the Congo, Malawi and Tanzania, and hope to soon hold their own production sale.
Feeding and slaughtering
To maximise weight gain, Keith operates a feedlot during the drier months from April to November.
Younger animals are accepted at between 220kg and 280kg. They spend three to four months there, during which time they are expected to gain 2kg/day, and are marketed at about 450kg. Culled cows spend only about 60 days in the feedlot and are sold at 500kg to 530kg. Santa weaners in the feedlot have a conversion rate of about 7:1 meat.
Keith and Chris sell between 15 and 20 slaughter animals every week to four main buyers in Lusaka. Current prices, at about R21/kg on the hoof, are similar to those in South Africa. Buyers favour Santa Gertrudis as they slaughter out at between 54% and 58%.
Two basic rations are used on the farm, consisting of maize and a mixture of hominy chop, cotton oilcake, Rhodes grass hay, protein concentrate and molasses.
The feedlot ration is a high-energy mix, whereas the Phase D ration contains more protein. For easier management, only one ration is used in the feedlot.
Crops
The area under cultivation at Lwimba has grown steadily, and Keith and Chris now have
1 200ha under cash crops: 40ha of tobacco, 120ha of seed maize and 1 040ha split between maize, wheat and soya beans, depending on price predictions.
Yields average more than 3t/ha for soya beans, 6t/ha for maize, 8t/ha for wheat, and 3t/ha for tobacco. Apparently, yields are even higher on certain other commercial farms in the area.
Rhodes grass has proved to be highly successful at Lwimba, and Keith has planted about 300ha to it. This produces about 60 round bales of hay (12t/ha DM [dry matter]) a year, some of which is used as standing hay.
Rhodes grass also increases the carrying capacity to 1 MLU/ha, which means substantial growth potential for the herd.
About 150ha of bush is cleared every year with an excavator. Much of the wood is used to power the tobacco driers, and the rest is burnt. This land is then ploughed and planted to maize for two years, followed by Rhodes grass pasture.
Irrigation
In summer, borehole water is used to supplement 230ha of tobacco, maize and soya beans. These are irrigated under three centre pivots of 10ha, 40ha and 65ha respectively. In winter, the water is used to grow wheat on 120ha. Soya beans, wheat, tobacco and seed maize are normally rotated on the irrigated lands. No GM maize or soya beans may be planted in Zambia.
Rainfed crops
Keith and Chris plant about 500ha to soya beans – one-half with a no-till planter and the other by broadcasting the seed that produced the highest yields the previous season.
Broadcast planting yields 3,4t/ha, whereas the no-till method produces 3,25t/ha. In broadcast seeding, fertiliser is disked in during preparation.
The land is then rolled and the seed spread with a Vicon spreader and KKK cultivator that works the seed into the soil at a density of
400 000 plants/ha.
A disadvantage of broadcasting is that spraying or top-dressing requires driving over some of the plants, but this problem is outweighed by being able to plant the crop under wet conditions.
At flowering stage, urea (80kg/ha) is applied as top-dressing. Finally, the soya bean and maize crops are dried in modified tobacco driers and bagged, as bulk handling is still in its infancy in Zambia.
Future plans include installing a GSI dryer for maize this coming season. About half the crop is planted into dry soil before the rains come, and the balance after the first rain.
Tobacco
Tobacco is a popular crop in Zambia, but it is finicky. Leaves must be picked correctly, and sorting and grading require special skills. Another challenge is that Zambia's buyers purchase tobacco on a matrix system, which enables them to manipulate the grading to their advantage. The Japanese company, JTI Tribac, offer the Clubbs the best deal.
READ: Tobacco growing in Zambia: an ex-Zimbabwean's story
Keith and his family are happily settled on their farm in Zambia. Chris is married to Sue, also a vet, and the couple have two children. Both father and son believe they have considerable scope to further develop the land and improve their herd.
Phone Keith Clubb on +260 977 960017, or email him at [email protected] Phone Chris Clubb on +260 977 529252, or email him at [email protected].