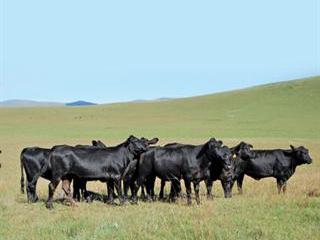 For more than 130 years sheep were the main income on the King family's 3 100ha farm, Highland Home which, situated in the Winterberg Mountains near Tarkastad, Eastern Cape, is at an elevation of between 1 650m and 2 100m and dominated by suurpol or mountain wiregrass (Merxmuellera disticha). But in 2006 Barry King decided to change the farming focus to cattle which, until then, were secondary and used solely as draught animals and for milk.
"I realised that predation on an extensive sheep farm would only get worse and theft would increase. I decided to keep some sheep but at the same time I registered the cattle herd for upgrading to stud status via the Brangus Cattle Breeders' Society Appendix system."While they still run a flock of 2 700 Merinos, Barry and his eldest son Llewellyn are achieving extraordinary results with their Brangus.
Change of focus
They run a herd of 750 cattle, consisting of the Bottelgat Brangus stud herd and a commercial herd. The herd includes 260 breeding cows, half registered and half commercial, put to the bull at two years. The average conception rate is 85% and the average weaning weight is 250kg. They don't sell any weaners. Bull calves are either selected as breeding bulls, or are castrated to become part of the oxen that are sold at 33 months. They also run a flock of 2 700 Merinos.
"Sheep were the main source of income on this farm for well over 130 years. Until 2006, cattle were secondary and used solely as draught animals and for milk," says Barry. Due to the harsh environmental conditions on the farm, Barry has been experimenting with crossing Black Angus and Brahman since 1980.
This led him to buy bulls in eastern Free State and KwaZulu-Natal, where he first came across the Brangus. "I realised that this five-eighths Angus and three-eighths Brahman breed was what I had been trying to breed. Consequently, since 1987, I have used only Black Brangus bulls in my herd," explains Barry.
"I am grateful to the Camphers of eastern Free State, the Greens of KwaZulu-Natal and J Baxter of East Griqualand. Their bulls got our herd off to a good start. "And I am grateful to the Brangus Society, which has been extremely supportive."
Selling at the right time
Barry continues to buy bulls from outside the herd "to bring in new blood", as he puts it. But more recently the Kings have started selecting and using some of their own Brangus bulls at 15 months and again at two years to speed up genetic improvement of the herd.
They then sell their best three-year-old bulls, already tested in their herd, at the annual East Cape Brangus Sale in Tarkastad. In 2011 they achieved an average price of R40 000. Further afield, some of the larger Black Brangus breeders in Mpumalanga and KwaZulu-Natal have bought and are using Bottelgat bulls. "We look forward to seeing how they perform," says Barry.
The Bottelgat stud has never bought any females and all registered females have been bred in via the Appendix system, starting with carefully selected and approved females in the commercial herd. No registered animal get any preferential treatment: all are run under the same commercial conditions. They receive good licks – a urea-based maintenance lick, a production lick when calving, and a phosphate lick in summer.
The Kings present a well-attended livestock sale on their farm each July at which they sell all their slaughter animals about 150 head of cattle (oxen, old cows and cull cows that didn't produce a calf every year) and up to 1 000 sheep. Most are their own animals, plus a few from neighbours.
"We believe in selling at the right time, and have lots of animals for sale when no one else has any," explains Barry. To date they have had no cattle theft or calf mortality due to predation. "The cattle have exceeded our expectations, especially considering that the cattle production environment at Highland Home is challenging," he continues. "In times gone by, cows would only calve every second year.
"Eight years ago we bought 1 350ha of land on a high-lying area known locally as 'Die Ruitjies'. It is excellent summer veld, dominated by red grass (Themeda triandra). The name has an interesting origin. It is dotted with vleis and little pans of water that reflect and sparkle in the sunlight like ruite (window panes)."
"The excellent summer grazing here has helped boost our cows' production to a calf every year. Cattle now dominate the farm income although the sheep still play an important role.
"To try and reduce predation on sheep, which is between 30% to 50% in this area, we are reinforcing our fencing and have brought in a pack of trained hounds. We have also invested in Alpacas of late. It's too soon to say that they're definitely working, but I think effective predation control is a combination of management factors," says Barry, who is pleased to have Lewellyn farming with him now.
"I returned from the US and Europe two years ago where I stayed for several years, initially on a tennis scholarship, then playing and coaching," says Lewellyn. "I always wanted to come home and farm and it's been a pleasure to return." A serious heart condition and the desire to raise his son John Henry and his unborn child with his wife Etrecia on the farm contributed to the move back home.
Not that Barry made Lewellyn's return any easy for him. He initially had a spade with his name on and he had to prove his work ethic before being promoted to manager and record keeper. According to Barry it has worked out well. "I don't know anything about computers but I do know what a beast should look like."
Their business partnership, like their stud, is called Bottelgat Farms. The curious name 'Bottelgat' comes from the name of the river that runs through the farm. They attribute the success to their family and staff. "We are proud of our staff and are fortunate to have a wonderful team working with us on the farm. They are all related to one another and all show a keen interest in the cattle," explains Lewellyn.
Their oldest staff member, Tamsanqua Nxano, has been with the King family for 57 years and heads the team. He is now 74 years old, fit and healthy and not interested in retiring. He attributes his good health to the fact that he didn't overdo alcohol when he was younger and has kept himself well through hard work.
Barry gave a pregnant Brangus heifer to each of the nine staff members once they had been on the farm for a year, and each can keep a maximum of five cows, except for Tamsanqua, who has eight. "I like the Brangus because it gets fat quickly and has plenty of milk for the calves, so they grow very well," says Tamsanqua.
"I am extremely happy to live here and I would like to die at Highland Home," he concludes. But he will hopefully have many more years and see another generation taking Highland Home to new heights.
Contact Barry King on 045 848 0208 or email [email protected]