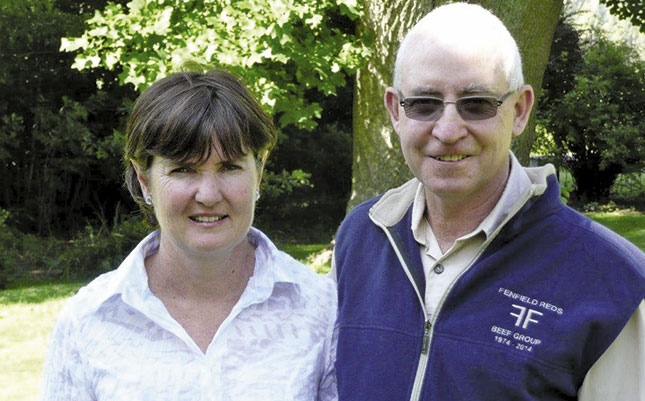 Forty years ago, a small group of Eastern Cape farmers met in Cathcart in search of a solution to a common problem – beef cattle adapted to the harsh sourveld conditions in an area extending from Queenstown in the north to Stutterheim in the south. They had previously farmed sheep and kept dairy cattle to produce cream for butter production. But changing milk marketing regulations had made this unprofitable and an alternative source of income had to be found urgently.
So, 10 farmers who still had dairy cows met to discuss whether to give up cattle farming or go for a type of beef animal adapted to their challenging environment.The handwritten minutes of that historic meeting reveal that after a lengthy discussion, the farmers unanimously resolved to develop a type of beef cattle that would sell. They formulated the terms of a voluntary alliance and named it the Fenfield Beef Improvement Group.
The late Innes Wardle, owner of Esher farm near Thomas River, was elected as the first chairperson and decided to run a jointly owned central herd into which members would pool the most promising female animals selected from their own herds.
Selection
The modus operandi of the project provided for each member to contribute four young cows in-calf from his own herd to the central herd each year. The latter would be run on two adjoining farms, Fenfield and Grasslands, in the highveld area of the Cathcart district.
These animals would be selected by committee members assisted by a technical animal husbandry advisor. In exchange, each member would take from the central herd one or more bulls, the total determined by the formula of one bull per 100 (or part thereof) of the number of breeding cows on his farm. Thus, a member with 210 cows took three bulls.
The original system, with minor modifications, has progressed flawlessly ever since. The group, now numbering eight and including a few of the founder farmers or their sons, breeds with nearly 3 000 cows and focuses on producing beef weaners. This is in addition to farming sheep.
Today, Fenfield farm is owned by Mike Galloway, who also manages the central herd, while the neighbouring Grassland farm is owned by Lochart Whyle. The central herd consists of two sub-herds, with 165 cows on Fenfield and 140 on Grassland. Annual selection still starts at weaning, when committee members and the technical advisor visit the sub-herds to select bulls and heifers for testing.
There are no set standards of excellence, the only selection criteria being birth weight, weaning index and visual appraisal. Mike recalls that long before the Cathcart meeting, members bought in bulls of various beef breeds to put on their dairy cows in an effort to upgrade their herds. But the bulls, acquired mostly at show sales, tended to lose condition and failed to perform. When, right at the start, the cows in the central herd were counted, it was – unsurprisingly – discovered that they represented no fewer than 17 different breeds.
Celebration
In March this year, the group celebrated its 40th anniversary with an open farmer's day, at which it looked back in satisfaction on the results of its 1974 decision. These have proved to be far beyond what the original members had envisaged. It took about 10 years after the launch of the venture before they noticed an exciting change in the conformation of the weaners produced in the individual herds. This showed that their breeding policy was on target. Thirty years later, they could celebrate the development of a thriving beef type exceptionally well-adapted to the tough environment of the mid-Eastern Cape.
Fenfield reds
Some 18 years ago, the group decided to concentrate on producing red animals when it was seen that red weaners sold for higher prices. It also adopted the name Fenfield Reds for its beefy weaners. In recent years, Fenfield Reds have attracted considerable interest from buyers countrywide. These now include feedlot owners who purchase as many weaners as possible from the steadily increasing number available from the group's individual herds.
The cycle still starts at weaning each year, when weaner bulls and heifers are selected for testing. During the breeding season from mid-November to early February, the young bulls are put onto veld on the slopes of a range of hills on Fenfield. Breeding herds are run on rainfed pasture.
"We inspect and cull the young bulls on performance in September, February and May before the members make their choice," says Mike. "We also fertility-test them in February. The process culls about 30 bulls from the initial 100, leaving about 70 selected bulls. The central herd has first choice for its needs – around eight bulls – then the members choose from the rest. Normally about 25 remain, and these are sold at a silent auction in August."
The heifers are selected at weaning and each member then takes a share based on the number he needs. These form part of his own heifer herd, are tested in the normal way and become available to the central herd in the normal process. In this way, about 40% of the animals fed back into the central herd were born in that herd three years previously.
Consistent excellence
Recorded data shows that the conception rate in the central herd during the past nine years has been 95,5%, the current intercalving period of cows in the herd is an astounding 364 days, and weaning weight as a percentage of dam weight at weaning during the past 18 years has been 48%, increasing to 50,2% in the past 10 years.
Fifteen years ago, the group started marketing weaners at an annual sale in April. This has developed into a prestigious national event involving other local breeders, and more than 2 000 top-quality animals are sold. "We are proud of our cattle," says Mike. "Our focus remains on functional efficiency and fertility. The central herd never re-mates a cow that skips. Any cow that doesn't wean a calf in April is culled."
The cattle are now well-adapted to the environment in which they are expected to perform. "Above all," adds Mike, "our cows produce excellent weaners that are in great demand."
Phone Mike Galloway on 083 659 8916 or email [email protected].