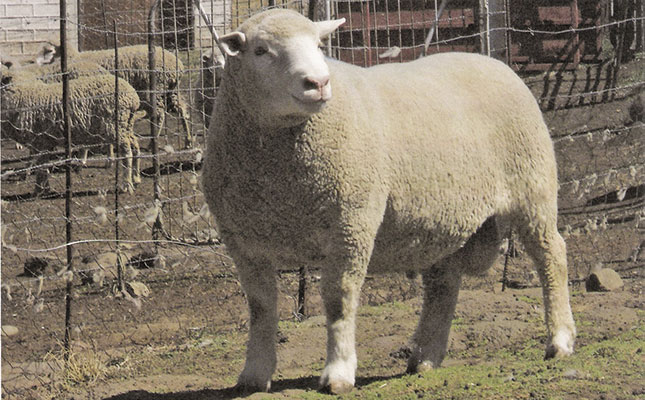 The Dormer, a white wool mutton breed, was developed by crossbreeding Dorset Horn rams with German Merino ewes.
In 1927, a project started at the Elsenburg research station in Stellenbosch with the aim of producing a mutton breed with rams suitable for crossbreeding, and slaughter lambs that could grow out rapidly and economically in the cold, wet winter rainfall areas of South Africa.
Researchers used rams from the Dorset Horn, Border Leicester, Ryland, South Down and German Merino breeds. Initially, Merino ewes were used as dams.
To breed a bigger ewe with better mutton conformation than the Merino without downgrading the Merino's wool characteristics, a German Merino ram was used on Merino ewes.
READ: Persian sheep: Putting fat back onto Dorpers
Ewes mated to Dorset Horn rams had higher average daily gains than those mated with the other breeds. SA Mutton Merino ewes were used in the crossbreeding programme.
By 1936, Dorset Horn rams had sired the best lambs, in terms of weight gain and carcass quality, from Merino ewes.
These were also the only two breeds that produced a satisfactory lambing percentage in autumn, a trait crucial in the Western Cape, where lambs are grown out on winter pasture.
READ: Farming Bosrander and Meatmaster sheep
Qualities of high fertility, good milk production and a relatively long breeding season were present in both breeds. In 1937 and 1938, more than 6 000 lamb carcasses were shipped to the Smithfield market in England as experimental consignments. The market confirmed that Dorset Horn rams sired the best slaughter lambs.
The Dormer
The researchers faced an additional requirement. The new breed had to integrate the mutton qualities and growth rate of the Dorset Horn with the lung parasite resistance of the SA Mutton Merino.
As the Elsenburg Dorset Horns were showing symptoms of lung problems, 10 stud rams were imported from Australia. They arrived in October 1940 and four were selected for the breeding programme.
The name 'Dormer' comes from Dorset and Merino. The first Dormer ram sale was held in 1947 at Elsenburg, where the average price was R15.
Establishment of the Dormer Sheep Breeders' Society
The Dormer Sheep Breeders' Society was formed in October 1965 and the first official Dormer sale to be held away from Elsenburg was at Goodwood three years later.
On 17 April, 1970, the SA Stud Book Association recognised the Dormer as a developing sheep breed. At a meeting of the Dormer Sheep Breeders' Society in October 1973, the society resolved to affiliate with the SA Stud Book Association.
Selected Dormer sheep could immediately qualify for the F4 generation if their breeders submitted certificates for three generations to SA Stud Book.
Although developed to produce slaughter lambs in the western and southern Cape, the Dormer is found throughout South Africa today, with most breeders in the Free State and Gauteng.
The Dormer Sheep Breeders' Society currently has 119 members with 22 500 registered animals.