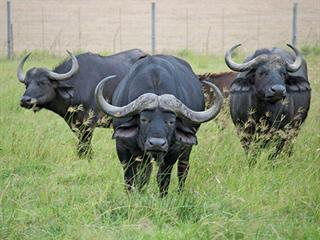 This project will always be a work in progress, says conservation manager Bernard Wooding of the buffalo breeding project at Elandsberg in the Western Cape. The first buffalo arrived in 1999 and Wooding admits he and his team never relax and are constantly tweaking things and trying out new ways to handle buffalo.
Wooding studied Nature Conservation at Saasveld in George and worked at an endangered wildlife breeding centre in the UAE as well as on the SANParks game capture team. He was well-suited to managing a project like this. "In 1999, our choices for diversifying the farming operation were olives, grapes or buffalo – and buffalo sounded the most exciting of the three. The goal of the buffalo project was to breed buffalo to sell to nature reserves."
Starting out
The first buffalo calves acquired by Elandsberg came from Hunt Africa in Phalaborwa. These were removed from their mothers as soon as they were born in order to avoid possible disease transfer. Jersey cows served as their surrogate mothers. In the first year, 10 calves were brought to Elandsberg, 30 arrived the following year and another 30 came in the third year. Since they are now disease-free, buffalo cows on Elandsberg rear their own calves. To date, 180 calves have been born on the farm.

Diverse gene pool
Hunt Africa sourced buffalo breeding stock from various regions in the Lowveld, so its population is genetically diverse, which benefited the Elandsberg population. Wooding says that ensuring the Elandsberg buffalo remain disease-free is an interesting and challenging programme.
"Before buffalo were brought here, they were tested three times at source by the state veterinary department for bovine tuberculosis (BTB), brucellosis (CA), foot-and-mouth disease (FMD), and corridor disease. On arrival, they were tested again. These tests are the same as those performed on cattle. Before the buffalo arrived on the farm, the state veterinary department also inspected the land and certified it fit for keeping buffalo."
Cattle and other livestock on the farm were also tested to ensure they carried no diseases that could infect buffalo. "A few years ago, we brought in new bulls for diversity. They were tested at source, then moved to another of our properties and tested again, before being introduced to the Elandsberg herd," he explains.
Wooding says that, technically, buffalo can be artificially inseminated (AI), but it is expensive and dangerous. "Inseminating buffalo gives a 50% conception rate, whereas natural mating has a conception rate approaching 100%. We can't influence the sex of the calf, so besides promoting specific genetic traits, there is really not much reason to do AI."

Social bonds are strong and calves stay with their mothers until they are about three years old. Pictured is an eight-month-old buffalo calf.
Ideal conditions
"Buffalo are extremely adaptable, which is why they are found throughout the country. They are bulk grazers, so they need a lot of grass, shade and water to thrive. Our temperature ranges from 2°C with snow on the surrounding mountains in winter, to over 40°C in summer, but the buffalo do fine," says Wooding. Buffalo on Elandsberg have their first calf at between 42 and 48 months. As buffalo have very strong social bonds, calves stay with their mothers until they are three or four years old, before naturally moving way.
Breeding protocol
"When buffalo breeding started countrywide more than a decade ago, there were several breeding projects. In a period of about 10 years, these projects have produced enough disease-free stock to keep the buffalo breeding programme sustainable, and most of these projects have now been terminated.
"To date, we've sold 136 buffalo to various nature reserves and moved 42 buffalo to another of our properties. We also have a game farm in the Waterberg in Limpopo, where we send a batch of young bulls every two or three years. They are sold when they are mature."
Grazing programme
Wooding says that while the nature reserve section of the farm is suitable for buffalo, the herd is run on 70ha of pasture to increase the stocking rate and obtain higher production. The herd size is maintained at 60 animals due to irrigation limitations.
The breeding project's summer pasture – mainly irrigated and fertilised kikuyu and mixed grasses – is subdivided into four camps of 5ha each. For winter grazing,
Wooding and his team plant barley in four camps of 10ha each. In spring, ryegrass regerminates naturally in the winter camps and there is grazing in a 10ha vlei. When grazing runs out in autumn, they feed the animals home-grown oat hay and bought-in lucerne. Water is piped into camp drinking troughs.
Market demand
The first Elandsberg buffalo was sold four years after the project started. There is a consistently high demand for buffalo cows, and animals are sold at between 24 and 30 months. There is less demand for young bulls and the price has dropped over the years. Bulls are generally sold for hunting at about R60 000 each, with horns not yet fully grown out. Cows sell for about R400 000 because of their breeding potential.
"Buffalo cows are our strongest selling point and most of our buffalo go to the Waterberg and the Pietermaritzburg area. We hope that Namibia will start importing buffalo soon. Our buffalo are certainly suitable for export since they are disease-free and have superior genetics." Wooding explains that all buffalo possibly carrying diseases must remain east of the state veterinary disease control border in the Kruger National Park, known as the red line.
"Most of the country's buffalo are in Kruger and northern KwaZulu-Natal and can't be moved out of those areas because they may be disease carriers. The original disease-free buffalo herd, 20 years ago, was a small population in Addo, and all buffalo breeding projects were supplied from there. This original population and various private buffalo breeders now supply animals to the rest of the country."
Keeping disease at bay
Every time a buffalo is sold at Elandsberg, it is darted and the local state vet tests it for BTB, FMD, CA and corridor disease. The results take about a month to process, and during that time the buffalo stays in quarantine. When it receives clearance, the animal can be moved off the farm to the buyer. Transport permits are issued by the provincial nature conservation authority, CapeNature, before buffalo are allowed to be transported within the Western Cape or to another province.
Impact on the game industry
"When we started breeding 14 years ago, there were 3 000 disease-free buffalo in South Africa," says Wooding. "Now there are more than 30 000 and there is still a market for them." Although the primary objective of the breeding project at Elandsberg is to supply nature and game reserves, intensive breeding has maximised the number of buffalo produced and supplied. "This has a positive impact on the game industry," says Wooding.
Stud buffalo – the first steps
As the numbers in the national herd have increased, breeders have started selecting buffalo for horn size. The process can be compared to stud breeding in livestock. "When we started out, a buffalo was a buffalo," recalls Wooding. "We were more interested in numbers than in anything else. It's important not to select for only one characteristic. When selecting for horns, one should also select for body shape."
Diverse genetics
The Elandsberg stud bull, Cheupe, is a five-year-old bull from the Lowveld genetic line. "The Lowveld genetic line has been successful for us and we see no reason to change. There are also the Addo, Madikwe, East African and Addo-Madikwe genetic lines, but we don't chase trends. These genetic lines are actually more marketing expressions than anything else. However, certain areas have been identified as the source of the original breeding stock.
"The Lowveld line came from the Kruger National Park and surrounding areas, Addo is from the Eastern Cape (Addo Elephant National Park), Madikwe buffalo come from Madikwe Game Reserve in the North West province, and the East African line came from animals imported from zoos or East Africa. "Each breeder has a preferred 'line' and will push the desirable characteristics of animals in that area. Some breeders 'cross' lines to get more desirable characteristics such as horn length, but again that is more about marketing than breeding."

The Challenges
"This has traditionally been a sheep farm and sheep carry disease, such as malignant catarrhal fever, that also infects buffalo. We lost a few buffalo in the early days, but have since separated them from the sheep which are clinically infected by the virus but can transmit the disease to buffalo with fatal results," says Wooding.
Working with buffalo
He points out that buffalo are dangerous animals and it is unwise to trust one – even a 'tame' buffalo. Although they may be habituated to humans, they remain unpredictable. "I learnt this the hard way and was thrown aside by one of the bulls, but fortunately survived. We now stay in the vehicle when around the buffalo and don't approach them on foot. They are also very intelligent animals and we've had to make buffalo-proof latches for the gates so they can't open them."
Wooding says they always work from vehicles as the buffalo are easy to work with and learn patterns and habits fairly quickly. "Because we work with them intensively and check them twice daily, we know each individual and are better able to predict their behaviour." The animals all have names and their numbers are shaved onto the hide rather than branded on. There are photographic and lineage records of every buffalo. According to Wooding, this is becoming increasingly important for marketing and selling buffalo. "The further its heritage can be traced back, the more valuable an animal becomes."
Tourism and conservation
Visiting the buffalo is the highlight of a daily tour for visitors staying on the farm. "We like to show how farming and conservation can work together," says Wooding. Running buffalo on agricultural land does not represent orthodox conservation, although 60% of the farm's land falls under a conservation agreement with CapeNature. Elandsberg has 830 indigenous plant species, of which 30 are Red Data species and six are endemic.
Of the 41 mammal species found here, four are Red Data species. There are three Red Data bird species. Of the seven frog species found on the farm, two are endangered and of the 15 reptile species found here, the geometric tortoise is critically endangered.
The elevation of the land on Elandsberg ranges between 68m and 400m with a west-facing aspect. Annual rainfall, most of which occurs in winter, is about 700mm. The farm has mainly sedimentary clay soils and according to the Mucina and Rutherford classification, the natural vegetation type is Swartland Alluvium Fynbos and Swartland Shale Renosterveld.
Into the future
Wooding says the programme now runs itself quite easily, requiring minor veterinary intervention such as treatment for eye infection, only once a year or so. The animal has to be darted before being treated. "Buffalo are surprisingly hardy and are unaffected by the usual pests and parasites that plague cattle," he says.
For now, water supply limits the size of the Elandsberg buffalo herd. The aim for the future, says Wooding, is to keep the quality of the animals high. "While it has become more difficult to sell buffalo, we still have a good market and prices have increased over the years. Buffalo will always sell, but competition for the big-horned bulls that sell for record prices, is stiff."
For Wooding, however, the greatest personal reward he has gained from the project is releasing buffalo into the wild and seeing them run free.
Disease-free buffalo stud
Having a 'disease-free' status means that a buffalo is free of foot-and-mouth disease, bovine tuberculosis, brucellosis and corridor disease. The term 'stud' refers to a controlled and quantitatively characterised breeding group of animals with known lineage.
In a stud, there is controlled breeding between specific individuals selected on genetic merit. It is crucial that the entire process has total traceability. The first tentative steps towards stud breeding in game are currently underway. In buffalo breeding, the further back the lineage can be traced, the better. At Elandsberg, the lineage and selection for horn size, shape and larger body size can be traced back three generations in both male and female animals.
For more information, email [email protected].