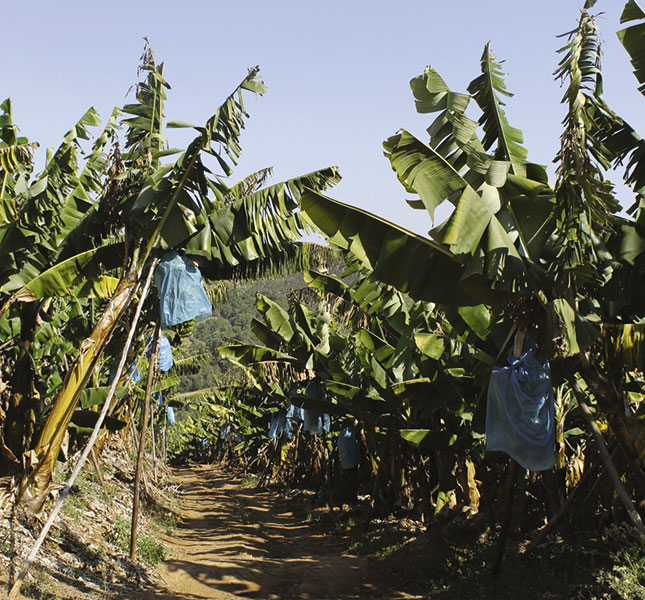 Steyl Willemse is an optimist who is always on the lookout for expansion opportunities and new ways to improve his enterprise and facing challenges of banana farming today.
When asked about the future of agriculture in South Africa, Steyl, who was Agri Mpumalanga's Young Farmer of the Year in 2011, says: "I love what I do and believe there's a solution to every challenge. Yes, we're concerned about the politics, but it's not worth being negative."
READ:Combining-tunnels,-nets-and-open-air-farming-for-diversified-vegetable-production
He started farming with his father, Jan, 13 years ago after completing a diploma in agriculture at the Lowveld College of Agriculture near Nelspruit.
Their farm, Bateleur Boerdery, produces bananas, macadamia nuts, avocados and ginger, but bananas currently make up 60% (60ha) of the cultivated land. Steyl aims to convert about 20ha of land under bananas to macadamias by the end of next year.
Challenges of banana farming
Growing bananas
Steyl grows Williams bananas, a tried-and-tested cultivar that has proved itself over many years. The main benefit of this cultivar, he explains, is that the trees bear more fruit in large bunches. The disadvantage is that due to the larger tree size, there is a lot of vegetative growth.
The trees, acquired from Du Roi laboratories in Letsitele, are spaced at a density of 2 000 trees/ ha. The orchards are micro-irrigated and a probe system measures soil moisture to determine irrigation intervals. Water is pumped from the Mojadji Spruit, a tributary of the Sabie River.
The first harvest takes place 18 months after the trees have been established. Once the bananas have been harvested, the entire tree is cut down and the suckers (the shoots arising from the rootstock of the plant) each has the potential to develop into a new tree.
Each plant produces an average of one bunch of bananas a year for a total yield of 35t/ha. Fruit is harvested throughout the year, but develops quicker in the warmer months. Peak season is between November and January.

Steyl Willemse
Steyl believes it is good practice to replace the entire orchard every 10 years. Each orchard is divided into blocks, one of which is replaced annually. The irrigation system is replaced at the same time.
When the banana trees are removed, the land is planted to ginger for a year. New banana trees are then planted. Steyl makes use of fertiliser consultants, who conduct a leaf and soil analysis in March.
From this, they compile a fertiliser programme. Macro-nutrients such as nitrogen (about 500g/tree) and potassium (about 750g/tree) are added every season.
Between 500kg/ha and 800kg/ha phosphate are added to the soil before the trees are planted, depending on the results of the soil analysis. Every two weeks from December to March, 20g to 40g of additional phosphate are added to each newly-established plant.
Steyl also applies feedlot manure at a rate of 10kg/ tree every two years, as it is a good source of micro-elements, phosphate and micro-organisms. The varied topography of the farm requires the use of powerful tractors to reach higher-lying areas. "This uses more diesel, while pumping irrigation water uphill uses more electricity," he explains.
Crop protection
According to Steyl, bananas do not require such an intensive crop protection programme as citrus and avocados. The main problems are eelworm and weevil borer.
"We monitor our orchards for eelworm and test if we suspect an infestation. But, in general, eelworm has never been a problem on the same scale as the weevil borer. There are no registered products to deal effectively with weevil borer. Putting out traps is the only way to reduce the population," he explains.
If eelworm is found in an orchard, the trees are removed and the land planted to ginger. "This destroys the eelworm's habitat, while the crop protection measures we use for ginger eliminate the eelworm." A polyethylene bag is placed over each banana bunch once the fruit has formed.
This protects the fruit from pests and the elements, and traps the ethylene oxide emitted by the fruit, speeding up ripening. Steyl and his team carry out a monthly inspection to determine which bunches must be bagged.
The bananas are sprayed for red spider mite with Sulphostar every six weeks between August and December. All Bateleur Boerdery's bananas are marketed through an agent at the Tshwane Fresh Produce Market and Steyl contracts a transport company for deliveries.

Intensive labour
Bananas have to be handpicked – a labour-intensive operation. There are currently 40 permanent workers on the farm. The labour force has been reduced by 12% since the new minimum wage came into effect in March. "So far, it's going very well with this smaller workforce," says Steyl.
"When the new minimum wage was announced, we reviewed our production efficiency. We restructured management by identifying and training some of the best employees to manage certain processes. We also mechanised many of the other tasks."
He says that the good health of his workers is crucial to the success of his enterprise. "Working with bananas is physically demanding because the bunches are handpicked and are heavy. But we can't get to everything with fewer workers.
Where we used to apply manure to the trees every year, we now only do so every two years. Time will tell if this was a good move, but I'm convinced it won't have much impact on production."
Step-by-step switch
The high input costs of bananas, however, is causing Steyl to rethink the crop."After the introduction of the new minimum wage, we identified our weaker banana orchards for gradual replacement with macadamias," he explains. "The macadamia market is growing rapidly, with increased demand from China. We're also excited about new markets in India. Generally, the outlook is very positive."
Steyl plants macadamias on land that is either too low-lying for bananas or has soils that are too marginal for the fruit.
"Bananas need a warm climate and very fertile soil for a good yield. Considering the high input costs, it's not worth planting them everywhere on the farm," he explains. Steyl foresees that all the banana orchards on the farm will eventually be replaced by macadamia nuts and avocados.
"Bananas are becoming less viable for several reasons. The first is a supply and demand issue. South Africa produces enough to meet local demand and we have an influx of bananas from Mozambique. Many SA farmers have established operations there, and while the input costs are the same in Mozambique, yields are far higher."
Looking ahead
Steyl is looking for ways to expand his operation. This could mean expanding Bateleur Boerdery or starting a new venture in Mozambique. "Farming there comes with its own problems, such as the need to import inputs. Infrastructure development is also not the same as here. But if an opportunity presents itself I'd consider it."
He is passionate about farming and stresses he is willing to take the risks to reap the rewards. "While I'm less concerned about tenure security, the country's economy is worrying. Problems with labour and strikes directly impact my business," he says.
Email Steyl Willemse at [email protected].
This article was originally published in the 11 October 2013 issue of Farmer's Weekly.