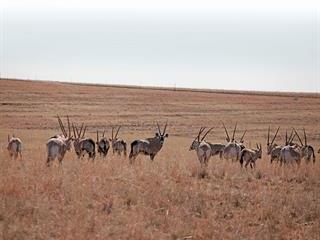 "If you can farm cattle and sheep, you can farm game," says Riaan Crous, who, with two of his brothers, has transformed their cattle operation into a highly profitable game enterprise over a 13-year period.
The brothers ventured into farming in 1995 when their father, Viljee Crous, retired and left the family farm near Kroonstad in the Free State to his four sons: Riaan, Kobus, David and Maans. At that time, the diversified enterprise consisted of a crop division producing maize, potatoes, grain sorghum and sunflower, and a commercial beef division.
Maans already had his own land and elected to continue independently. The other three brothers opted to keep the business intact and operate in partnership with one another. Riaan, Kobus and David initially farmed Bonsmara cattle, running stud and commercial herds. But in 2002, they decided to reinvent their enterprise to allow for vertical expansion.
"We looked at the land situation unfolding in Zimbabwe and decided on the less risky investment of intensifying on the land that we already owned, instead of buying more land," recalls Riaan.
The brothers started investigating the viability of game farming in their area, which, at that time, was not common in the Free State. Their friends and neighbours scoffed at the idea of establishing game in this part of the country, citing the cold winters and shortage of trees for shade and protection.
"We said: 'If managed correctly, it has to work!'" says Riaan.
In the end, they went for the option that made the most economic sense.
"The crux of the matter is that land is very expensive, and the return on investment per hectare with game is higher than with cattle," he says.
From left: Crous brothers Kobus, Riaan and David. Courtesy of the Crous family
Small beginnings
In 2001, the brothers set up their first game camp and in 2002 bought their first sable antelope (Hippotragus niger). Since then, their game-farming operation has grown to include 11 species on a total of 5 000ha of game-fenced land.
This includes two farms – in Steynsrus (Free State) and Thabazimbi (Limpopo) – bought subsequently.Each brother also runs his own commercial farming operation: Riaan runs 1 500 Bonsmara cattle, David grows 1 000ha of maize and Kobus produces 550ha of potatoes.
Riaan's Bonsmaras are run in Kroonstad as well as on farms in Botswana and Mozambique, where, he says, land prices are more affordable than in South Africa.
He stresses that he and his brothers are not negative about cattle, but for them, the future of game farming in South Africa was simply too attractive to ignore.
According to his research, about 70% of the game in the northern parts of Africa has disappeared over the past 30 years as a result of poaching, and this has left a gap in the market that South Africa is well-placed to fill.
South Africa and Namibia are two of the most popular hunting destinations in Africa, Riaan explains.
"These days, few hunters coming from overseas have the time for a 21-day African safari. They come for only a week or two. In South Africa, they're assured of success and will go home with a trophy. They won't find the same in Kenya or Zambia."
Comparing the benefits of game with those of cattle, Riaan says that game does not need a large piece of land to be an economically viable enterprise.
"It's all about profitability and using time as efficiently as possible," he stresses. "Three hundred head of cattle need 1 800ha of pasture, and it takes five to six hours to drive through them to check if they're okay. With game we can get a similar return on investment from just 40ha, with only 2,8km of fencing, one water point and one feeding station. It takes only half an hour to check all the animals. It makes sense to invest in game."
Game farming is a sustainable business, says Riaan, because there are still many new entrants to the market.
"There will always be a demand for quality breeding material (build, fertility, horn length) and you have to make sure you always have quality animals available. But even if the market crashes, game will still yield a greater return per hectare than cattle."
Selection and breeding
When the Crous brothers first established their game farming operation, they kept the animals in 12ha to 15ha camps. However, they soon realised that a 40ha camp was the ideal size for a sable or roan breeding herd of 20 to 30 females with one bull.
Larger animals such as buffalo are placed in camps of up to 300ha in size. The breeding camps are never adjacent to one another as there have been cases of roan and sable bulls fighting through the fence.
In terms of breeding quality animals, cattle and game share a number of similarities, says Riaan.
"The basic principle of matching the correct male to the correct female, according to your breeding goal, applies in both instances."
Breeding takes place naturally, with no artificial insemination. Bulls or rams are selected for horn length and build, and rotated between female herds every three years. When selecting female animals, they look for those with larger bodies (for ease of calving) and longer horns.
"As when breeding sheep or cattle, it's important to remain at the forefront of genetics. We select the best animals and purchase new genetic stock to stay at the forefront," Riaan says.
Through their careful selection for animals with larger horns, the horn length of some of their sable antelope bulls has increased from 41" to 50".
All bull calves are weaned at 12 months and those that don't meet selection criteria for breeding stock are sold to other game farms for hunting.
Weaned bulls and rams that are retained to be marketed for breeding are kept in 300ha camps where they mature for five to six years until old enough to be marketed. These camps contain Smuts finger grass (Digitaria eranthia) and red grass (Themeda triandra), which occur naturally in the area.
Nutrition
The Free State grasslands' nutritional value is not sufficient to meet the needs of game, so the brothers produce and bale teff hay on about 100ha, fertilised with nitrogen at 80kg/ha and phosphate at 8kg/ha after the first spring rain.
They rotate teff crop with maize or potatoes. Firebreaks, an integral part of the farm, are planted with oats. In the green stage they serve as wet breaks; once dry, they can be burnt if required.
In winter the animals receive an energy lick, Nutrifeed Energy 18, which contains phosphate and minerals. Animals also receive lucerne and full-fat soya oilcake.
"We ensure they have enough fat to retain condition during winter," Riaan explains.
The total cost of feed is on average R3 600 per animal annually, and Riaan insists "it's worth every penny".
The natural grasslands in the Kroonstad area do not provide sufficient nutrition for their animals and the Crous brothers have to produce and buy in additional feed
.
Disease management
Disease is the brothers' greatest challenge and managing it is essential. What makes it more challenging is that different game species are suspectable to different diseases. One of the brothers' most costly mistakes, according to Riaan, was using a vet with little experience in game.
"Roan (Hippotragus equinus) are prone to Theileria, sable are susceptible to pneumonia and buffalo can contract contagious abortion (CA) from cattle," he explains.
Other diseases requiring continual attention include foot-and-mouth disease (FMD), tuberculosis (TB) and corridor disease (CD).
All buffalo are tested before they arrive on the farm, as required by law. They are kept in an enclosure at the point of purchase until declared FMD-, TB-, CA- and CD- free.
When the brothers sell their buffalo, the same procedure is followed. Sheep must be kept away from buffalo, warns Riaan, as buffalo can contract bovine malignant catarrhal fever (BMCF) from them.
Equally, cattle should be kept away from buffalo to prevent the former from contracting brucellosis.
"We take dung samples every three months in all camps," says Riaan. "If the parasite egg count is too high, we treat accordingly."
To avoid drug resistance, antibiotics are used in individual cases and only as necessary. To control external parasites they use Deadline, administered by Gielie se Dipbak Roller dip trays that apply the dip to animals as they feed at the tray.
A tray remains in each camp for 14 days at a time every three months before it is moved to another camp to avoid over-treatment.
"The cold Kroonstad winters have some benefit for game farmers in that the parasite load is lower here than in areas with less frost," says Riaan.
New species
Amongst the 11 game types on the Crous brothers' farm are nyala, golden oryx, lion, lechwe, black impala, buffalo, roan and Zambian sable. They follow two standard principles when introducing a new species.
Firstly, they investigate the market demand and growth potential for the species type by monitoring auction prices and the number of animals available in the market. They then select the species that can survive in the area where they farm.
According to Riaan, artificially selected colour variations such as 'black' impala, 'golden oryx' (artificially selected colour variation of the gemsbok) and 'golden' wildebeest (artificially selected colour variation of the blue wildebeest) are the most profitable, but sable antelope are still closest to his heart.
"They are proud, magnificent animals," he says.
Phone Riaan Crous on 082 805 2755 or email him at [email protected]. For more information, visit crousbroers.co.za.