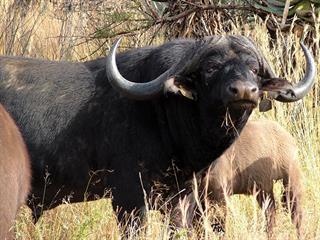 Over the past year game auctions have seen some extraordinary prices set for "stud" game. But is it possible for a buffalo to be so genetically superior it's worth R6 million? And why are game breeders prepared to pay R96 000 – several times the trophy price – for a kudu bull?
The R6 million, 47-inch buffalo, called Bill, was sold in June by Kwanare Game Farm in Mpumalanga to insurance billionaire Douw Steyn's Shambala Game Reserve in the Waterberg, Limpopo.
Referring to the sale, Kwanare stud game breeders Sas du Toit and Wicus Coetzer say that breeding buffalo from the best gene pools was becoming "more lucrative" – an understatement if ever there was one. Bill's R6 million is the highest price ever paid for a wild animal in Africa.
The R96 000, meanwhile, is the highest price paid for a kudu bull (62-inches) sold at the Renken Game Pens in Ellisras (Lephalale) by auctioneer Corne du Plessis in August last year. Experts say those 62 inches make it worth every cent – quality kudu bulls are generally around 55 inches.
"Genetically superior stock is the new name of the game," says auctioneer Brandon Leer, who handles more than 30 game auctions a year. Other examples of "genetically superior" prices include a disease-free buffalo bull that sold for R3 million, a sable bull that went for just over R3 million and a buffalo cow and calf sold for R630 000.
Rare breeds and top class genetics
"Today there are plenty of game farms and the market is relatively saturated," explains Brandon. "To prevent a drop in demand, a group of breeders, including Stud Game Breeders, Thaba Tholo, Shambala Game Reserve, and Trophy Breeders, have taken the lead in marketing stud game with an emphasis on species classified as 'rare'."
These include roan antelope, sable antelope, buffalo (disease-free), black and white rhino, Egoli gnu/Egoli wildebeest, Livingstone eland, Lichtenstein hartebeest and saddled impala.
Aside from improving the gene pool, it makes excellent economic sense if you consider that trophy hunters pay between R10 000 and R15 000 for a 55-inch 'trophy' kudu bull. Add five more inches and you can get anything from R36 000 to R96 000 for a "stud" kudu bull.
Of course, you're going to need a fair-size wallet to start off with, as will be evident at the Stud Game Breeders' fifth annual auction at Mbizi Lodge near Bela-Bela on 4 September. Here the five stud game pioneers will be strutting their stuff to the cream of the South African business community and game breeders.
Stud Game Breeders pioneers
The five are Tony and Richard Morton from Tembani Wildlife, Carolien and Jacques Malan, owners of Lumarie Game Farm, Johan and Nadien Bosch from Dinaka Game Reserve, Edwin and Heleen Claassen from Shelanti, and Sas du Toit and Wicus Coetzer from Kwanare.
Businessperson and stud cattle breeder Cyril Ramaphosa became the sixth member of Stud Game Breeders in August and Bela-Bela will be his inaugural auction. Cyril is well-known for his cattle stud well-known near Badplaas, Mpumalanga, which includes Ankole cattle – the only herd of its kind outside Uganda – and a Boran herd from Kenya.
"I've been drawn to stud game breeding because South Africa is becoming widely recognised as a leader in preserving and enhancing superior genetics of the rare species of African wildlife," he says.
"I'm committed to make a difference by facilitating transformation in the industry and contributing to the superior genetic pool through an active breeding programme. By working together, we can take the industry to the next level."
Facilitating transformation is needed because "game breeding has largely been an all-white industry. What excites me about Stud Game Breeders is that they are progressive, knowledgeable people who see the need for transformation and are facilitating the entry of more black breeders into the game industry," explains Cyril.
He concedes the stud game industry is mainly for the wealthy, but adds that there are ways around this. "People can, for example, work in consortiums and we will help them to achieve this." He doesn't have any rare species on his farm yet. "I've been looking at several options," he says. "I'm particularly fond of buffalo and sable, which are breathtakingly beautiful. I've also always been interested in the development of strong genetics.
Top-class genetics in cattle have been bred through embryo transfer and there are exciting trials underway in South Africa to try and achieve the same with game."
Putting South Africa ahead of the herd
As Stud Game Breeders chairperson Jacques Malan explains, "Our quest is to supply excellent genetics and to breed outstanding animals in line with the record animals from the 1900s that were eliminated through excessive hunting, disease and habitat loss.
Magnificent animals recorded in the 1900s – including 62-plus-inch buffalo – serve as a milestone for what we aim to achieve.
"In addition to the gene pool aspect, we would like to provide better buffalo or sable than any other African country, giving us the strongest possible drawcard. We might not have the Serengeti or Masai Mara, but we can have the most outstanding wildlife on the continent.
"If you consider that the average buffalo bull hunted in Tanzania is about 38 inches, which is not good at all, we're definitely heading in the right direction by breeding 47-plus inches."
"There's definitely an export opportunity here, not only to other African countries, but also to zoos around the world."
Stud Game Breeders member
Wicus Coetzer adds, "If you look at what's happening to game in the rest of Africa, we could be called upon to restock Africa's dwindling numbers. We've learnt from our mistakes.
The Convention on International Trade in Endangered Species (CITES) protected roan antelope which were on the brink of extinction until breeders stepped forward and re-established herds.
"Ian Player's decision to place white rhino on private farms to protect their dwindling numbers and genetics also proved to be a great success." As one of Africa's foremost conservationists, Player had the foresight to do this several decades ago. Both white and black rhino are on the stud breeders' "rare" list.
About those prices
Wicus says breeders focus on "rare" animals is because "stud breeding is a costly exercise and there must be a return on investment, which comes with the rare species." Auctioneer Willie Roux, who'll be wielding the golden hammer at the Stud Game Breeders auction, adds, "I think it's natural that the South African game industry should take the stud direction for reasons including a strong market, conservation, tourism and hunting,"
The return might be there, but the permits aren't, and game breeders are calling for a reappraisal of the game movement permits between provinces and across our borders. It seems inefficiency and convoluted regulations are hampering the market.
But aren't prices getting just a little out of hand?
"The prices are market-driven," says Prof Wouter van Hoven, director of the Centre for Wildlife Management at the University of Pretoria, who's been involved in South African wildlife management and conservation for more than three decades. "Certain breeders have the money and are prepared to pay them."
He believes the prices will level out once the market gets saturated, as has happened with Ngunis and now the Boran. "I strongly believe in stud breeding," he adds. "Unlike nature, where predators are genetic vacuum cleaners, preying on the weak, hunters do the opposite and go for the best, resulting in a loss of the best genes and a proliferation of weaker genes."

Breeding back the best
"It's common knowledge that over the decades hunting took out the biggest and best and that horn sizes got smaller," notes auctioneer Willie Roux. "Game breeders have now concentrated on breeding back the best and, where necessary, introducing new bloodlines to achieve this."
He explains that stud game bulls are rated by their horn size, but conformation and genetic history are beginning to play a bigger role.
Females are rated on horn size (where possible), conformation and body size, mothering ability, and family history. "Breeders who can show that a female's father was a 48-inch or 50-inch buffalo bull and that she's bred a bull calf with a good horn length will get an excellent price," says Willie.
At Kwandwe's auction in the Eastern Cape in April, for example, a buffalo cow with a calf fetched the highest price, going to the Mortons of Stud Game Breeders for R660 000.
Novelty species are also attracting big money. There's the Egoli wildebeest – a golden-hued blue wildebeest – and two black impala rams which sold for R31 000 each at Shamwari Game Reserve's auction in the Eastern Cape in May.
"The novelty factor is important for any product you sell in any industry, be it the motor industry or the game industry. People always want something different," says Willie.
The Stud Game Breeders' catalogue, including photos and information on the animals up for auction will be available ahead of the sale at www.studgamebreeders.co.za.