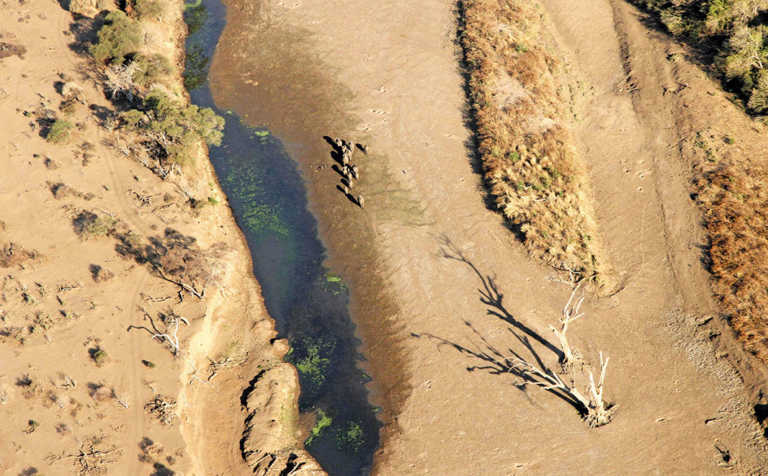 The Bateleurs, a remarkable organisation that celebrated its 20th anniversary last year, coordinates diverse flying missions throughout Southern Africa in support of environmental issues.
The non-profit company exists because of the late Nora Kreher, who dedicated her life to wildlife and nature conservation.
Her close friend, the late Dr Ian Player, described her as follows: "Without question, one of the really great heroines in the conservation struggle. She was a woman of indomitable courage, highly intuitive and deeply motivated to save the little wilderness left in South Africa."
Kreher was involved in the so-called battle for St Lucia, along with Player, other conservationists, and former president Nelson Mandela, to halt mineral mining on the dunes of the eastern shores of Lake St Lucia.
The area is now protected in the iSimangaliso Wetland Park, the result of their successful petition.
This event provided the spark that ultimately led to the founding of The Bateleurs, named after the well-known raptor.
Player arranged for journalists to fly over the eastern shores of St Lucia to see areas that were claimed to have been rehabilitated, and Kreher saw the power of an aerial perspective in action.
Later, she and her husband, Roland, visited Alaska and observed the work of LightHawk, a US organisation whose pilots volunteer their time and aircraft for environmental and conservation work. Kreher loved the idea and wanted the same conservation tool for South Africa.
She set to work, and The Bateleurs – 'Flying for the Environment in Africa' – was born on 8 September 1998.
Until her death in 2008, Kreher worked tirelessly, arranging all the missions for The Bateleurs. She knew all the pilots and was fondly known as the Red Baroness, though she was never actually a pilot herself.
Conservation writer James Clarke called her "one of the most effective environmental campaigners in South Africa". He described The Bateleurs as "an environmental air force that has had a profound effect on conservation tactics in Southern Africa".
Many missions later
Now based in Hoedspruit, Mpumalanga, The Bateleurs flies up to 70 missions a year. Numerous species, from oxpeckers to elephants, have been transported by the organisation.
The pilots give their time, use of their personal aircraft and often fuel free of charge. There is no charge to beneficiaries for missions flown by The Bateleurs either.
It is estimated that the pilots themselves contribute up to 70% of the organisation's value, and the organisation relies solely on funding to cover operational costs. This comes from private individuals, companies and organisations.
General manager Zelda de Keijzer, who arranges all the missions, is the only full-time, paid staff member.
Kreher's son, Sven Kreher, has been involved with the organisation since day one as a director.
Brimming with the same passion that drove his mother, he says: "To my knowledge, The Bateleurs are still the only non-commercial, non-profit operation flying for conservation and the environment in Africa. We've flown over 600 missions since inception and have around 220 pilots in the organisation. "But we never say no to new pilots joining us, because we need many different planes and expertise for different missions. Some provinces, such as the Free State, North West and the Western Cape, are in need of more pilots."
Diverse work
Kreher says that the organisation performs its work "wherever there is a need, and we can reach".
"From surveying for white-backed vultures in Gorongoza in Mozambique, to surveys in East Africa and Namibia. We've even flown an elephant to the Daphne Sheldrick Foundation in Kenya.
"Missions have also been flown in Angola, but logistics are definitely more difficult beyond the neighbouring countries of South Africa."
Avroy Shlain, a director of the company and a pilot, says: "To the best of my knowledge there's nothing else like us, and we remain the only private flight support programme for conservation in Africa. There are other commercial aerial surveys and charters operating, but that's quite unlike what we do."
Shlain adds that while The Bateleurs has many members, some don't fly missions for a year or two, as pilots are called up according to the requirements of the mission.
"We definitely still welcome pilots and different planes; 400 flying hours is a minimum requirement for us. Then, when missions are requested, we match the plane and pilot's experience to the specific mission.
"We move animals and do game counts and surveys, and different planes and pilots are suited to different missions. We've flown a baby elephant in a Pilatus, and 10 lions at a time in a Cessna Caravan. I've done work in a small two-seater to check on open spaces in Gauteng.
"For game counts, we use fixed-wing aircraft, but if you want to look at birds' nests you need a helicopter, and when doing counter-poaching in valleys, you need a microlight that can go low and slow. Then, when you are moving 14 wild dogs, you need a big plane."
De Keijzer puts out a request to pilots for each mission and the pilot with the best experience for the job is chosen.
An unusual mission was the translocation of 32 red-billed oxpeckers from the Kruger National Park to Mokala National Park, near Kimberley, for the Endangered Wildlife Trust.
In March 2018, The Bateleurs were requested by Humane Society International to rescue an injured pangolin confiscated from poachers in Limpopo. Bateleurs pilot Noel McCullough flew the mission, along with vet Dr Karin Lourens, who inserted a plate in the animal's leg.
The pangolin has since been safely released into a secure habitat.
The organisation recently flew wild dogs to Gorongoza in Mozambique, and moved a group of lions from the Eastern Cape to Nambithi private reserve in KwaZulu-Natal.
Maritime work is also undertaken. Turtles that had gone off course in the Agulhas current were picked up off Port Elizabeth and moved to KwaZulu-Natal, and The Bateleur pilots have carried out missions to count whales and dugong and check on fishermen.
The missions are highly diverse and often unexpected. They are not always glamorous, either; monitoring alien vegetation and pollution spills are also on the list.
Shlain has had his private pilot's licence since 1963 and has clocked 1 300 hours, mostly
in a Cessna 182 and an Aviat Husky, both high-wing light aircraft. He recently sold his Cessna and now flies only his Husky, which he says is the most commonly used plane in conservation in Canada and Alaska.
"You can fly low and slow, and it has big wheels so you can land on rocks and stones, and in the bush."
He cites the rescue of cheetah cubs near Alldays in Limpopo as one of his most interesting flights.
"We got the call that a cheetah had been badly injured, but when we got there, we found that she had four cubs, so I put them in a cardboard box and flew back to Johannesburg with them. That was really memorable.
"Aerial tracking cheetah in the Kgalagadi was also a really interesting mission. We couldn't pick up a signal from their collars, so we had to fly in circles until we found them."
Shlain loves flying and is passionate about conservation, and says those are the reasons most of the pilots fly for The Bateleurs.
"It's an ideal marriage: love and passion. And it has been lifelong. My love for animals and conservation was first evidenced when I joined the SPCA at five years old."
Dedicated and expert volunteers
Both Kreher and Shlain say that The Bateleurs is unique in that it is a thoroughly philanthropic organisation funded mostly by its members.
"We do get donations from companies, organisations and private individuals, but pilots give an enormous donation of their time, their aeroplanes and often the cost of fuel," says Shlain.
"Our members comprise doctors and private and commercial pilots, and are drawn from the whole spectrum of society.
"So, when we have a mission, there's always somebody who knows exactly what needs to be done."
Visit bateleurs.org.