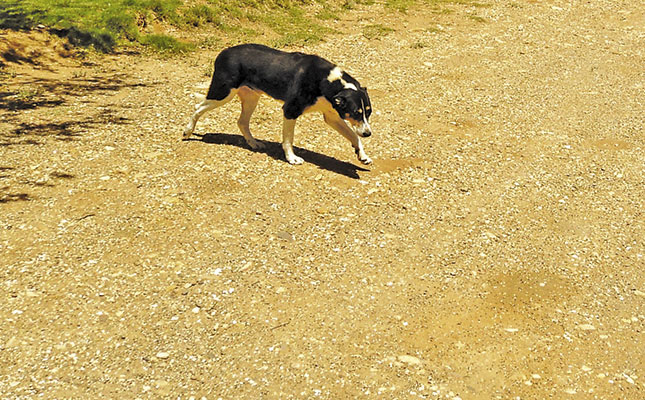 South African wildlife populations could possibly be prevented from becoming maintenance hosts of the rabies virus if the standard vaccination programmes of domestic dogs are augmented with a wildlife rabies control strategy.
This is according to ecologist Michael Grover, who is involved in a two-year collaborative study with the Department of Veterinary Tropical Diseases, Faculty of Veterinary Science, University of Pretoria, and the Mpumulanga Veterinary Services, on rabies epidemiology in the Lowveld.
The research is being conducted in private, provincial and national conservation areas along the western boundary of the Great Limpopo Transfrontier Park, adjacent to the communal land of the Mnisi Traditional Authority in Bushbuckridge.
Hosts and resistance
Rabies is an acute, typically fatal disease of mammals, caused by neurotropic infection with members of the Lyssavirus genus. A broad spectrum of species is affected by the disease, with dogs, yellow mongoose, black-backed jackal and bat-eared foxes being the primary hosts. In Africa, rabies cycles are sustained particularly by canine species.
READ: Rabies can be a danger to your horse
According to Grover, the maintenance host's physiology and biochemistry are key to ensuring the effective transmission of the disease. Hosts are sensitive to their variant, but relatively resistant to rabies virus variants of other species.
Although carnivores are always part of the rabies reservoir, they are not essential for the maintenance of rabies.
Previous research has shown that black-backed jackal, given the right ecological conditions, are capable of sustaining rabies infection cycles independently of domestic dogs.
But for rabies to be maintained in a host population such as jackal, there has to be regular contact between animals, as well as behavioural patterns that assist in the spread of the virus.
Where jackal populations are low, jackal would most likely be infected by contact with domestic dogs, although vagrant jackal moving through a territory could spread the disease.
"While there's no evidence as yet that predators in the study area have been affected by rabies, an increase of rabies-positive dogs in the neighbouring, high-density human settlements is cause for concern.
Domestic dogs can act as the maintenance host for rabies in wildlife areas," says Grover.
Transmission and vaccination
Grover explains that domestic dogs transmit diseases such as rabies, mange and canine distemper to wild animals. They also compete against them and disturb and harass them.
"Although interaction between domestic dogs and wildlife has been documented globally, most incidents occur when rural areas overlap with wildlife areas, where stray or roaming dogs abound," he says.
"Roaming dogs have been described as those that may not have an owner or are not permanently restrained or under human control."
Fences are continually maintained and patrolled in the study area, yet to date 203 stray dogs – 63% of which tested positive for rabies – have been destroyed inside the reserve.
Dogs have been seen up to 23km inside the reserve, giving rise to fears that wildlife could become infected. Several villages lie close to community land used for grazing, hunting with dogs, and gathering firewood.
"The research aims to give us a better understanding as to why domestic dogs are coming into conservation areas, how they are getting into the reserve and what interactions they may have with wildlife inside the conservation areas," says Grover.
"It's important to understand the type of interaction, whether transfer would be possible during this interaction and what management actions should be taken after the interaction."
Research involves collecting data on dog movements and behaviour on the boundary of the conserved area and inside it.
This information is linked to predator home ranges that have been documented through research.
Predators in high-risk spots can be vaccinated by darting. The dart contains Rabisin, an inactivated vaccine.
Descriptions of individual predators are then made for identification and follow-up. Virtually all animals, including antelope, can be infected with rabies.
Domestic dogs and jackal spread rabies by means of bites. Kudu transmit the virus by depositing infected saliva on browse material or through social grooming.
Research into oral vaccine
Experiments are now being conducted to find an effective oral vaccine that could be administered via feed to curb the rabies outbreaks which periodically decimate Nambia's kudu herds.
Scientists believe that rabies has crossed the species barrier via an introduction from jackal to kudu. They suggest that the virus is likely to have adapted to kudu and created a new rabies variant that is infecting kudu, an integral part of Namibia's wildlife economy.
READ: Research on kudu rabies in Namibia begins
But as pointed out, the kudu's social behaviour and feeding habits are the contributing factors for the spread of the virus. Transmission from kudu to livestock or other grazers is therefore not a threat.
In addition, explains Grover, rabies is not resilient outside the host organism. The establishment of new host species relies heavily on a high density of species, with regular interactions and behavioural traits such as biting or scratching.
This trend has been seen in several other regions where new host species have been introduced through the adaptation of the virus. Examples of these include skunks and raccoons in the USA.
In antelope, symptoms of the disease include passiveness towards humans and general lack of aggression, with excessive salivation, as well as rubbing of wounds and skin irritation, eventually leading to paralysis.
Phone Michael Grover on 083 575 5201 or visit www.activatingafrica.com.