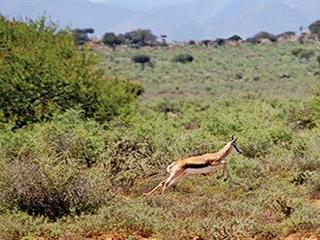 The nature of agriculture is to reshape landscapes. Centuries of sheep farming in the Karoo have been no exception to this and have negatively impacted on the productivity and health of the Karoo's ecosystems. Dr Thula Dlamini of the Agricultural Research Council and Prof Gavin Fraser of Rhodes University say that continued degradation of rangeland and the effects of climate change may compromise the long-term profitability of sheep farming.
They have suggested springbok ranching as a viable alternative. Their research shows that ranching springbok could reverse the negative effects already imposed on rangeland in the Karoo. The study focused on the area surrounding Graaff-Reinet, but states that its conclusions apply to other areas of the Karoo with the same climatic and economic regimes.

Dr Thula Dlamini and Prof gavin Fraser
"Although wool sheep farming businesses are meeting their current financial obligations, in the light of continued environmental degradation they are likely to become financially and ecologically unsustainable. The economy of Graaff-Reinet could do much better under springbok ranching," says Dr Dlamini. "But farmers may have to settle for reduced profits than in sheep farming. Landowners need to be incentivised by government to convert wool sheep farms to springbok ranches as an indispensable anchor for ecological reclamation."
Rangeland use
The premise for the study conducted by Dr Dlamini and Prof Fraser is based on the loss of biodiversity through selective grazing by livestock. The study reports that the continued presence of sheep in the semi-arid ecosystems could weaken these ecosystems to the point of disintegration.
But Danie Vorster, manager of Merino SA, says that these claims of decreasing biodiversity and deteriorating ecology in the Karoo are untrue. "There has been a dramatic improvement during the past few years thanks to the use of rotational grazing systems and appropriate stocking of grazing camps." He maintains that sheep are less selective grazers than springbok. "If springbok were to replace sheep, the veld would be in a far worse condition."
Resource subsidies
Prof Fraser says that although wool sheep farming is currently more profitable than springbok ranching, it is not as economically sustainable. He says that declining biological productivity may, in the future, force farmers to buy in more feed which would be a major cost burden and would affect profitability.

Springbok numbers have greatly declined in the past 100 years and migrations no longer occur. The population is dependent on effective management on private game farms and in reserves.
"Evidence suggests that springbok might just be the future backbone of economic activity and sustenance in the area," says Dr Dlamini.The study indicates that on a 5 000ha farm, springbok ranching for meat production would be profitable if the government paid a direct annual subsidy of R13/ha to farmers to convert their land to springbok rangeland. "As SARS already provides tax concessions to farmers and ranchers for any ecological-economic system that leads to biodiversity restoration, the financial model displays improved earnings in springbok ranching in the long term," says Dr Dlamini.
Despite the subsidies however, profits would still be lower than those of wool sheep farming. Wiaan van der Linde, game farmer and owner of Winterhoek Safaris in the Northern Cape, says that springbok farming could be as profitable as sheep farming with the right infrastructure and market creation. "Springbok meat is sought after but the price structure needs to be worked on. There is no reason why beef should be more expensive than venison. The public must be educated on how to prepare and cook the meat. Without a greater market the product won't take off."
He explains that the demand issue could be resolved with better supply. "Consumers are not accustomed to buying and eating springbok meat because lack of consistency in the supply chain makes it difficult for retailers to stock. The demand for springbok meat is big in Europe and could be big locally." Prof Fraser says that the comparative ecological and economic implications of springbok ranching compared to those of wool sheep farming are astounding, although springbok farming shows lower monetary returns.
"Springbok production has a greater potential to yield more economic spin-offs from biodiversity conservation than sheep farming. These include ecotourism and opportunities in the hospitality industry and related businesses. The economic benefits of biodiversity are difficult to quantify." Wiaan says that processing hides would add more value and increase the profitability of springbok ranching.
A collective effort
Prof Fraser says it is important to realise that springbok, alone, cannot stimulate biodiversity. "This is especially so if they are kept in small camps or farms. In such situations, springbok tend to be destructive on the rangeland by employing survival behaviours that may prove detrimental to the long-term goal of biodiversity restoration." He says that ranchers would need to encourage the natural local movement of springbok in the area as far as possible.

Sheep farming has been a mainstay of Karoo agriculture for centuries, surviving various boom-and-bust markets.
"Essentially, unrestricted movement of springbok in the Karoo could stimulate the re-growth of grasses and plants that these antelope and other species feed on. This implies that farmers may have to consider collective management of rangelands."
A project of this nature would need an environment suited to the development of spillover industries that could directly benefit farmers through the joint management of their rangelands and the resultant industries.
Prof Fraser says the model could include progressive ecotourism projects geared towards the management of faunal and floral biodiversity. Wiaan says that a farmer's primary goal is to put food on the table, not conservation, and that this would be an entirely different industry for a farmer to get involved in.
Contact Dr Thula Dlamini on 012 427 9824 or Prof Gavin Fraser on 046 603 7403.