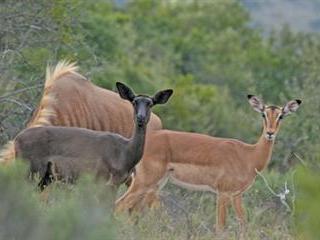 When the international financial climate eventually improves, game ranchers will have to reassess two critical aspects of their enterprises: field preparation of hunted trophies; and the possible effect of breeding colour variants and hybrids on South Africa as a hunting destination.
So says Rodney Kretzschmar of Trans African Taxidermists, Muldersdrift, a family firm that has specialised in African game since 1945. "The hunting industry has reached maturity, and, like many others, is experiencing huge changes due to continuing economic uncertainty. Hunting clients have educated themselves and see right through 'stories' fed to them by professional hunters.
Combine this with the ongoing economic problems and it becomes clear we have to provide a far better service than we have in the past, particularly as the industry has lost a lot of ground," says Rodney. "Since 2008, when South Africa hosted 16 000 international safari hunters, the numbers have steadily declined to 4 000 last year. This is not due to any opposition to hunting, but is merely a reflection of how tight money has become. The hunters that still make the trip insist on reasonable prices and even discounts."
New 'species'
Rodney notes that South Africa is fortunate in still having many Scandinavian hunters, but that the super-rich Big Five hunters, a small minority, go to Tanzania and Mozambique. "We certainly can't afford to put off other hunters because of dubious game breeding practices (see box). Make no mistake, opposition to hybrid breeding is growing and is being likened to genetic modification of crops," he says.
"Very few European hunters are interested in hunting a new colour variant of a known antelope species what they might regard as an artificial or 'instant species'. Most want to hunt the real thing in its natural environment and are against what they see as interference with nature. If this breeding craze goes too far we could end up having to do DNA tests to accurately identify and distinguish some animals, as is already the case with the bontebok and blesbok," he says.
Rodney suggests that the hybrid breeding trend was started by cattle breeders who switched to game ranching and started experimenting with cross-breeding and selective breeding in game. "Doing it with livestock is one thing but carrying it over to game can tarnish South Africa's image as an authentic African hunting destination," he warns.
"Unfortunately, the hunting industry has become so fragmented, with so many splinter groups each punting its own agenda, that government can (and should) now take the lead and act as facilitator. Hunting outfitters feel they've invested so much in game farming and conservation that they can dictate the future of the industry," Rodney contends.
"Despite their positive input over the years, game ranchers need the consensus of the industry on interference with the genetic fabric of African game. Our industry needs to come together and speak with one voice."
Field preparation
According to Rodney, professional hunters and game ranchers should now revisit the fundamental principles of good taxidermy. "Field preparation of a trophy has received less attention over the past 40 years than anything else in the hunting industry," he says. "There is no point providing magnificent hunting opportunities with state-of-the-art camps and lodges when the product can't be used because of poor or incorrect field preparation.
Game ranchers that don't use the right methods or lack the necessary facilities could be liable to replace skins that have gone bad in the tanning process. The cost of a safari demands that the client receives a high-class product from the host and taxidermist. Ranchers may be able to easily supply the taxidermist with common game such as impala, but with high value and rare species this becomes too expensive."
Rodney emphasises that, ultimately, the mark of a successful hunt is the quality of the trophy on the wall. Today's hunters want more from the taxidermist in terms of the artistic quality of the work. "About 40 years ago we exported mainly skulls and skins, with the odd shoulder mount.
Then 20 years later we started exporting mainly shoulder mounts with the same number of skull mounts and the odd full mount. Now, most of our consignments include several full mounts. A world-class product in the full mount category requires an expertly prepared skin," explains Rodney.
He points out that most African game species don't allow for slip-ups because they have fine or short hair, in contrast to northern species with long hair that can hide a multitude of sins. Loading the animal also becomes a problem because the fine hair easily rubs off, leaving huge hairless patches.
"In those colder climates they do not have our heat to contend with and can stack the carcasses until such time as the skinners can do all the skinning. But in Africa game must be skinned within three hours. If the journey back to camp takes too long, the heat can cause further damage as decomposition is already well on its way and heat fast-tracks this process," says Rodney.
Field prep checklist

Proper skinning facilities where the game can be skinned and the skins washed before going into the salt pit.
Use first grade, fine, clean dairy salt. Blood contaminates and discolours the skins.
Good sharp knives and sharpeners for skinners.
Skinners must know how to split the lips and turn the ears, remove warts on warthogs, know how to skin out the paw pads on a cat and the cuts for a full mount.
Adequate boiling pots available for cleaning the skulls.
Facilities where dried skins can be stored and regularly fumigated to deter rodents and insects.
Contact Rodney Kretzschmar of Trans African Taxidermists CC on 079 102 3125, or email [email protected]