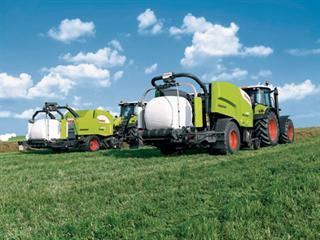 Vehicle telematics involves sending, receiving and storing information relating to the operation and performance of vehicles on the move. By expanding telematics in agriculture to include implements with its Telematics on Implements (TONI) system, Claas Agrosystems for the first time enables you to gain a clear overview of the entire working unit. And it's not surprising that TONI was awarded a silver medal at Germany's Agritechnica 2011.
The operation of the equipment in the land is monitored in real time with the system reading the interplay between tractor and implement, including speed and machine settings. The data for the entire unit is then pooled on the internet to provide information about current performance thereby ensuring all equipment can be used to its full capacity. If the tractor and implement metering systems are fitted with ISOBUS, only one telematic system is required to transmit the data – a cost-saving benefit.
TONI improves diagnosis
Claas developed TONI with the co-operation of leading implement manufacturers Amazone, Hoesch, KaWeCo, Lemken, SGT, and Zunhammer. The system enables farmers to document, evaluate and optimise implement settings, irrespective of brand. The data transfer from tractors and implements also improves procedural diagnosis.

Automatic transfer
TONI automatically monitors quantities harvested or, in the case of spraying, seeding or fertiliser application, quantities applied. The driver no longer needs to transfer the data and can concentrate on the efficient operation of the equipment. It also means that implements for which there are currently no telematics can eventually be integrated into the system.