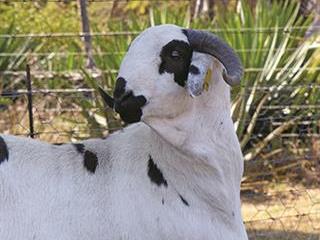 When Neels Nel, a professional hunter, decided to start a livestock farming operation near Groblersdal, he knew he would need a well-adapted breed that demanded little attention.
"Because I couldn't give full attention to my animals, I looked for a hardy, fertile breed that had good mothering abilities,'' he says. "I had to farm something in my region that worked for me and not against me.''
After a short, frustrating stint farming cattle, Neels decided to focus on fat-tailed Damaras in the early 1990s. The breed was commercialised in Namibia in the 1950s and 1960s and he was immediately struck by its exceptional browsing and productive capabilities in the Olifants River Valley bushveld.
Neels Nel
Kaokoland genetics
In 1991, a year before the establishment of the SA Damara Breeders' Society, Neels purchased his first 14 Damara ewes and a ram in Hopetown in the Northern Cape. They were red in colour and Neels admits he naively decided to breed them within the confines of colour. But when he battled to source rams to complement his flock's colour pattern, he sold his entire flock in the mid-1990s.
In 1996, Neels met Johnny Morrison, owner of the Mohimba Damara Stud near Bloemfontein, who sold him Damaras sourced from genetics from the harsh Kaokoland region in northern Namibia. These Kaokoland genetics laid the foundation for the Krinkhout Stud that today consists of multi-coloured sheep. "I decided that colour isn't a factor,'' he recalls.
As the years passed, the Kaokoland genetic base within the Krinkhout Stud was consolidated and augmented with genetics from several Namibian breeders, including Wouter Moolman near Grootfontein. He in turn had sourced genetics from the well-known Namibian breeder, Daantjie van Vuuren of Kamanjab.
By 2005, Krinkhout Damaras began making an impact at SA Damara Championship shows and in 2009 won six South African champion titles in Rustenburg, North West. These included SA Senior Champion Ram, SA Senior Champion Ewe, SA Junior Champion Ram, and SA Junior Champion Ewe.
By 2010, Neels had built up his flock to almost 300 ewes, but then began decreasing them to the present core of 100 animals, of which are 40 are breeding ewes. The sheep run on 500ha along with game, including nyala and impala, owned by his father-in-law, Dries Olivier. Neels's decision to focus on quality rather than quantity has continued to reap rewards in the showring.
In 2012, the Krinkhout Stud produced the SA Senior Champion Ram, the SA Reserve Senior Champion Ram, the SA Reserve Junior Champion Ram, and the SA Senior Champion Ewe. Although Neels has not entered his animals in shows since then, he is very pleased with the quality of the Damaras he currently produces from his small flock.
"I'll have just as much success with 40 top ewes as with 200 good ewes,'' he says about Krinkhout Stud's genetic core. "It is about observing your sheep and knowing what you must select for and knowing which ewes and rams to mate.''
Breeding top Damaras
Neels's breeding strategy has always focused on improving the conformation of his Damaras without sacrificing breed traits such as hardiness, fertility and maternal and walking ability.
He explains that through careful selection he has been able to breed a medium-framed animal with good muscling and mutton qualities that can get the most out of a demanding environment. He has heeded advice not to breed animals that are too large. "Medium is always better than too big or too small," he says.
Neels has always made an effort to identify exceptional bloodlines such as the offspring of the outstanding ewes Nekkie, Ringvoet, Swartskilderpens and Traanoog, and rams such as Klapoog, Spook and Himba. He has then integrated them in a line-breeding programme to produce exceptional individuals, including the 2012 SA Reserve Senior Champion Ram, Gatskop, which sold for R30 000.
"I identify specific bloodlines,'' he explains. "Then I use those on each other and build them into each other.'' Neels says his dedication to line breeding has resulted in exceptional uniformity in his flock. "I don't like animals that aren't uniform – they all have to be more or less the same type,'' he says. "Animals of the same age group must have the same conformation and [breed] traits.''
Another focus for Neels has been to maintain exceptional fertility and hardiness in the flock. For example, ewes are expected to lamb twice every 15 months (ewes mate again between six to eight weeks after lambing), with 25% to 30% of his ewes producing twins. Young ewes will often mate for the first time at nine to 10 months before being selected as replacement animals at 12 months.
This exceptional productive ability of Krinkhout Damara ewes is especially impressive considering that all sheep are kraaled at night and receive only rock salt and a phosphate lick.
The Groblersdal region is in virulent heartwater veld, so a pour-on dip is administered every four weeks in summer and every eight weeks in winter. Although Neels does not strictly follow any standard inoculation or dosing programme, he does have a comprehensive deworming programme.
Sourcing and managing rams
At four to five months, all Krinkhout Damara ram lambs are separated from the flock in the evenings and given supplementary feed. At five months they are weaned and given extra feed until the two-tooth stage, when individual animals are selected for showing.
The two best rams are kept for breeding and used according to specific genetic demands within the flock. For example, in some years the best ram will run with the entire flock while another ram will be kept in reserve. In other years, the two rams will be utilised in two separate flocks of older and younger ewes respectively.
Over the years, Neels has predominantly used self-bred rams in his flock as they have proven to be best adapted to Groblersdal conditions and represent a known genetic type. In fact, Neels believes breeders often make a mistake in assuming that another breeder's genetics will make a greater contribution to their flock than quality self-bred rams. Of course, there are times one needs to source genetics beyond one's own flock, Neels says, and he regularly exchanges genetics with Johnny Morrison.
Nevertheless, no matter where Neels sources a ram from, he always insists on establishing the productive potential of the ram's dam and granddam before making a decision. "I want a clear picture of the ram's dam line,'' he explains. Neels is committed to sharing his Damara genetics as widely as possible and is always willing to sell outstanding rams he uses in his own flock.
"I don't believe in keeping my best for myself and breeding with him until he dies,'' he says. "We in the Damara industry must see each other as competition and not enemies, because we're building on the same thing. If you have good genetics from specific bloodlines, give it to other Damara breeders so they can also have the advantage of the genetics.''
The Damara and the Meatmaster
According to Neels Nel, the success of the composite Meatmaster sheep breed can be attributed to its Damara parent breed's hardiness, fertility and walking ability, while other parent breeds, such as the Dorper, contributed to the mutton characteristics.
Because the Meatmaster breed's development since the early 1990s has relied heavily on Damara genetics (which had a negative impact on the depth of the national Damara gene pool), many Damara breeders, including Neels, benefited from marketing genetics to Meatmaster breeders.
However, although breeders and friends urged Neels to become directly involved in developing the Meatmaster breed, he was unwilling to turn his back on his flock of pure-bred Damaras. "The Damara is in my blood," he says.
Other sources: www.meatmaster.co.za and www.damaras.co.za. Phone Neels Nel on 082 770 3247.