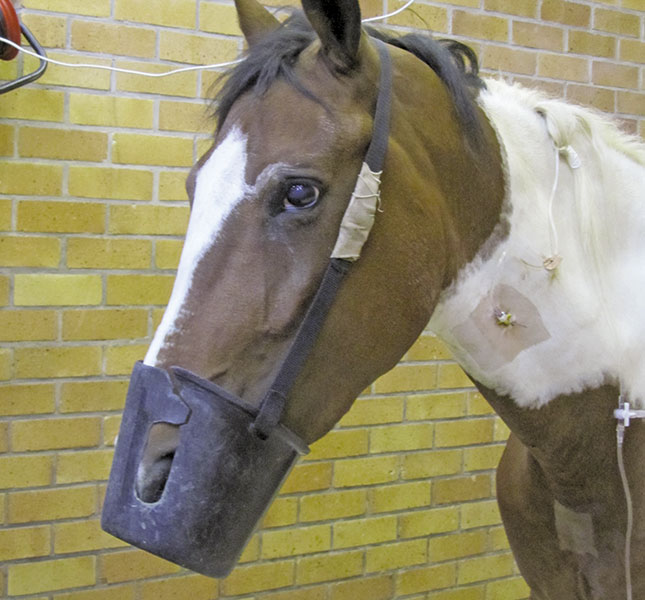 Most horse owners easily recognise the signs of impaction colic. The horse looks at its flanks, and kicks at its stomach. It may start sweating and pawing the ground, or go down and roll on the ground. But it is the underlying cause of this behaviour that is the key to successful treatment. As a result of the prolonged drought on the Highveld, vets have been seeing many cases of colic. At this stage, the best hay is long gone and, due to depleted grazing and fires, many horse owners are only able to access poor quality fibrous hay.
Other causes that contribute to impaction colic are teeth problems and insufficient consumption of water. Reduced exercise, linked at this time of year to horse-sickness vaccination, can also precipitate impaction colic, especially in old horses.
What is it?
Impaction colic is essentially constipation, mainly at the pelvic flexure in the large intestine, the small colon, or the caecum. Your vet will generally diagnose impaction colic after a rectal exam. Although fibrous feeds, like hay, are essential for stimulating digestion, too much indigestible fibre leads to impaction. The signs are depression, decreased appetite and dryness of manure. Intestinal movement is reduced and there may be mild dehydration.
The horse's temperature is normal, and the signs of colic, described above, are generally mild to begin with, although there may be several incidences of this behaviour over a few days. The signs of colic usually disappear once manure is passed. If impaction colic is diagnosed early, your vet will be able to treat your horse without surgery. Treatment includes an intravenous drip, injection of anti-inflammatory drugs, and a copious volume of liquid paraffin by stomach tube.
How prevent it?
There are several ways to prevent impaction colic. Mature eragrostis hay is considered by many to be a prime culprit in late winter and early spring. At this time of year, it's preferable to feed oat hay or mix eragrostis hay with the more expensive lucerne brought up from the coast. A mixture of one-third by weight lucerne with two-thirds eragrostis is usually effective.
Horses that drink too little water are more prone to impaction. An average horse should drink between 20l and 30l of water daily. Supplying a salt lick will encourage horses to drink more water, and the salt helps gut organisms digest roughage. Probiotics are useful, as