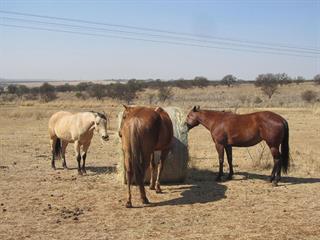 We have had a strange summer on the Highveld. On many farms, the weeds are far more numerous than grass suitable for grazing. The first frosts are imminent and the quality of what is left will drop rapidly. Unnatural rain patterns and droughts in several regions mean that hay could become scarce before the end of winter. In addition, feed suppliers recently warned of a price increase in maize-based horse feeds.
It is time for breeders and stable yards to make sure they have enough food and funds to take their horses through the winter. To my knowledge, fodder flow patterns for equine feeding have not been published for the Highveld region, so what follows is a rough description of how the system has worked over the past few decades.
The last cuttings of teff, eragrostis, Smutsfinger and white buffalo grass are being carried out now and bales are likely to be available for purchase this month. After this, oat hay normally comes in, with the first bales available from about the end of May and the final cutting taking place in August. At that stage, horse owners are sometimes able to change over to bales of irrigated lucerne.
Between August and November, it can be particularly difficult to access hay unless you have a reliable supplier, as much of what is available is from dryland cropping. As horses are finicky feeders and a diet of lucerne can result in laminitis, it is important to store old-season eragrostis and teff in order to have an alternative to lucerne until the new season's cuttings start in October/November.
Cutting down your herd
Grazing is already showing the results of a poor rainy season. Breeders who rely mainly on pastures have the choice of reducing the herd or buying in hay this winter. Due to the drought and the fact that there were several major stud auctions in April, inexpensive quality horses have flooded the market, especially in the Free State.
Our breeding season has ended and, unless you have already decided not to put many mares in foal, there will be many hungry mouths to feed in the coming foaling season. It is unpleasant to put a horse down, but it is time to look carefully at the old pensioners in the mare herd to see if their teeth will take them through what is promising to be a hard winter.
With the poor quality of the grass this season, it is important to start supplementary feeding of the mare herd now, rather than waiting until June or July. Even those breeders who normally graze the mare herd on maize lands after cropping are likely to have a problem, as the maize is still standing in many fields and is brown, twisted and mouldy. This sort of maize is often high in mycotoxins and can cause abortions and even fatal neurological conditions.

Stocking up on hay the best option
Riding schools relying on grazing may also have to look at stocking up on hay much earlier than usual. This, coupled with rising prices of concentrate, may force a rise in livery fees. In the current economic climate, this could result in owners failing to pay or removing horses.
Perhaps it would be worth considering alternate sources of income such as shows or clinics.But probably the best investment at this point for horse breeders and riding schools would be to stock up on hay. Some suppliers will keep hay on consignment and charge storage fees. It is also possible to store hay bales in the open once the rain has stopped.
Bear in mind, however, that on the Highveld, storage is a risky option due to the danger of veld fires. Hay bales can burn for a week or more if a stray spark takes hold. Fortunately, large tarpaulins are available; it may be worth investing in one of these as they last for years.