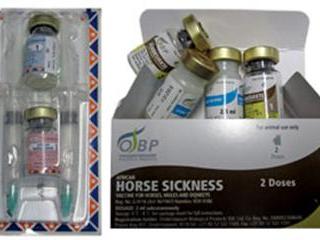 Although African horse sickness (AHS) vaccinations are only due in October, it's wise to stock up early as the vaccine is often sold out by then and only available again in January, when the risk of infection is quite high. You'll find the new package no longer contains a pair of ready-loaded syringes. Instead, it's packaged in boxes containing two vaccine vials, each with a bottle of diluent.
The price is significantly higher, and you now have to buy syringes and needles as well. Furthermore, the leaflet that comes with the vaccine doesn't tell you what size syringes and needles are required. As the dose is administered subcutaneously, you'll need a 3ml syringe and a 21-gauge needle (the green one) for each horse to be vaccinated. These are available from co-ops and vets. Be careful if you purchase a needle from a pharmacy, as these are intended for human use and the gauge (usually 24) may be too small to draw up the vaccine.
Vaccine schedule
Since last year it appears that consensus has been reached on a vaccine schedule for young foals. If the foal is from an unvaccinated mother, you can vaccinate at three months of age. Before that it won't develop an immunity. These foals must be given two vaccines three weeks apart and then re-vaccinated six months later with two doses. If the mother is vaccinated, foals should not be vaccinated before four months of age – foal immunity in these cases has been shown to last up to six months.
Weaning
Many breeders are vaccinating at weaning (dose 1 and dose 2 given three weeks apart) and then repeating the vaccination six months later, in winter and again in midsummer. This is because some research suggests foals vaccinated three times in the first year after weaning show better immunity. The vaccine leaflet says mares should not be vaccinated in the first three months of pregnancy. However, they can be vaccinated in the last three months.
Not advisable
For breeders aiming for mares to foal in early January this isn't a problem, as the mares can be vaccinated in September and October. It's not advisable to vaccinate them in the last month of pregnancy. The Thoroughbred studs aim for foals to be born as soon as possible after 1 August. This is perhaps why many are located in the Western Cape or the colder parts of the KwaZulu-Natal Midlands, where AHS is not as serious a risk as it is in other provinces.
Finally, owners often ask if equine influenza and AHS vaccines can be given at the same time. This is not a good idea, as it decreases the immune response to both vaccines. The AHS vaccine contains several strains of attenuated live virus. Most horses aren't able to develop immunity to all these strains in any case, and adding another live attenuated strain of equine influenza further reduces the chance of a good immunity. Equine influenza vaccinations should be administered every six months and won't interfere with AHS if given in January and August.

Contact Dr Mac at [email protected]. Please state 'Horse talk' in the subject line of your email.