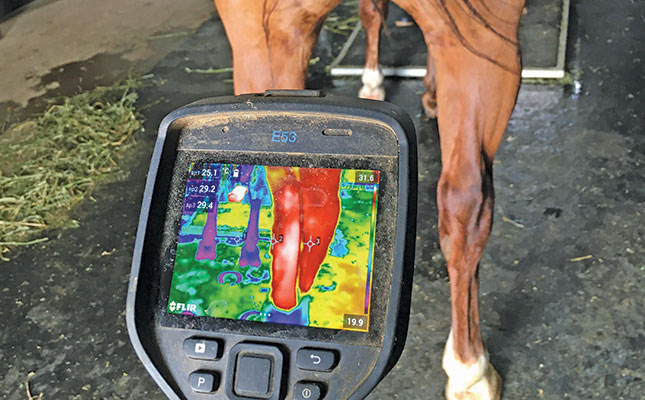 Internationally, thermal imaging has been recognised as a rapid, affordable and non-invasive alternative for diagnosing the cause of discomfort, pain and unsoundness in horses.
An infrared camera can be used to identify 'hot spots' where inflammation is present, and 'cold spots' where it is not. The photograph clearly shows a bright red 'hot spot' around the left hock of the horse being examined.
When treatment begins, the horse can be monitored over time to see if the treatment is effective, as the inflammation will decrease and the thermal imaging will show changes in the colour of the affected hock.
In this case, the inflamed hock was treated successfully with laser over several weeks by an equine physiotherapist.
Thermal imaging has been recognised for industrial use for many years, but the cameras used were too cumbersome for practical use in diagnostics until the arrival of the digital age.
Traditionally, veterinarians have used X-rays and, more recently, ultrasound imaging and MRIs to diagnose and evaluate injuries in horses. In particular, X-rays have been the gold standard for evaluating soundness, especially for pre-purchase examinations.
However, these techniques only evaluate the physical structure of underlying bones and joints, while thermal imaging shows a real-time comparative image of inflammation in the body of a horse. It is also a very useful technique to help saddle fitting and assist in identifying hoof problems.
Veterinarians and horse owners know that you can feel the heat of an inflamed joint in the leg of a horse, but thermal imaging is 40 times more sensitive to this sort of heat than the human hand.
One of the most interesting findings using thermal imaging is that a poorly fitting saddle can cause severe pain and inflammation not only in the horse's spine and back muscles, but also in its legs, as the horse uses them unevenly to try to compensate for a badly balanced rider due to poor saddle fit.
Thermal imaging can be used for neck, shoulder, back and sacral injuries; determining the level of inflammation caused by an injury; early diagnosis of the extent and severity of tendon injuries; suspected laminitis, navicular disease and sole abscesses; and predicting when a horse can return to training after the treatment of an injury.
The examination
For the most accurate reading, your horse needs to be calm, cool and clean before the examination. If your horse is excited, heat will pump around its body. Ambient temperature above 25°C, or bright sunlight, can make the diagnosis difficult. In South Africa, the ambient temperature is often higher than this and it is thus a good idea to hose your horse down well before the examination and take it into a clean stable with a clean concrete floor.
It is preferable not to use any topical, oral or injectable anti-inflammatory medications for 24 hours before the thermal imaging examination, as these could mask the 'hot spots' seen on the thermal image.
Although existing research says that tranquillising the horse is unnecessary, this may make the examination easier and more accurate, as the horse will stand still and not fidget or kick while the clinician or physiotherapist moves around it examining different parts of its anatomy.
The physiotherapist who works with my practice also recommends that horses be examined immediately after hydrotherapy, which is used to cool down its body and legs, as this results in a clearer definition of inflamed areas.
Dr Mac is an academic, a practising equine veterinarian and a stud owner.