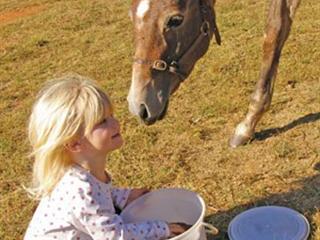 Flax or linseed has been cultivated since at least 5000BC. It's grown both for its seeds and for its fibre. In fact, it was the major source of cloth fibre until the growth of the cotton industry in the 1800s. The seeds are crushed to make linseed oil, which is used as an edible oil and as a nutritional supplement. The yellow oil also has great drying qualities and is used in making oil paints.
Soothing
Medicinally, the oil has a gentle laxative effect. More importantly, it has an anti-inflammatory effect on gastritis and soothes sore throats that result from respiratory infections. Feed 5ml oil to a coughing horse six times a day for 10 days. The seeds contain about 40% oil and about 25% protein, meaning they're great for helping your horse retain its condition. The coat and skin will improve dramatically.
A recipe
Ideally, linseed oil needs to be cold pressed – and a good health shop will be able to get you a high quality oil. Not surprisingly then, things can get costly when feeding the oil to your horses. A more cost-effective option is to feed linseed oil to your horse in barley gruel. You'll need to mix the following together in these ratios:
Barley: 1 part
Linseed: a quarter part
Oats: 1 part
Millet: 2 parts.
Lentils (red): 3 parts
Lentils (green): 3 parts
Crushed maize: a half part
Brown rice: 3 parts
Yellow split peas: 1 part

Add one cup of the mix to 6l water. Cook for three hours on a low heat. Then feed as a meal additive. You can cook more than you need and freeze for up to three months; then gently reheat in a saucepan.
Benefits
This is excellent for horses recovering from illness and helps 'old-timers' to retain weight and will ease arthritis. In addition, the boiled seeds make a glue-like jelly, which will 'encourage' a fussy eater. And, as noted, it helps a show horse achieve and retain a shiny coat. Flax seeds can also be used to treat an abscess. Crush the seeds, place on a gauze and apply to the hoof or abscess directly. Add thick cotton wool and bandage for six-hour periods. Always cold hose after application.
Contact Kim Dyson on 082 888 6511 or at [email protected]. Please state 'Horse therapy' in the subject line of your email.