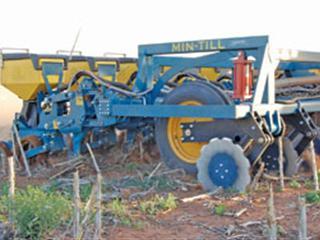 Growing interest in conservation agriculture (CA) in South Africa has led Theebo Tech to develop the Equalizer SL Min-Till planter. It provides all the benefits of multi-row field efficiency with up to 18 rows at 762mm spacing, or 16 rows at 914mm, combined with the time-saving advantage of using a bulk fertiliser bin. The planters typically require tractive power of 12kW to 15kW per row.
In each row unit, the tine, operating under hydraulic pressure, 'min-tills' the soil ahead of the seed metering assembly.
The seed is metered by a vacuum delivered through the main frame to reduce pipe work and maintenance. The parallel linkage between the tine and the disc openers ensures that the set depth relationship between seed and fertiliser remains constant.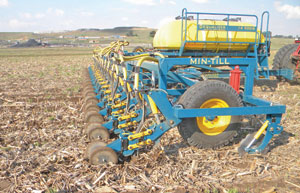 Another new Equalizer
The Equalizer 6-row Min-Till SL planter is the result of Theebo Tech's participation in the 2011 KZN No-Till Club's annual conference, as well as discussions with farmers and a machinery dealer. It will be followed by 8-row and 10-row machines for the 2012/2013 season.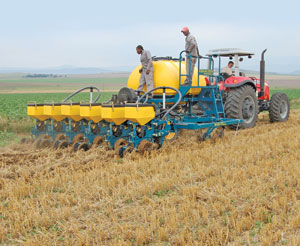 Both machines will feature fold-up wings for easy transport. The planter frames are mounted on the rear of the 3 200l or 4 500l fertiliser hopper chassis and share the single pass row unit used on the Wide Frame Min-Till SL models. This Min-Till planter is designed specifically for farmers practising conservation agriculture whose lands do not suit wider machines and for those who don't have the tractor power necessary for a wider planter.
The Theebo Tech Wide Span concept
For a long while, SA farmers have had to rely on standard 6-row and 8-row fixed frame machines. Six years ago, Theebo Tech saw the advantages to be gained from the use of wider equipment in order to improve field performance – and so the Wide Span planter frame was introduced.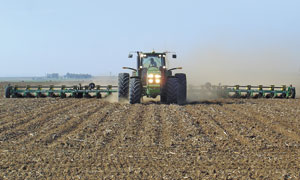 Originally, this was for units from a third-party manufacturer, but Theebo has now developed its own Equalizer Wide Span conventional planter range with a central 2-, 3- or 4-compartment fertiliser bin with capacities of 4 500l or 6 500l, depending on the model, and frame widths of up to 22m carrying 24 planter units at 914mm row spacing. For transporting, the Wide Span planter folds forward into a telescopic drawbar. It also features a self-cleaning unit below the hoppers.