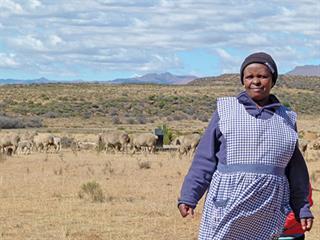 Using the profits from her business, she has grown her operation from an initial five sheep in 1986 to a current total of 188. She also owns a tractor and a bakkie, and has ploughed and fenced land for growing fodder.
Along the way she's learnt some hard lessons. "When I started selling my wool, I made a big mistake by thinking it would be better to wash it," she chuckles. "But a farmer told me not to because you then lose its oils."
The incident also helped Nophumzile to start focusing on quality rather than quantity in her wool production – which is difficult on communal land without fencing or other infrastructure. Then there are the dry conditions that prevail in the area.
With the region in its second year of drought, Nophumzile has had to adapt her farming practices. Hence the fenced off land of lucerne and mealies, planted as fodder for her flock when grazing becomes scarce.
She's also learnt the importance of monitoring the flock for signs of illness. She's lost a number of sheep to what Asandile Rasmeni, NWGA production advisor for the area, suspects is pasteurilla.
"I recently lost 16 lambs. I tried to feed them by hand but after two days, they died. I was heartbroken," says Nophumzile, adding that she now does her sheep regularly.
Jackals are another problem. "When the lambs are coming, you have to sleep outside because the jackal come from across the river," explains Nophumzile. "They kill lots of lambs. Sometimes we burn the bush next to the river so they don't come this side."
READ: Wool profits for communal farmers
She shears once a year, using a team of shearers from the NWGA in Sterkspruit. This year she produced two bales of wool worth a total of R38 000 and was ranked number one in her district for quality.
The main lesson she's learnt, says Nophumzile, is to always strive to learn more about wool production and sheep farming.