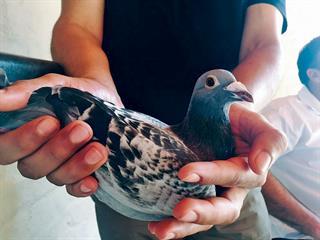 When the Western Cape Racing Pigeon Confederation hosted the Hanover Combined Classic Race on 12 September 2015, Albert Lingenfelder decided to test the ability of his pigeons. He ended up winning the event and had three birds in the top 100 in a field of almost 16 000 pigeons.
Albert is a member of the Villiersdorp Racing Pigeon Club, part of the North Boland Homing Union. His pigeon racing career began in 2000 on his farm in Villiersdorp, where he is a third-generation apple farmer.
The winner of the Western Cape Classic was ZA NBHU 12645-14 BB C. The sire of this bird is ZA THU 17408-09. In 2008, the same year that the famous Birdy (DV 6503-07-900) scored at the South African Million Dollar Pigeon Race, Albert met Cape Town champion Hendrik Kotze at the competition.
They struck up a friendship, which led to Hendrik borrowing the Alfons Klaas cock DV 6060 507 09 from Albert. In return, Hendrick loaned Albert a cock, ZA THU 17408-09, a son of Queen Elizabeth, sister to Birdy. The dam was ZA NBHU D4598-11, a double winner and top racer, and daughter of the Alfons Klaas cock DV 6060-507-09 and red hen ZA NBHU D1558-07, a click pair in Albert's loft.
This red hen was acquired as a Janssen from Ferdie Grundling as part of a parcel of six young birds. It subsequently became a winner and a reliable racer before being used for breeding. It is now a foundation hen, breeding winners with every cock that she is mated with.

A bird of distinction in second place
André Mills was placed second in the Western Cape Classic. He is a member of Montagu Racing Pigeon Club, which is part of the Wynland Pigeon Union. He moved to Montagu from Gauteng in the late 1990s and his lofts are situated high in the Langeberg.
André was Montagu Club points champion for five years running and three times Wynland Pigeon Union champion. He keeps a few five-star pigeon families, but has a soft spot for the internationals.
He is always on the hunt for something special and has a good eye for super breeders. The bird that came second for André in the Western Cape Classic was the hen ZA TRPF 04919-09 BBP. Its sire is ZA 06211-08, a direct son of Zander, which came sixth in the SAMDPR, and ace pigeon Birdy. Prior to its escape from the loft, ZA 06211-08 bred good birds for Johan Hamilton, and thankfully its offspring are following in its footsteps!
The dam of 04919 is SA 05 4176, the daughter of the top-SAMDPR-performing German cock, Thinker's Fun (DV-04-1440; Team Marx, Germany) when mated to a Gummar Leysen hen, also from the SAMDPR.