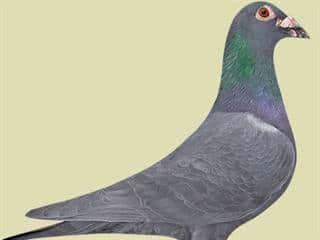 On 9 August 2013, the first lot of 146 racing pigeons of champion Tshwane father-and-son partnership Johan and Mark King came under the hammer at the Carnival City Casino Complex in Brakpan, Gauteng. While everybody expected a respectable auction figure in view of the high quality of the pigeons on offer, the auction total of R1 041 000 surprised many, considering South Africa's current economic climate.
Buyers could choose between prime quality local and imported foundation stock, including point's league champions, gold-, silver- and bronze-medallion winners and big-prize money earners. The winner of an international race event and numerous near-kin of top international performing pigeons were also available.
The final race of the Allflight One-day Loft winter series was held on the same day and the auction tent was erected within view of the Allflight pigeon lofts complex. In this way, fanciers awaiting the arrival of the Allflight pigeons from Gariep Dam could attend the King family's auction and opt to acquire a special pigeon to enhance the gene pool of their breeding stock.
Pre-auction bidding
Auctioneer Pine Pienaar and his staff oversaw the event. The pigeons up for auction were displayed individually in pens, and potential buyers were allowed to handle and examine the birds. This gave fanciers a unique opportunity to learn at first hand how quality pigeons should look and 'feel'.
The 16-page glossy auction catalogue contained pedigree information and photographs of the pigeons, which were categorised according to their breeding history. Pre-auction bidding was conducted online at the Exclusive Pigeons website, owned by Mark King and Tshwane champion Ferdie Coetzer. The final online bid of each pigeon becamethe opening bid at the live auction. Phone bids were also accepted, of course.

Mugabe – a renowned sire
Mugabe, a high-quality black pigeon, went for a whopping R110 000. It was imported by Gauteng attorney Gys Louw and Bronkhorstspruit fancier Kobus Reynders from Hubert Schroyens in Belgium. Mugabe is a medium-size foundation sire that shot to fame by breeding more than 20 winners in South Africa within a short space of time. Its pedigree boasts Dirk van Dyck's Kannibaal, regarded as one of the best breeders in the world.
The Allflight final was won by the DDD Lofts partnership, comprising Dirk Rosslee, Dirk Grobler and Derus Berg.