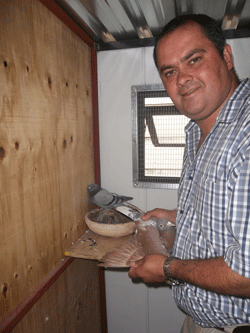 According to the Kitchenbrand Loft's website (www.kitchenbrand.co.za), the Kitchenbrand family boasts more winning results than any other South African pigeon family. Now, putting all his local accolades aside, Mark Kitchenbrand has gone further and truly done his own "bloodline" proud.
With the support of wife Naomie and business partner Grant Thomas, he has placed South Africa on the world stage when it comes to pigeon racing. Consider his use of a German-bred and -raised pigeon to win the 15th Sun City Million Dollar Pigeon Race in 2011, a mere eight years after getting into pigeon racing.
Victor's victory
Held annually at the loft complex at the Sun City Casino & Resort near Rustenburg, this race is the richest pigeon race in the world with a total cash prize pay-out of more than US$1 million. However, it's held during the South African moulting season. As a result, many SA entrants feel disadvantaged, because SA pigeons are "biologically" handicapped – their natural body clocks are set to engage in feather moulting, not racing.
Those who say shifting the race to the "normal" SA season will be more humane to the pigeons and fairer to South African participants undoubtedly have a point, but knowing there was nothing to be done about this at present, Mark faced the challenge head on.
He selected a breeding pair from the lofts of his German friend, Alfons Klaas. Their offspring, Victor, was raised in Germany and sent to SA to compete in the Sun City race – a bird ready to race, not moult.
Thinking out of the box in this fashion led Mark – and Alfons – to victory.
Racing abroad
Mark has since gone on to strengthen his German interest by buying the loft and pigeons of renowned German fancier B Sudhoff and employing Willie van Beers as loft trainer. In the process, Mark has become the first South African to engage in pigeon racing locally and in Germany.
To date his achievements in Germany include:
Winning a national race against 9 325 pigeons.
Winning the best young bird loft award.
Winning the prestigious German Derby, involving five races.
Winning the German club, federation, and group averages.
In partnership with Henk de Weerd and Alfons Klaas, Mark has also established racing lofts in Belgium and the Netherlands.
Affordable prices
In addition, Mark has set up an international breeding station. This markets high quality pigeons with single bird performance-based results at different prices, making them affordable to most fanciers.

A single bird loft pigeon has the unique quality of self-motivation, an advanced homing ability and matures early, all of which often given them the edge over other birds. Finally, Mark has established the Kitchenbrand Loft Pigeon Medication & Feed group of products, which have been developed by world-renowned SA vet Dr Piet van Zyl.
For more information about Kitchenbrand's Loft, visit www. kitchenbrand.co.za, or contact Naomie on 083 283 2881.
Contact Thomas Smit on [email protected] Please state "Pigeons" in the subject line of your email. •FW