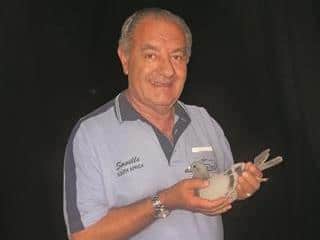 By the time you read this, the final of the South African Million Dollar Pigeon Race (SAMDPR) will have taken place. Just over 2 000 racing pigeons comprising the cream of the crop from 36 countries will have taken to the skies.
The homing and training of the birds commenced at the Linbro Park loft complex in Johannesburg in May last year. The road training distances were gradually lengthened to get the pigeons fit and experienced for the final event. The first 300 pigeons home in the SAMDPR receive cash prizes.
The winner receives US$150 000 (R2,4 million). The birds coming second, third and fourth receive US$100 000
(R1,6 million), US$75 000 (R1,2 million) and US$50 000 (R800 000) respectively. The breakdown for the remaining positions is as follows:
Fifth: R630 000
Sixth: R400 000
Seventh: R280 000
Eighth: R240 000
Ninth: R200 000
10th: R160 000
11th – 15th: R120 000
16th – 20th: R80 000
21st – 30th: R63 000
31st – 40th: R55 000
41st – 50th: R47 000
51st – 70th: R32 000
71st – 100th: R28 000
101st – 150th: R24 000
151st – 200th: R20 000
201st – 300th: R17 000
In the run-up to the SAMDPR final, five pigeon fanciers each won $16 000 (about R250 000) to spend on a car of his or her choice.
(12 December; distance: 138km)
The team of SJ van Uden and S Gawel from the Netherlands won with their pigeon Stan, with a velocity of 1 384m/minute.
The first South African pigeon home was the fifth-placed A1-Roamy, entered by Jannie and Tersia Engelbrecht of Engelbrecht Lofts.
(19 December; 184km) Darrell Bartz and Michael Serrao from the US won with the aptly named Happy Hour, at 1 396m/minute. The first South African pigeon home was Irish Molly, entered by Henri and Petra Stiglingh. It placed 11th.
(28 December; 238km) Tersia and Jannie Engelbrecht of Engelbrecht Lofts won with their pigeon A1-Pacer, at a velocity of 1 335m/minute. It was bred from a pair of birds from the imported Marcel Aelbrecht/De Raw Sablon strain purchased from Egbert O'Kelly of the Out Of Africa Loft. A1-Daylight, also entered by Engelbrecht Lofts, came second.
(9 January; 285km) Shehab, entered by Bader MF Al-Jwesr from Kuwait, was first home with a velocity of 1 315m/minute. Bader MF Al-Jwesr had a good day, with two more pigeons coming 18th and 19th. The first SA pigeon home was A1-Pacer, entered by Engelbrecht Lofts.
(25 January; 341km) The fittingly named Car Winner 2, entered by Wilfon-Rhodes from the US, won with a velocity of
1 752m/ minute. Vindicator, entered by the Kader, Nadia, Moerat and Bouwer syndicate, was the first SA pigeon home, placing 26th.