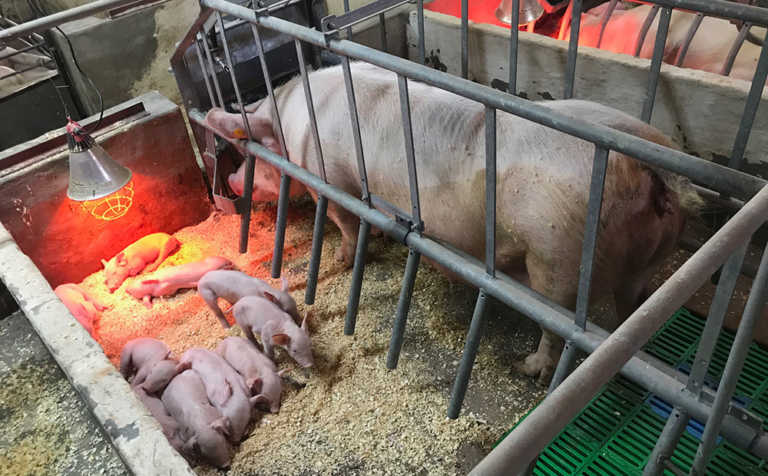 When Betty Nyambi of Sincobile Trading and Agriculture was growing up in Komatipoort, Mpumalanga, she had her heart set on becoming a nurse.
Sadly, she was never able to pursue this career, but farming has given her the opportunity to live out her passion for care-giving in a surprising way.
READ 200 million pigs could die in China due to swine fever
"My grades didn't qualify me to study nursing. So I decided to study rural development and extension at Tshwane University of Technology," she recalls.
The course included livestock and crop production, and Nyambi qualified in 2003.
The following year, she did an internship as a student technician with the Gauteng Department of Agriculture and Rural Development (GDARD), hoping to become an extension officer. This, too, unfortunately, did not work out, but she did manage to find a job as a farmworker at Winterveld Citrus farm outside Pretoria.
"I worked there until the end of 2010, when an opportunity came up to work at Mphiwe crop farm in Bronkhorstspruit," she says.
Farming for herself
Here, Nyambi soon felt inspired to become a farmer, so she started applying for land through the Department of Rural Development and Land Reform. Finally, in 2014, she received a 173ha farm near Bronkhorstspruit.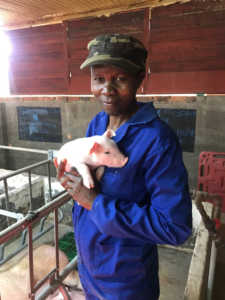 "To my surprise, it had piggery infrastructure. I knew nothing about rearing pigs but because I was eager to farm, I grabbed the chance with both hands," she recalls.
There are four pig houses on the farm. One, with a 180- sow capacity, is used as a gestation house. Another, a 46-pen facility, is the farrowing house.
The other two houses are used to keep weaners and growers and have respective capacities of 240 and 300.
Nyambi's former employer at Mphiwe, Gift Mufuleka, introduced her to pig farmer Sipho Mahlangu, who showed her the basics of pig husbandry.
In 2015, determined to learn more, she attended a pig breeding course with the Agricultural Research Council and completed artificial insemination (AI) courses with Pig Improvement Company and Alzu Pig Genetics.
Breeding
Nyambi started with just four Large White gestating sows (still her preferred breed), and threw herself wholeheartedly into her business.
The results were soon apparent. In 2016, she was a runner-up in GDARD's Gauteng Female Entrepreneur of the Year competition, and afterwards received 23 sows and a boar from the department. She continued growing sow numbers using AI, and now has 120 sows and three boars on the farm.
READ Some bacterial and parasitical pig diseases to look out for
"I've learnt through experience that to have a profitable business, it's better to start out by buying weaners, growing them out and selling them, before trying to breed and rear piglets for the market," she says.
Management
Nyambi produces 1 200 pigs for market each year. Sows farrow in seven cycles during the year. She buys all her breeding stock, including gilts and AI semen, from Pig Improvement Company.
The gilts are brought to the farm at 27 weeks and are ready for mating at 30 weeks.
"As a member of SAPPO [the South African Pork Producers' Organisation], I have a vet who comes to the farm to help me follow a strict animal health management plan. This includes a vaccination schedule," she says.
READ Better veld management a boon for livestock farmers
"After receiving the boar from GDARD, I started using both natural mating and AI. The boars are used for stimulation when using AI and for follow-up on sows that failed to conceive with AI."
Sows are scanned for gestation 35 days after insemination. Gestation lasts 114 days and the sows are moved to the farrowing house seven days before delivery. Sows produce 10 to 18 piglets per litter.
The sows are each fed 7kg of feed a day, plus an extra 0,5kg of feed per piglet in the farrow house.
"One of my favourite farming tasks is farrowing, when I get to become a nurse," says Nyambi. "I always make sure I'm there to assist the sows, especially those that experience difficulties, such as a piglet stuck in the birth canal."
Weaning and marketing 
"It's important to monitor the pigs throughout their growth stages," she adds. "This involves keeping their environment clean, monitoring and controlling diseases, and making sure they're properly fed and have enough water."
Nyambi weans the piglets at 21 to 35 days, when they reach between 6,5kg and 7kg. She then gives them ASA 1 pelleted creep feed for 10 days thereafter. They then receive ASA 2 creep feed for 10 days before being moved to the grower house, where they start receiving grower feed.
"To cut down on feed costs, I mix my own feed: yellow maize is grown on the farm, and other ingredients and feed are bought at Kungwini Wholesalers, Coprex Wholesalers and ASA Products," she says.
Nyambi keeps a record of feeding to ensure the sows maintain good condition. Feed quantity has to be right; if the sow grows too fat, reproduction will be negatively affected; if she is underweight, she will not be able to rear a healthy litter.
Nyambi markets weaners to feedlots, and porkers and baconers to abattoirs. The porkers are marketed at between 55kg and 70kg and the baconers at 70kg to 110kg.
Her goal is to get her farm up to Pork 360 standards, SAPPO's quality assurance certification, which is a guarantee of high-quality pork.
In the meantime, Nyami has not stopped learning. This year, she attended a SAPPO workshop in piggery management.
Contact Nyambi on 072 266 2465 or at [email protected].