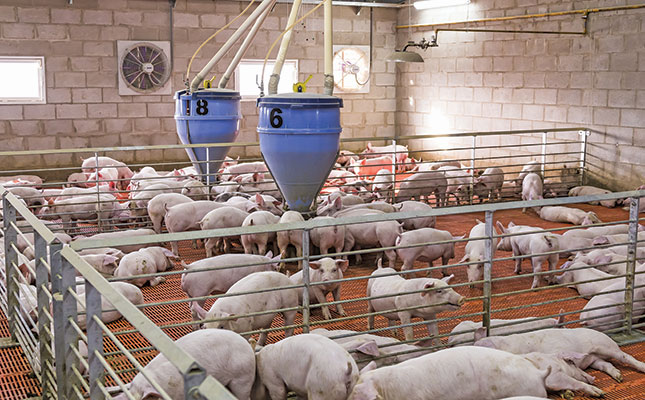 Pork producers lost millions of rand and hundreds of people lost their jobs due to the listeria hysteria last year. Johann Kotzé, CEO of the South African Pork Producers' Organisation, spoke to Glenneis Kriel about the crisis and how it has reshaped the industry.
The listeria fallout has hit pork the hardest of all the livestock industries. What went wrong?
Pandemonium broke loose after the Department of Health announced in March last
year that they had traced the listeria outbreak to an Enterprise Foods production facility in Polokwane, and advised people to avoid all ready-to-eat meats. While fresh pork was never implicated during the outbreak, social media created panic through the distribution of false and unsubstantiated information. It was impossible to intervene during the first few weeks, as people only heard what they wanted to at that stage.
How did you regain control of the situation?
Once the hysteria started to settle, the South African Pork Producers' Organisation
(SAPPO), with the help of a media monitoring company, started analysing reports to identify a recovery strategy.
Our inbox was flooded with queries, but instead of wasting time on writers who we knew were only out to create sensation, we focused on getting the truth to journalists from reputable publications. We also realised we needed experts to strengthen our message, so roped in certain professionals to clear misconceptions.
The big turnaround came after we got good publicity from a media conference where we highlighted irregularities that emerged from the boycott of pork. For the first four to six weeks, farm-gate prices dropped far below cost price, while retail prices remained relatively stable. The demand for fresh pork increased substantially after retail prices came down to an affordable level.
Can you quantify how farmers were affected?
Pork slaughter prices fell sharply, from R29/kg to a five-year low of R18/kg in less than two weeks, after the listeria announcement. Prices climbed slowly after that, returning to R28/kg by the end of 2018.
Over the same period, annual slaughter hit an historic high, increasing from 2,7 million pigs in 2017 to 3,1 million in 2018. The number reached 291 000 during the month in which the confusion broke out.
This tells me that people continued to buy pork in spite of the boycott and that retailers were the ones who benefitted from these sales. Our initial assumption that people had nothing against fresh pork was therefore proved, especially after the retail price became more affordable.
In essence, producers lost R550 million between March and September 2018 because of the outbreak; they in effect subsidised the sales.
Why did producers send so many pigs to market when prices were so low?
With pigs you have an all-in, all-out system. Pigs of the same age are grouped together and sent to market at the same time as this is easier to manage and entails fewer biosecurity risks than having a mixture of different ages in one group.
Sows are also synchronised in groups to ensure a constant supply of piglets to replace pigs sent to market.
Stalling the process is pointless, as increased feeding costs will eat into your margins and you need to make room for new piglets.
Beside this, many farmers increased stock numbers in 2017 so there were more pigs to send to market.
What is sappo doing to prevent this situation from happening again in the future?
The only way to prevent it is through strong information systems. It's not enough to have a Pork 360 programme that guarantees internationally accredited production practices on farms. Food safety has to be guaranteed throughout the value chain.
To achieve this aim, SAPPO acquired the buy-in of all role players in the value chain, including farmers, processors and retailers, to participate in an open digital platform that would track production from farm to fork.
SAPPO is investing millions of rand in the development of this cloud-based platform, which will be updated in real time.
We probably wouldn't have invested this much money in an information system before the outbreak, but first-hand experience of how things can backfire during a food scare has made us realise that traceability is non-negotiable. One life lost is one too many.
We've also established a private-public partnership with the Department of Agriculture, Forestry and Fisheries to improve the monitoring of pig health status countrywide. This performs active and passive surveillance testing, and observes protocols and procedural management in case of a disease outbreak.
Tell us more about this cloud-based platform.
Farmers, abattoirs, processors and retailers will be able to feed information into the real-time system so we can trace each cut of meat to its origin, as well as, amongst others, treatments and the origin of feed and medicine that have been given to the animals.
When a food scare occurs, we'll be able to quickly recall the affected meat, and only that meat. Identifying the cause of an outbreak will also be easier.
The platform would have other benefits, such as allowing farmers to benchmark themselves against one another and international role players so that they can identify ways to improve farm profitability. We're also working on an app that will be linked to the platform, allowing veterinarians to input disease outbreaks and treatments.
SAPPO can host this platform because we're an independent player.
How does Pork 360 fit into this?
Pork 360 is a farm assurance certificate that serves as a guarantee to both consumers and retailers that farmers have complied with certain minimum standards when producing the meat. Participating farmers are audited annually by an independent auditor to ensure that prescribed standards in pest management, medication, feed control, effluent, transport, housing and animal welfare are adhered to.
Where some producers might have considered participation too expensive in the past, they now see it as a no-brainer. Pork 360 is a safety standard, not a brand. So when you
buy Pork 360 products, you know the product is safe to eat and was produced in an environmentally and socially responsible manner.
How do you plan to reduce food safety risks posed by small-scale farmers?
People like to politicise this issue, but food safety is not a political issue; it's about the health of our people.
Many other countries suffer listeria outbreaks, but South Africa has had the highest number of fatalities ever recorded because such a large percentage of our population suffer from weakened immunity.
New entrants and emerging farmers are therefore one of our top priorities when it comes to food safety.
SAPPO is running training programmes to empower provincial extension officers and teach new entrants and small-scale farmers ways to reduce food safety risks and improve production efficiencies.
One example of a big no-no is providing swill as feed. Food waste should not be fed to pigs under any circumstance, unless the food is properly cooked to kill all harmful organisms beforehand.
What are your plans for the future?
My vision is to grow consumption by establishing pork as a safe meat to eat. Instead of only wealthy people having the privilege of buying safe meat, because they are shopping at retailers with the ability to regulate food safety, I want safe meat to become accessible to all people.
I don't think it will be difficult to achieve this goal. We basically just need to make people aware of the efforts we're taking to ensure food safety, so that they would rather pay R10/ kg more for meat they know is safe for them and their children than buy food from an unknown origin with no traceability.
Email Johann Kotzé at [email protected].