Before venturing into farming, Bhefika Matshenja of Inhlakanipho Projects and Farms, near Soweto, worked as a carpenter. However, when he was retrenched, he decided it might be time to consider a career in farming.
"I was reluctant to farm at first, because I never got to see the glory in farming when I was growing up. My parents, who were farmers, never succeeded in becoming commercial farmers.
"They farmed vegetables and maize on a piece of land in Lufhereng in Doornkop, southwest of Johannesburg.
"They leased the land from the City of Johannesburg from 2001 to 2005, but due to lack of support they couldn't grow their farming operation," he says.
Matshenja decided to forge ahead regardless, and began his farming journey in 2006, when he became a middleman for buying and selling chickens. This allowed him to build his market, which served him well when he decided to expand his business.
Poultry was his first choice, says the 34-year-old Matshenja, because it is a product that offers relatively quick turnover. This is a bonus for someone who is just starting a business and needs to build up a healthy cash flow.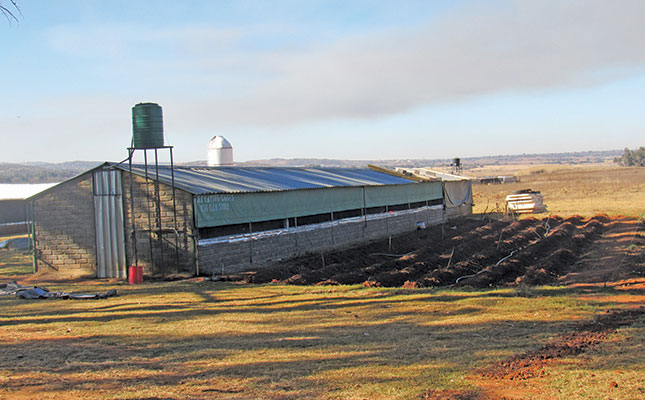 There is also a good market for chicken in South Africa, as it is the main source of animal protein for those in poorer communities.
He started out by buying layers and broilers, which he sold at the side of a main road in Soweto.
"I was so impressed with the profits I could make selling between 50 and 100 chickens a day, that I decided I had to expand. In 2009, I started doing market research on how I could grow and establish a formal business. I found out about Buhle Academy, and registered for the broiler production, farm management and environmental control courses. I graduated in 2010,'' he says.
Overcoming obstacles
During the same year, Matshenja and a group of other farmers established a co-operative to farm on his parents' land. They applied for an infrastructure grant from the Department of Trade and Industry (DTI).
However, they did not get the funding because they discovered they could not renew the lease on the land as it was being rezoned for a housing project.
In 2014, the co-operative managed to lease some land in Eikenhof, 30km outside Johannesburg, where Matshenja now still farms on about 1ha.
They were then able to access the infrastructure grant from DTI.
With the R310 000 they received, they built three chicken houses. But, Matshenja admits, due to poor management, they operated only one, and eventually the business failed.
"Due to lack of finance we could only place 1 000 chickens, which meant we had inconsistent supply. We should have built only one house to start with so that we could have had more working capital."
He didn't wallow in defeat for too long; in 2015 he decided to get started with the business again, this time flying solo.
"To build up capital, I applied for funds from the National Youth Development Agency. In 2016 I was awarded R38 000."
In 2017, he built another chicken house, put up a fence and other security measures, and constructed a silo for storing feed.
After being nominated last year in the Youth in Agriculture, Forestry and Fisheries awards, he received some technical assistance via the agriculture department's Comprehensive Agriculture Support Programme.
However, his biggest achievement to date has been winning the Star of Buhle Award for 2019 from the Buhle Academy. It came with R100 000 prize money, which he used to build a cold room.
"The most important lesson I had to learn was the importance of investing and reinvesting in your business and your employees," he says.
Managing the business
The farm consists of four chicken houses with a total maximum capacity to house about 7 000 broilers. Matshenja buys in 1 600 day-old chicks every 14 days to make optimal use of the space, and to ensure consistent supply.
He has dug vegetable plots between the chicken houses, where he grows vegetables such as green peppers, chillies and beetroot. These he sells to Superstore in Dlamini, Soweto, as well as at De Deur flea market.
Broilers are mostly sold directly from the farm.
"Our daily activities normally include a 6am wake-up call. We start by making a fire in the furnace that can be used as an alternative heat source for the chicken houses to help cut back on electricity usage. We then go through the houses to remove dead birds, and bring all the necessary farm records up to date.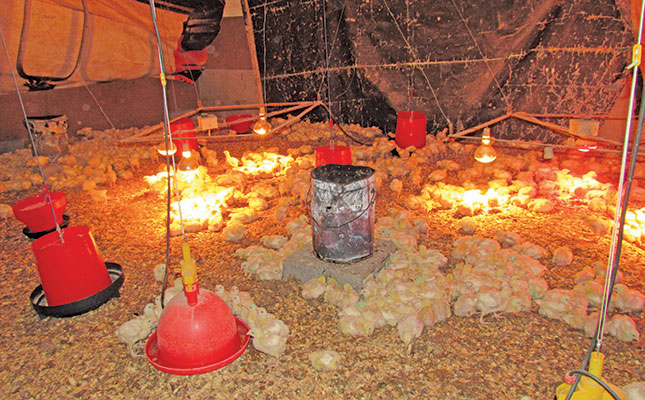 "I try to keep my mortality rate at 5%, but in winter it can go up to 10% because of insufficient heating," he says.
Before the arrival of a new batch of chicks, the houses are thoroughly cleaned and disinfected, and rested for 10 to 14 days.
New sawdust is put down before each new batch of chicks is placed.
A day before the arrival of a new batch of chicks, all the water dispensers are filled with water containing chopped garlic, which, according to Matshenja, acts as a natural antibiotic, and a dose of Phenix Stresspac by Virbac, a water-soluble vitamin and electrolyte supplement for poultry.
The chicks drink this solution for three days before they start feeding.
He tries to rear the chickens in as natural a way as possible, and as such maintains strict biosecurity measures to prevent and control the spread of diseases and thus keep vaccinations to the bare minimum.
Feed, he says, is probably his single biggest input cost. He uses a two-phase feeding programme, comprising starter and grower feed from New Hope Feed.
Chickens are sold from 35 days, or when they reach a live weight of 2kg.
Future plans
"It's important to understand your market, and this implies an understanding of the needs of your customers," he says.
"You need to be consistent with production and pricing; people don't want to come to your farm to find there is no stock, or that the quality and price of the product fluctuates," he says.
His plans for the future include venturing into new markets.
"I am in the process of setting up a processing plant or an abattoir specifically designed for small-scale farmers as there are no abattoirs close by," says Matshenja.
The idea is that the abattoir will also be used by neighbouring chicken farms. It will have to slaughter a minimum of 49 chickens every day to be viable.
"I hope to ultimately have a full-capacity broiler business of 10 000 birds, and to mechanise most of the on-farm operations," he says.
"This will give me time to pursue another venture, namely the production of day-old chicks and fertile eggs.
"As new farmers we need as much support as possible from different stakeholders, as we need to compete with commercial farmers, who have been in the game for a very long time," says Matshenja.
"In farming, you need to be patient and love what you're farming.
"That will give you the drive you need to succeed."
Email Bhefika Matshenja at [email protected].